In this guide, we bring you the MRT HW Tool. It is a software for windows OS based computers. It is developed by the MRT Team. It is exclusively designed for Huawei devices. This tool allows you to remove the Android FRP protection from the smartphone and Tablets. A multitude of Huawei devices supports this tool. We have put up a list of the latest Huawei devices that support this tool. Also, in the download section yu can find the link to get the MRT HW Tool. It is the latest version which is the v2.55.
In case you don't know what is FRP protection on an Android device, let's discuss about that. The Factory Reset Protection which is abbreviated as FRP is a security protocol that prevents anyone from wiping out or performing a factory reset on any random Android device. This is one of the most important and helpful aspects of Android which comes in handy in case you've lost your device or it is stolen. Then if anyone finds out your device or the person who stole your device, cannot factory reset the phone to wipe out your data.
The respective user of the device has to get access to the device first. He has to sign in to the phone. Then only he/she can factory reset it. The concept of FRP came into existence during the era of Android Lollipop. Almost every smartphone manufacturers who design phones implement the FRP on their devices. It's a great concept which ensures the safeguarding of our device data.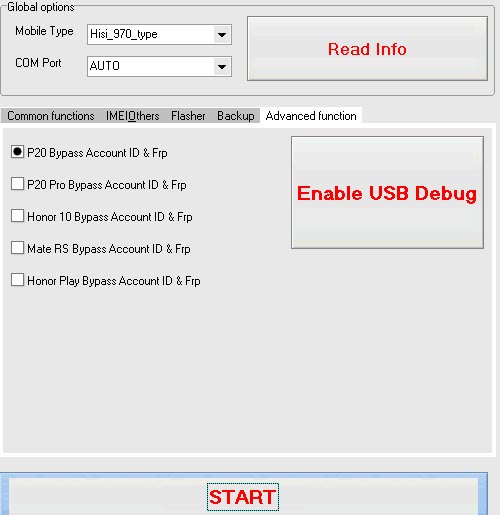 MRT HW Tool: List of Compatible OS
Before using a tool, it's always important to know which all operating systems are compatible with it. Here is the list of compatible operating systems for the MRT HW Tool.
Windows XP/Vista
Windows 7/8/8.1/10(32 & 64-bit)
Supported Huawei Devices
As this tool is exclusively for the Huawei devices, here is the list of primary Huawei devices which support the MRT HW Tool. Apart from these mentioned below, other Huawei devices also support this tool.
Huawei P20
Huawei P20 Pro
Honor 10
Huawei RS
Honor Play
Download MRT HW Tool
Here is the download link for the MRT HW Tool for various Huawei devices.
Download MRT HWTool v2.55 for Huawei Devices
You May Also Like,
How Does MRT HW Tool Works
This tool enables the user with Bypass Account ID and FRP unlock for various Huawei smartphones. You can enable USB debugging on your Huawei Device in a single click.
Step-1 All you have to do is select the Mobile Type from the drop-down menu.
Step-2 Select the COM Port manually and Auto.
Now the tool will read the complete device information of your smartphone/tablet. This includes the Android version, software version, chipset type, brand name, security patch date. It's quite easy to use.
So, if you want to remove FRP Protection from any of your Huawei devices, then get the MRT HW Tool. We hope this guide was useful to you.