In this guide, we will tell you about a cool software that will enable to get the complete information about your device's phone board information. This tool goes by the name Phoneboard v1.4.0. It has been developed by the PhoneBoard GSM team. This tool is exclusive for running on Windows XP, Vista, Windows 7/8/8.1/10. Both 32-bit and 64-bit based systems can run the Phoneboard v1.4.0. We have put up the latest version of the software which you can find in the download section below.
Phoneboard 1.7.0: Supported Devices
This tool is supportive of both Android and iOS-based smartphones. To be more precise, it supports around 2 models of Vivo, 6 models of Oppo, and 14 models of Xiaomi. Other brands like Samsung also support the Phoneboard v1.4.0 tool for around 14 devices. Even Apple's iPhone and iPad phoneboard info can be obtained using Phoneboard v1.4.0. There are 24 Apple devices that are compatible with the Phoneboard tool.
Download Phoneboard v1.7.0 Tool
Here is the download link for the tool.
Phoneboard Tool v1.4.0: Download [/note]
You May Also Like,
How to Use Phoneboard v1.7.0
Installing this tool is very easy. Your system should have around 55 MB space on hard drive to efficiently install and run this tool.
Pre-Requisites
Just for the purpose of the demonstration, we tried running the tool for knowing the phone board info of Xiaomi Mi A1. Here is how the phoneboard for Mi A1 looks like.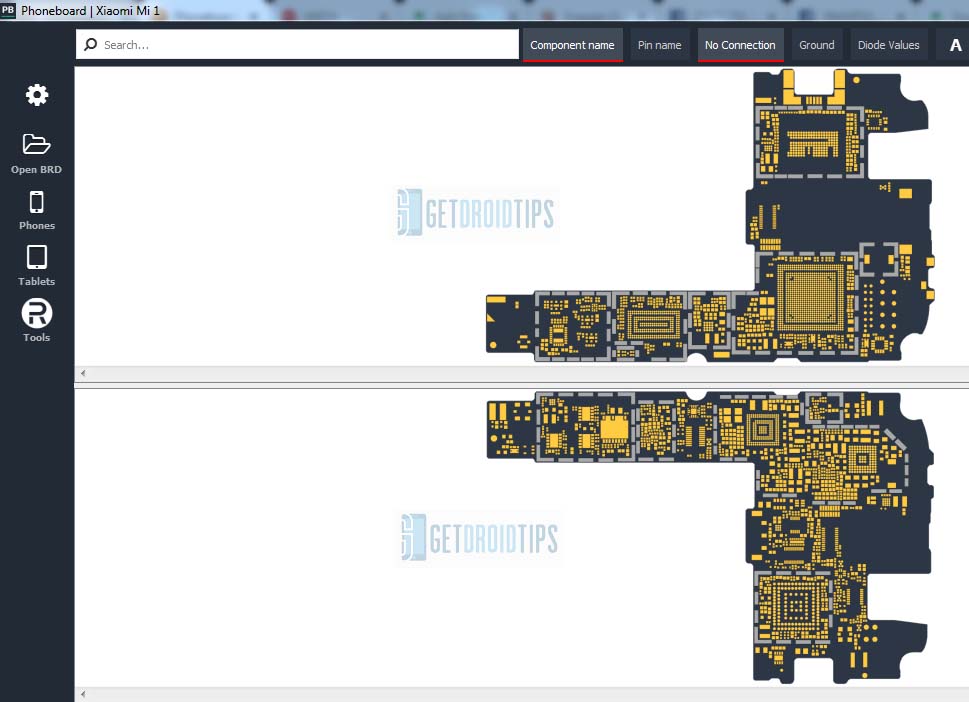 Step-1 Download the Phoneboard v1.4.0 and unzip it to get the setup folder
Step-2 You will see an executable file Phoneboard v1.4.0.exe. Double click to open it.
Step-3 Then follow the instructions to install it on your PC/Laptop
Step-4 Open the Phoneboard tool.
Step-5 On the left panel click on Phone or tablet to check for the respective device.
Step-6 You will see a list of devices that are supported by the tool.
Step-7 Click on the device name, and the phoneboard info will show up.
That's it. It was simple..! wasn't it..?! So, if you want to check phoneboard info for your device then try out the Phoneboard Tool v1.4.0.