Microsoft Edge is a browser developed by Microsoft, as the name suggests. Microsoft introduced the Edge browser in early 2010 for Windows 10, followed by Android and iOS devices. Edge browser is built on Microsoft's own EdgeHTML and Chakra Engine. One of the main features of this browser is that it supports extensions, just like Google Chrome. Unlike Chrome, Microsoft Edge has its extensions built up in the Microsoft Store.
Microsoft Edge is the default browser on Windows 10, Windows 10 Mobile, and Xbox One consoles. Edge was designed to replace the traditional Internet Explorer, although it is still integrated into Windows OS. Today in this article, we are going to discuss the installation and use of extensions in the Microsoft Edge Web Browser. So let's get started.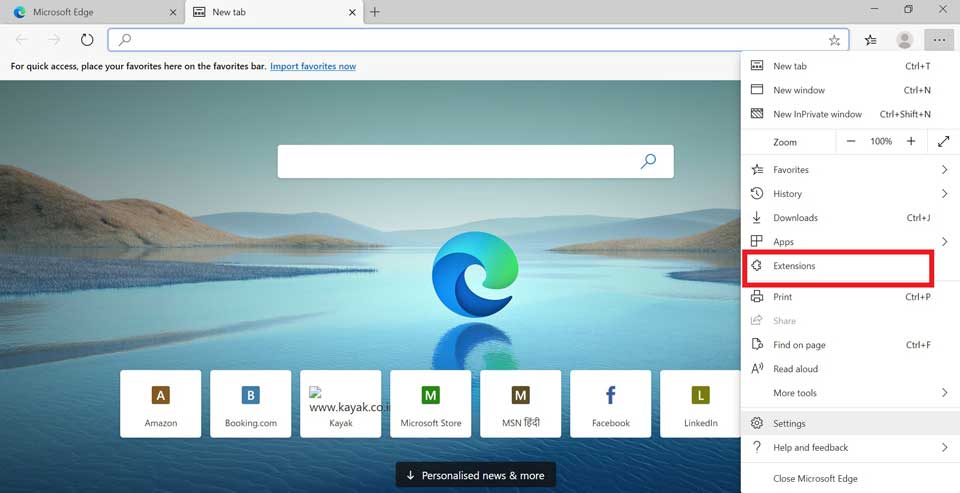 Installation and Use of Extensions in Microsoft Edge
We will learn about the installation of extensions in Microsoft Edge in two Parts. In the first part, we will discuss the installation of proprietary extensions, i.e., from the Microsoft store itself. And in the second part, we will consider importing, installing, and using Google Chrome extensions in Microsoft Edge. So let's move on to the first part.
Installing Microsoft Extensions in Microsoft Edge
Just as similar to Chrome, Microsoft Edge can run add-ons in the browser, which are called extensions. Extensions that are installed on the Edge can be seen by clicking the three-line menu at the top right corner. There you can locate "Extensions." And also, click on them to access the list of extensions installed on the browser.
Further, we would like to add that Edge, by default, does not come preinstalled with any extensions. So to use them, you need to install a few first. To install extensions, follow the Steps Below:
Step 1: Click on the three lines at the top right corner.
Step 2: Locate "Extensions" and click on that. The extension menu opens.
Step 3: To install, click on the "Get extensions from Microsoft Store" link. The store opens.
Step 4: Search for the desired Extension, as categories separate them.
Step 5: When decided, click on "Get," then Microsoft Edge will ask confirmation.
Step 6: Click on Add Extension.
In this way, the Extension will be integrated into Microsoft Edge, and you can see it on the top right corner. After installation, you will be able to interact with the Extension just by clicking on it. Or you can also turn it on and off as per your wish. This way, we understood how to install and use Microsoft's Extensions in Edge. Now we will continue to the second part.
Installation and Use of Google Chrome Extensions in Microsoft Edge
Microsoft's decision to move from the EdgeEngine and switching to Chromium meant that now adding Google Chrome Extensions were possible. We would like to say that this was a wise decision because the Microsoft Store did not have enough productive Extensions. The decision to add this made it just more right and good enough. But, in order to use Google Chrome Extensions in Edge, you need to do only a little work, which we covered further. So go through the steps below to enable the handling of Chrome Extensions in Edge.
Step 1: Click on the three lines at the top right corner of the browser.
Step 2: From that drop-down menu, select "Extensions."
Step 3: In the Extensions menu, slide the toggle to "Allow extensions from other stores."
Step 4: Now, click on Allow to accept the warning.
You can now go-ahead to the Chrome web store to add your favorite extensions from there. Also, after installing extensions from the Chrome web store, extensions will appear under a separate category "From other Sources." As the case was with Microsoft Extensions, just like that, you can also interact with the Chrome Extensions by merely clicking on them.
Is there any problem?
After rigorous testing of the Chrome extensions on Microsoft Edge, we found that there was not a single issue. This might be because now both the browsers are working on the same platform. Chrome and Edge both are based on the chromium engine, and there is no problem as of now. Further, if you experience any difficulty using extensions, you can simply click on them to disable or remove if you want to know how you can uninstall the extensions on Microsoft Edge. That was all about the installation and use of extensions in Microsoft Edge. We hope this helped you. Thank You.