Simulator games are always fun to play, be it a plane simulator, city simulator, car/truck simulator, or even a goat simulator. These games are popular because they try to simulate a real-life scenario. As most of the simulator games are open world, we can do whatever we want. In today's article, I am going to talk about a particular simulator game called Euro Truck Simulator 2 and some best graphics mods to enjoy it much more.
Simulator games are very well rendered, and the graphics are very much pleasing to the eyes. The best thing about Truck simulator games is that there is a big community for each and every title out there. Some talented people invest their time and effort to make these games more enjoyable, and users can install them as additional mods in the game.
Euro Truck Simulator 2 is the wildly popular successor to the already amazing Euro Truck Simulator. This game was released on 19 October, 2012. It was developed and published by SCS Software. As you can tell, the game has been in the market for quite some time. But don't let its age fool you.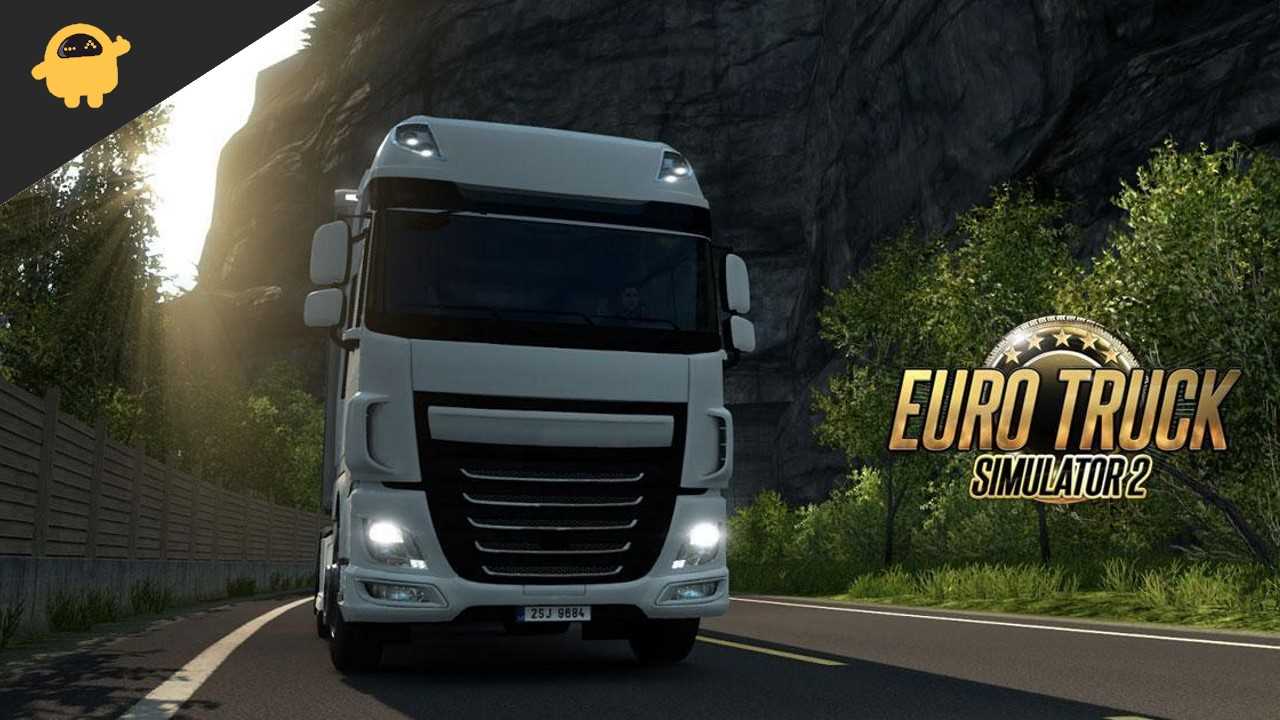 Euro Truck Simulator 2: The ultimate virtual driving experience
Euro Truck Simulator 2 is the best of its kind in the market, and it still holds its ground against other similar titles. The game was released for Windows, Linux, and Mac OS. This is both a single and a multiplayer game. So you can enjoy the joy of driving around in the huge map with real-world players. You can go on missions or free play, anything you like.
This game is received well by both the game critics and users. This game has a rating of 10/10 on Steam and a 96% preference from the gamers across the world. The game has beautiful graphics, with great mechanics and has aged quite well. But the mods community has spiced it up with all the crazy and great mods.
What is a Graphic Mod
A mod is an addition to a pre-existing game which modifies the look and feel of the game. Mods can add larger maps, textures, better sound and many other interesting things that further expands the original vision of the game. It makes the game more enjoyable and up-to-date.
Modding is completely legal, so you don't have to worry about installing it. Today I am going to tell you about some great Euro Truck Simulator 2 graphic mods. So buckle up your seatbelts as I begin.
Euro Truck Simulator 2 Best Graphics Mod
There are plethora of graphic mods created by different people for Euro Truck Simulator 2. Each with their own unique speciality. These are the 10 handpicked mods for you that are gonna level up your gaming experience for sure. Let's have a look at each one of them.
Realistic Graphics Mod by Frkn64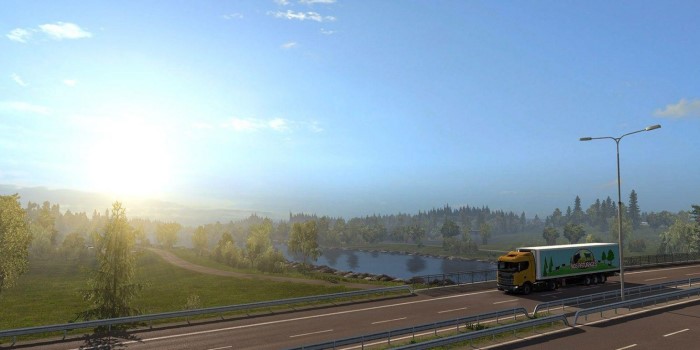 We all love a realistic rendition to our favourite games. Realism in a game is very hard to achieve, some developers nail the realism factor, while some fail to capture it. Good for us there is a big community for mods that fulfills our desires.
This particular mod by Frkn64 brings great and improved graphics and details to the game. This mod was released on June 8,2016. New features are constantly added.
This mod has 70 different high quality sky textures as well as realistic light flares. This has also got high quality textures for the road. Particle effects are greatly improved along with raindrop effects. The look and feel of the game is improved by tweaking the coloring. There are Improvements to weather conditions for rain and fog.
Realistic truck physics by Frkn64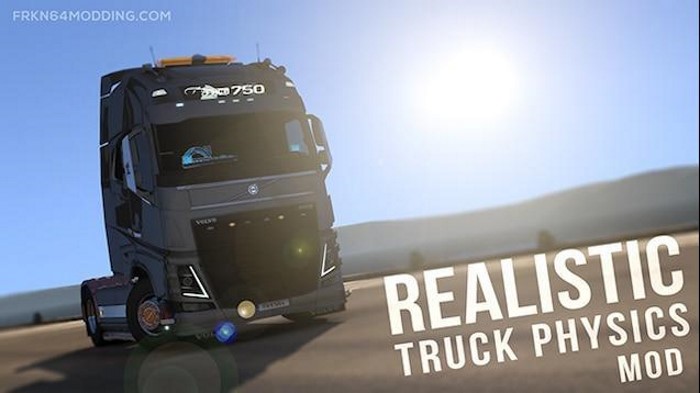 What's the use of realistic weather and scenery if your truck doesn't feel real enough? Afterall, that's where you will be spending most of your time.
This mod by Frkn64 brings realistic truck physics for the game. All the mechanisms like braking, suspension, camera movement inside the cabin, the shaking of cabin and the Adaptive Active Roll Control (AARC) system have been greatly modified and suited to meet the realism factor.
This mod makes you feel as if you're driving a real truck. And along with the realistic Euro Truck Simulator 2 graphics mod, you are surely going to have a superb experience.
Realistic Traffic Density and Ratio mod by Cipinho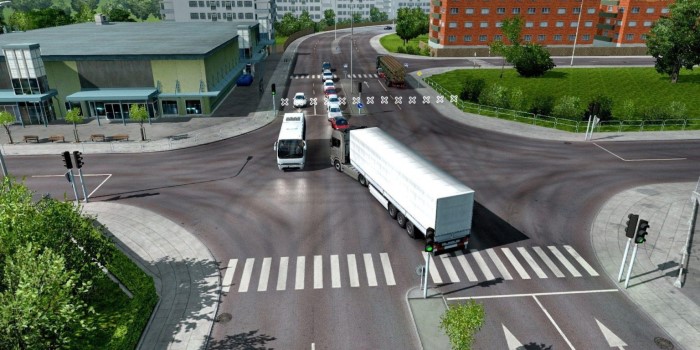 Driving simulators are great until you get the feeling of driving on a lonely road, without any realistic traffic. Doesn't matter how great the graphics are, or how good the game physics is, but, if there's no traffic in a truck simulator, the experience is awful. The original version has a good traffic simulation, but it's not up to the mark.
This mod from Cipinho fulfills your desire for a great traffic environment. This mod lets you change the traffic values as per your wish. You can also tweak the spawn rate of the AI truck drivers. Not just that, the AI drivers act like real ones and will try to overtake you or show road rage.
This mod is fun to play with, you can also find various types of classic cars and motorcycles on your roads. It's a feast for the eyes.
Local Radio mod by Koenvh1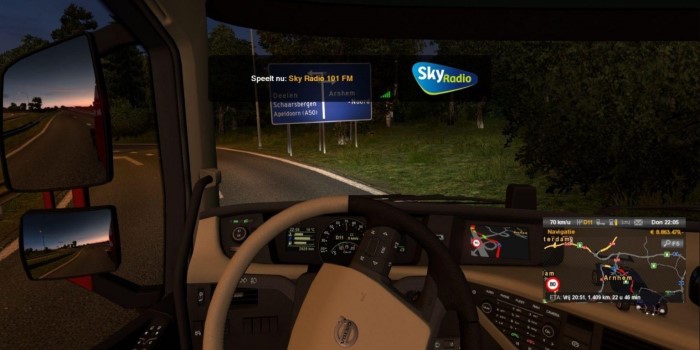 A truck driver needs to travel a great distance and the journey can be quite boring. But don't worry Koenvh1 has it sorted out for you.
In this mod you can listen to music from over 9000 different radio stations while driving. The best part is that these radio stations are area specific and change automatically depending upon your current location in-game. Suppose you're in France, then your truck will play all the local Radio stations from France, and so on.
Mega Pack mod by SiSL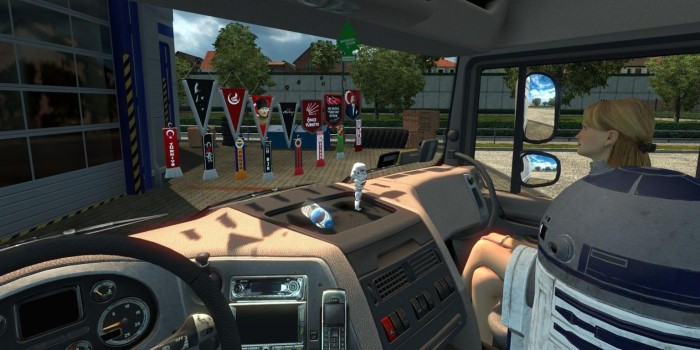 Driving on a long journey can get lonely over time. The cabinet feels dull and boring. Seems like it's devoid of joy. Having a pet or companion while driving in a cozy cabinet would be great right?
Don't worry, this mod from SiSL has got you covered. In this mod you can modify your cabinet with over 400+ accessories. You can add a co-driver, a pet, have your country's flag, a mug with your name on it, and much more. This mod really makes you feel like Home.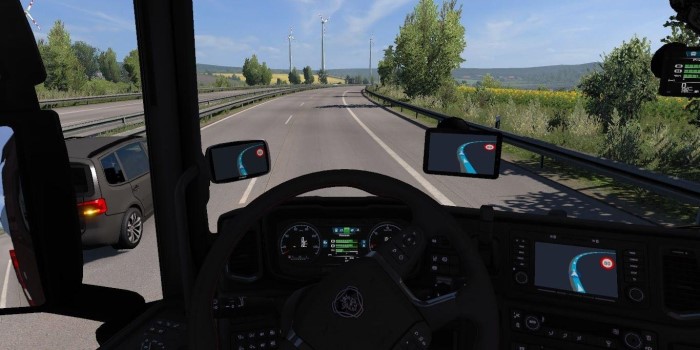 You can't use a physical map while driving, right? An inbuilt navigation device is a must, but sadly, the original game lacks this feature.
But don't worry, the mod from Sinagrit Baba will help you with your navigation. This mod looks the same as the interface of Google Maps, which we are all familiar with. You can also change the brightness of your navigation screen. This brings a whole new experience to driving.
Sound Fixes Pack by Jazzycat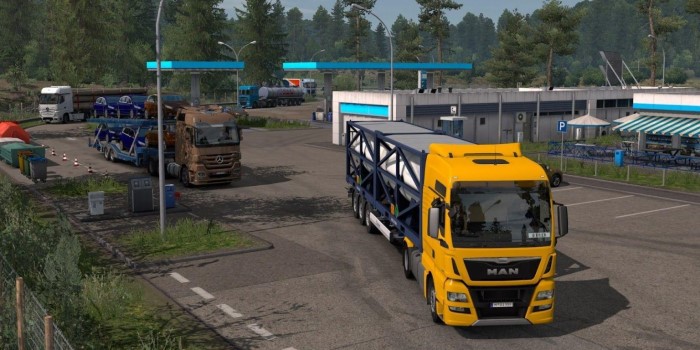 With great graphics, you need great environmental sounds for a more immersive experience. Visuals and sound go hand in hand. If you have a game with great graphics but awful sound, then your gaming experience will be hindered for sure.
This mod from Jazzycat enriches the game with its superb sound modifications to the game. The environmental sounds, the engine revving up, the brakes screeching, etc. Everything's been taken care of. There is also a voice-over for your navigation device too. The mod added rich sounds for the vehicles, too, traffic feels very realistic.
8. ProMods Europe Map by ProMods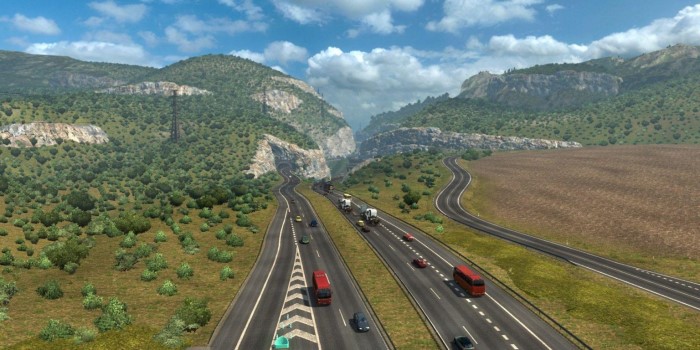 The game's title is Euro Truck Simulator, but the map doesn't have all the cities and countries in it. That's where this mod comes into play.
This mod from ProMods has added a huge list of locations to thegame's current mape. Now you can visit different places from all over Europe. This mod has added 106 new cities from 20 different countries, which are completely new to the game.
Some of the new countries are Greece, Ukraine, Iceland, Ireland and Spain. Apart from that, 251 cities from across 22 countries were improved on the original map. This mod expands the dominion of Euro Truck Simulator 2.
Real Fuel Prices mod by Nener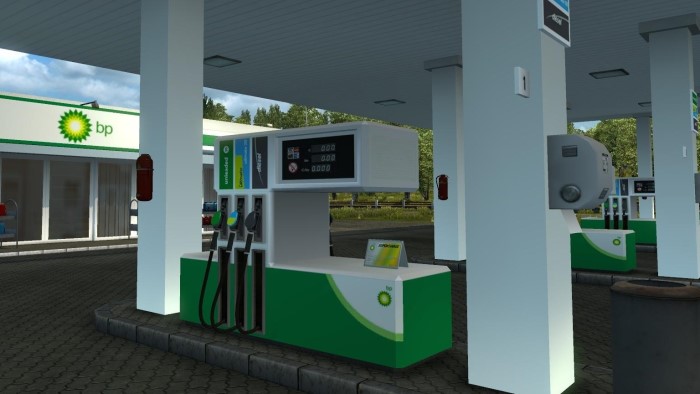 Fuel prices are constantly changing in the real world. And as a truck driver in Euro Truck Simulator, you wish the gas stations would display the real-world gas prices to keep you up-to-date.
Don't worry, Nener has addressed that issue with this mod. This mod shows the real fuel prices across all the European countries and cities in the map. The fuel prices are constantly changing and are updated every Tuesday or Wednesdays across all the gas stations in the game.
TruckersMP mod by Smoky & TruckersMP Team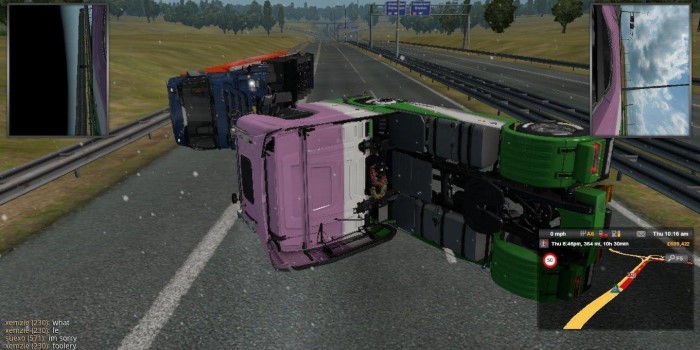 Now, all the mods mentioned above are going to level up your single-player experience. But today, everyone is going for multiplayer titles. This is where the last mod in this list fits in. The game has great AI for its traffic. But, it can never meet the expertise of a human drive (real player).
This mod from Smoky & the TruckersMP Team has spiced up the Multiplayer mode. Here you can drive along with other real players in a server which is made specifically for this purpose. This is the best mod in this list because it lets you play with real humans in this virtual world of Euro Truck Simulator 2.
Conclusion
These are all the amazing Euro Truck Simulator 2 graphics mods. All the mods are completely safe to use. So don't wait, just head on and download these cool mods for your game.