Finally, we are seeing an official video game for the 2020 Formula 1 and Formula 2 Championships. Developed and published by Codemasters, the game rose to popularity in just a short span of time. Diving into the game, your character takes on a vital role, and your need to customize him is just as necessary as playing the game. The process of getting into the customization part of the game is a bit tricky but not that hard if you know what to do,
This is a comprehensive guide for all those racers trying to make customizations in the game. Maybe you don't like the current look or just want to start fresh and better before going out to the race tracks. Whatever it may be, this guide is solely intended to help you enter the customization aspect of the game and it will come in handy for most of you. Without any further ado, let's look at the F1 2020 Driver customization guide on how to customize your Driver.
F1 2020 Driver Customization Guide – How to Customize Your Driver
If you're trying to customize your driver in F1 2020, then you have 3 methods of doing it. The first is when you boot up F1 2020 for the first time. When you start the game, you'll see prompts in a customization popup. From there, the game will let you choose from the available avatars, edit and customize name, origin, driver number, play-by-play call name, etc.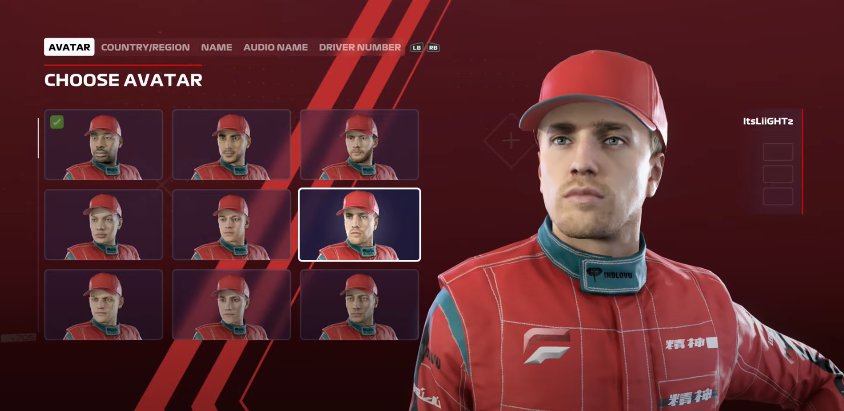 Let's say you're done with everything here and moving on. But if you ever feel like customizing your character later on in the game, then you need to head to the Customization section from the main menu. From there, go into the Characters tab. In addition to this, you also have the chance to customize your character when you're building your own brand in the My Team mode. Once you're in the character customization screen from either of the sources, press the button X on Xbox One and PC, or Square if you're on PS4. This will take you into customizing the different aspects of your character in the game.
Customizing you character in F1 2020 will let you alter different aspects of your character and game. This includes customizing your helmets, gloves, suits, emotes, etc that you can use in the game. However, there are still some things that are pre-set in the game, which the customization option won't help you change. That said, we hope reading the article above has equipped you with some bit of information. Please let us know by commenting down below if you have any further queries regarding the same.
Also, check out our iPhone Tips and Tricks, PC tips and tricks, and Android Tips and Tricks if you've got queries for it or want help. Thank you!