Have you been seeing all the gameplay footage of Fall Guys and wished to play it on your Android phone as well? Lucky for you, there are game developers slowly building games similar to Fall Guys for Android devices over at the Google Play Store. In case you have been looking for good Fall Guys Alternatives for Android devices, this is the place you want to look out for!
Fall Guys has taken the internet by a storm thanks to its highly addictive gameplay style and graphics that are easy on the eyes. If you thought people were already over battle royale type games, think again. While Fall Guys doesn't offer the same gunplay that games like PUBG and Fortnite do, it is still much more addictive than either of those. The reason being the game is simply based on physics and not much so on the individual skill of a player. Fall Guys is an obstacle course in its purest form and can be played in teams.
The game is available for Windows PC and PS4 users only. While there is speculation that the developers will be releasing a mobile version for Android and iOS soon enough, some of us can't wait to experience the massive multiplayer battle royale feel that it brings. In that case, we have gathered a list of some of the best Fall Guys Alternatives for Android out there right now.
Do note that the list will be ever-expanding and as of us writing this guide, there are only a handful of good alternatives that you can try. So make sure you bookmark this page for frequent updates on the latest alternatives to Fall Guys for Android devices. With that being said, read on to discover the best Fall Guys Alternatives for Android that you can play for free!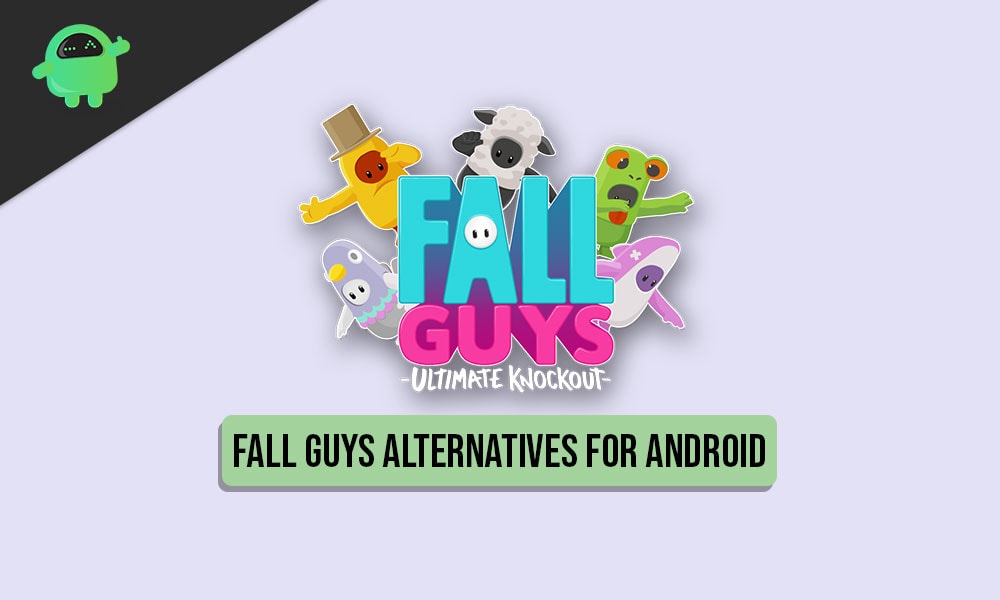 Fall Guys Alternatives for Android
#1 – Fall Dudes 3D
Our first and probably also the top mention in this list is Fall Dudes 3D, which is effectively a very good clone of Fall Guys made for your Android device. The game is still in beta and has been receiving updates left, right, and center which is a great thing. The game features the same obstacle course-based battle royale mode that Fall Guys offers.
Fall Dudes 3D supports up to 39 players in a single session which is a good number of opponents to make things challenging and fun at the same time. The graphics of the game resemble those of Fall Guys really closely and the physics is also quite similar. There are various courses that you can play with your friends or against random players online. You can try Fall Dudes 3D for free on your Android device by following the link to the Google Play Store page linked below:
Fall Dudes 3D
#2 – Oopstacles
Up next on our list is Oopstacles which is probably one of the most feature-packed Fall Guys alternatives for Android that you can try. It has over 1 million downloads and has a ton of positive feedback from the users that play the game. It offers a similar physics-based obstacle course that you can play solo or with other players online.
However, it has many other features apart from the basics as well. There is a "Scream" mode which makes use of your voice to make the character move forward and hop around. This is genuinely a fun way to enjoy a game handsfree and to add a little spice to this already fun game. There are over 1200 different levels already, which makes this game very compelling to play and get addicted to.
The game can be played for the most part using one-touch controls, which is great if you are looking for a casual physics-based game. You can customize your character just like you can in Fall Guys. You can easily switch between different game modes from the main menu in case you get bored of a single style of gameplay. Overall, this is a great alternative to Fall Guys for Android that you can try out! You can download Oopstacles for free on your Android device by following the link to the Google Play Store page linked below:
Download Oopstacles
#3 – Human Fall Flat
Human Fall Flat has been a popular title on PC for quite a while now and has recently made its way to mobile for Android and iOS. It has similar ragdoll type physics that Fall Guys players love to goof around with. Human Fall Flat can be played in a group of people and is primarily a co-op puzzle game where you try to make it towards the end of the stage while trying to solve various puzzles.
You can interact with objects such as rocks, levers, pulleys, and more to get to a specific destination. The movement and jumping physics in this game make it reminiscent of Fall Guys too. One of the main key aspects within the game is to grab stuff, be it other players or items nearby such as wooden logs, weapons, and just about anything that is interactable. Do note that this is a paid game and it does cost a pretty penny. However, we feel that it is totally worth its asking price.
The surroundings and stage design are also very similar to that of Fall Guys – colorful and vibrant. Human Fall Flat is definitely a great alternative to Fall Guys for Android as well as iOS users out there. While it doesn't feature the exact gameplay style of the battle royale, there are many custom modes and maps that provide a similar experience. We highly recommend you try this polished game out for yourself! You can buy Human Fall Flat on your Android device by following the link to the Google Play Store page linked below:
Download Human Fall Flat
#4 – Knockout Race
Next on our list is Knockout Race which seems to be a carbon copy of Fall Guys. It features the same battle royale style of gameplay and you need to make it to the end first to win the game. Not to mention that the game has most of the game modes directly inspired by Fall Guys such as the Hex-a-gone and other survival modes. It has clean graphics for a mobile game and isn't too taxing for older phones either.
You can run, jump, grab, and dive into things – all these movements are basically the principles for a game like Fall Guys. You can queue up against 50 other players at the same time and this makes the gameplay a lot more exciting and challenging. The obstacle avoid course features some very well made levels and objects that are genuinely difficult to avoid while running around with other players.
The multiplayer battle royale mode is also divided into 5 stages, just like it is in Fall Guys. There are various levels within a single game and some may even be team-based games making the game more random and fun to play. As far as we've looked, Knockout Race seems to be a true alternative to Fall Guys, both in terms of graphics as well as the gameplay. You can download Knockout Race for free on your Android device by following the link to the Google Play Store page linked below:
Download Knockout Race
#5 – Battlelands Royale
Battlelands Royale is more similar to the likes of a battle royale game such as PUBG or Fortnite than it is to Fall Guys. However, the game is just as fun and is packed with action right from the moment you start the game.
The game features a 32-person arena where the last man standing wins. Since there are only a few players every match unlike the conventional 100-player battle royale games, each game takes no more than 5 minutes to complete, making Battlelands Royale excellent for quickly whiling away time.
You can either play with a friend in Duos or if you're feeling daring enough, jump into a Solo game. The graphics of the game are reminiscent of Fall Guys and make the game suitable for all age groups.
Download Battlelands Royale
#6 – Stumble Guys
Ending our list of some of the best Fall Guys alternatives for Android devices, we have a game that is probably the closest you can get the same experience with. Stumble Guys takes a lot of inspiration directly from Fall Guys and brings the action-packed knockout gameplay to a handheld device.
There are various nerve-wracking challenges just like in Fall Guys. Stumble Guys features a 32-person lobby which makes every match enjoyable but also competitive at the same time. The controls and actions are also very similar to Fall Guys.
Overall, Stumble Guys is the best alternative to Fall Guys that you can play on your Android device right now!
Download Stumble Guys
Conclusion
That's all for this article! We will be adding more to our list of the best Fall Guys Alternatives for Android as and when the new games are released to the public. For now, we hope you can find some entertainment in the above alternatives to Fall Guys that we have talked about! If you have any queries regarding the article, do let us know in the comment below!