OnePlus has finally revealed the latest OnePlus 6T which is going to be live on sale in the country via Amazon. The device is having a price tag of 37,999 INR and has some top-notch specs with a beautiful and minimal top notch. Keeping all the specifications aside, let's talk about the durability of the device. OnePlus customers want a durable phone in this expensive price range. So it is obvious that people are looking for waterproofing, splash proofing and dustproof capabilities in the device.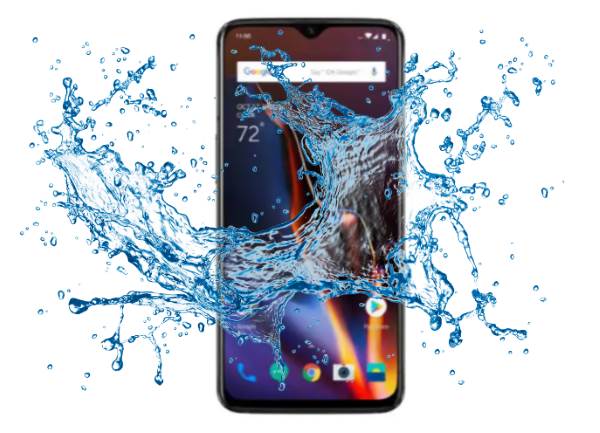 The new OnePlus 6T doesn't come with a certified IP68 rating. However, according to the company, the device has a greater degree of water resistance than its predecessors. But, in the end, the latest OnePlus 6T doesn't have an IP rating. But don't be sad or disappointed, because today we are going to test whether OnePlus 6T is actually waterproof or not. We will be conducting multiple tests to find out whether OnePlus 6T is a waterproof device or not. So without wasting any time, let's start with our OnePlus 6T waterproof test.
Find Out if OnePlus 6T Waterproof device? – Waterproof test
Before we start with our OnePlus 6T waterproof test, let's get to know some of the latest highlights and features of this device.
In display fingerprint scanner
6.41-inch touchscreen display
Beautiful and minimal waterdrop notch
octa-core (4×2.8GHz) processor and 8GB of RAM
Bigger battery
Removal of headphone jack :(
There are a couple of tests we can perform to find whether OnePlus 6T is waterproof or not. Today, we are going to perform OnePlus 6T waterproof test. So stay tuned for the results.
Also read: Download OnePlus 6T Launcher APK with New Navigation Gesture
Splash Proof Test
In Splash proof test, we will test the device to withstand an accidental water splash. This will tell us whether the device survives in such condition. When we subject OnePlus 6T to artificial water splash, the device seems to work fine. there are no complications at all.
Rainwater test
In this test, we are going to suspend the device in artificial rain environment. This also mimics the showering conditions as well. This test will tell us whether users can use this device in rainy conditions to make or receive calls.
Also read: Top and best covers and cases for OnePlus 6T
After testing the OnePlus 6T in artificial rain condition, we observed that the device does not show any signs of damage. This means that the users will be able to use the device while it's raining or while taking a shower.
Washing Test
In this test, we are going to wash OnePlus 6T with running tap water for 1 minute and check whether it survives or not. This will help us verify that this device is waterproof or not. After performing the washing test, the device seems to be working. There are no signs of water damage to any component of the device.
Dustproof Test
In this test, we will keep the device in a sandy environment with lots of grain and sand particles with a running fan around it. This situation mimics dust storms and will check how the device holds in such conditions.
Also read: Top 5 Best Rugged Case for Google Pixel 3 and 3 XL
After the dustproof test, no dust was found in the internal parts fo the device. This shows that indeed OnePlus 6T is dustproof.
Results – Is OnePlus 6T waterproof device?
After performing all the test, the device has passed all the tests. So we came to the conclusion that OnePlus 6T is indeed a waterproof device to some extent.
| | |
| --- | --- |
| Official IP ratings (waterproof ratings) | none |
| Splashproof test | Passed |
| Rainwater test | Passed |
| Washing test | Passed |
| Dustproof test | Passed |
Since it is not having a certified IP68 rating, users are adviced not to use this device under water as it might damage their phone.
Interested in more waterproof test articles? Check out these: