Browsers are the most crucial applications that you use in your Android smartphone. Be it surfing, downloading, or using various other web services, and these browsers help out a lot. But if we talk about the best browser, then the options available on the Play Store are too much. As there are so many browsers, but today we are going to compare two of the best browser that is available for Android, Firefox vs Brave browser.
Both of these browsers are mostly used on Desktops. But everyone knows how big is the Android user market, so they have started updating their browsers on Android with new features. So, let's check Firefox vs Brave browser and see which one of these browsers will fit your requirements and is best for you.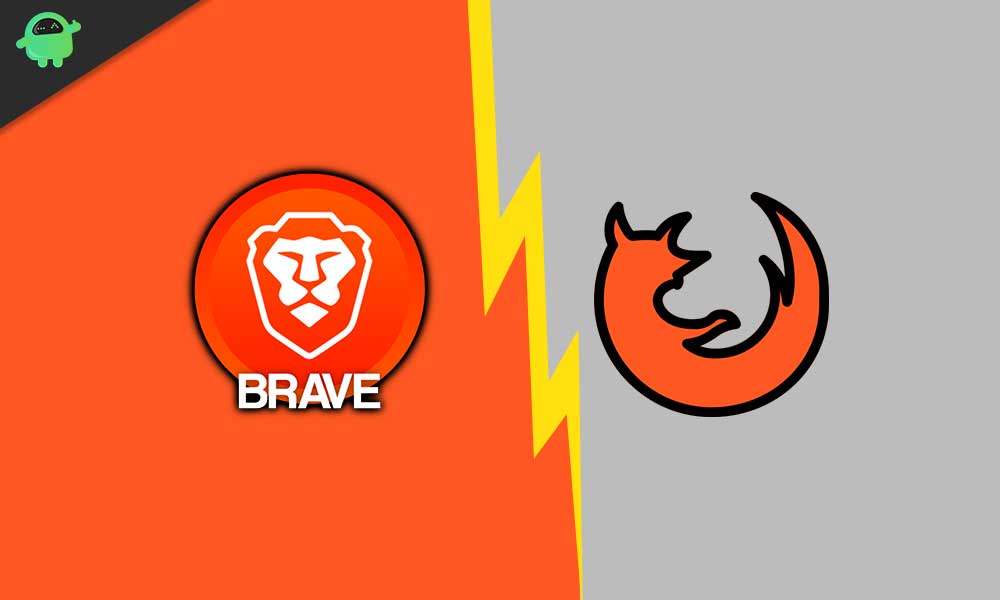 Firefox vs Brave: Which One Is Fastest in Android and Their Differences
Firefox was started on Android in 2011 with some other repositories, which we're making it so much laggy. Over time they updated the browser with new versions and some new features. But in 2017, they come up with their most updated version, which built on their own platform.
After this update, Firefox has been changed a lot. They have made it more compatible with the Android platform. From there, it had become a proper Android browser to use, and it has also attracted many new users.
The brave browser was introduced in 2016. This browser is based on chromium code repository, so most of its features and functions are the same as Google Chrome. Even being a new browser, brave has more than 1o million installs on the play store.
Brave browser is mainly known for giving smooth experience without any ads. The feature is known as, shield. So, after getting some introduction about both the browsers, we will now compare them to see which can be best for you.
Browser Speed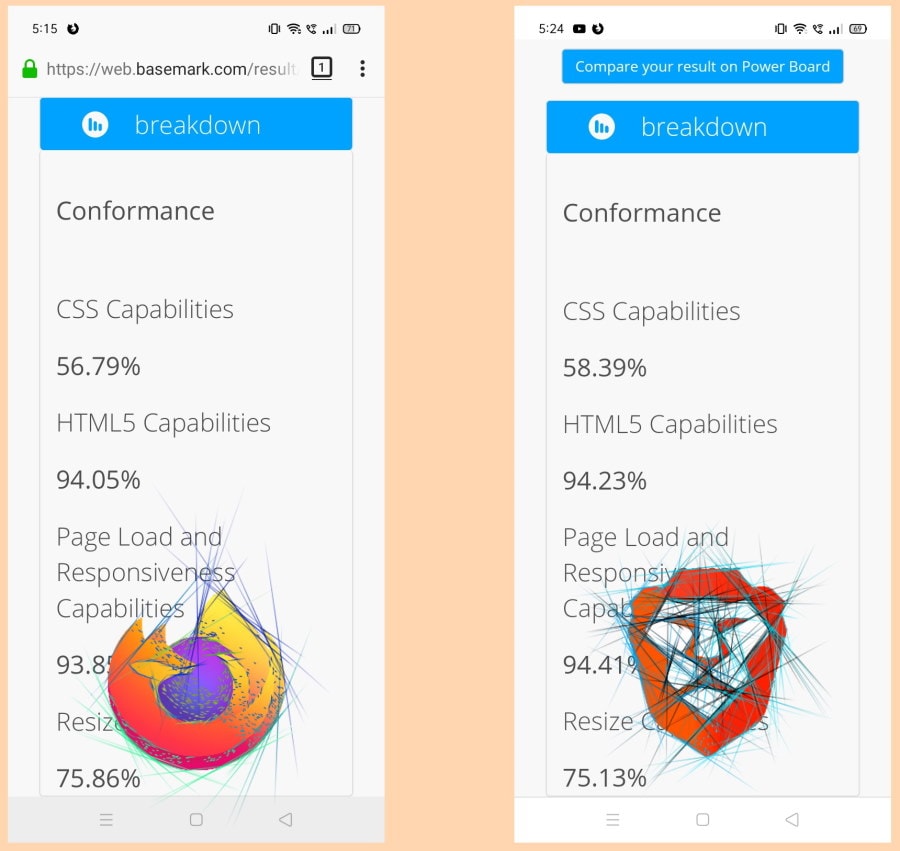 The speed of the browser plays a very big factor in the browsing experience. If the browser is slow, then you are going to face slow loading speed on websites and will also have problems in switching tabs.
Firefox browser is very much fast in terms of speed. The browser blocks the web trackers which store your cookies while you are surfing on the web. By disabling the web trackers feature, your webpages will be going to load so fast and smoothly.
Brave is a lot faster than any other browser. The main reason is that this browser blocks all the third party ads, which makes the sites load very much faster, and it also disables all the cookies in the browser, which makes it more functional.
Browser Performance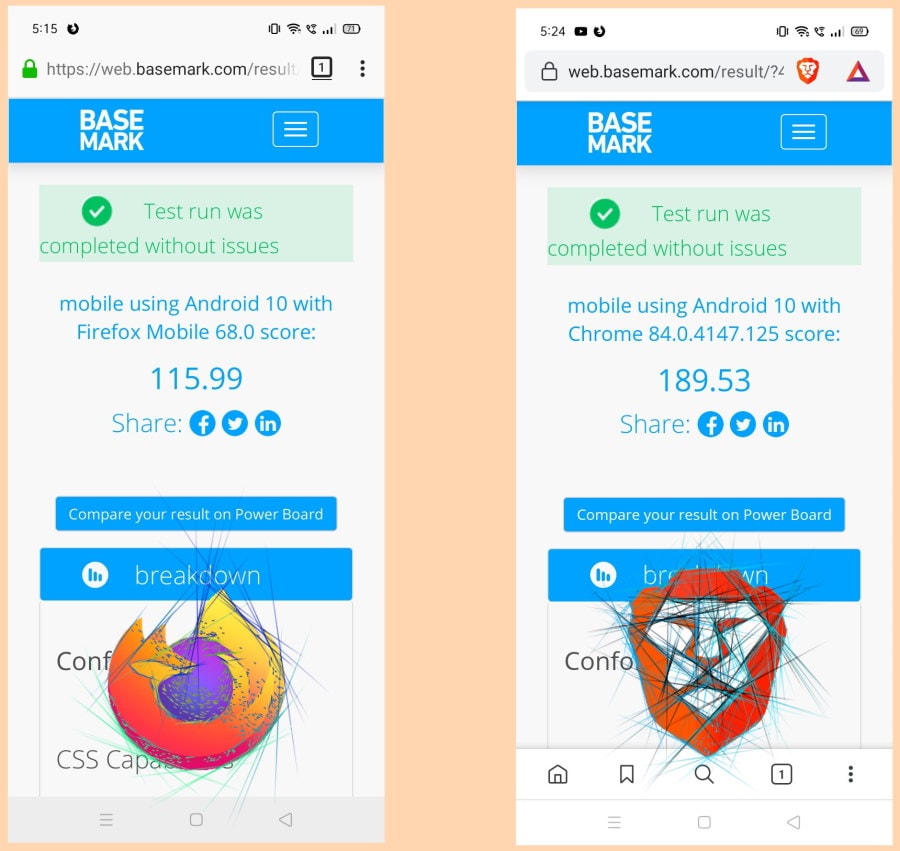 The performance on the Firefox browser is very much up to the mark. Firefox has all the features that can make a browser's performance best. It also works very fine with smartphones having very limited system capabilities.
Brave is one of the lightest browser available on Android platform. This helps the browser to perform fast and give better performance to the user. It also has features like battery saving and data saving modes, which helps the browser to enhance its performance. Their official website has also mentioned that the browser saves more than 18% of bandwidth.
Privacy and Security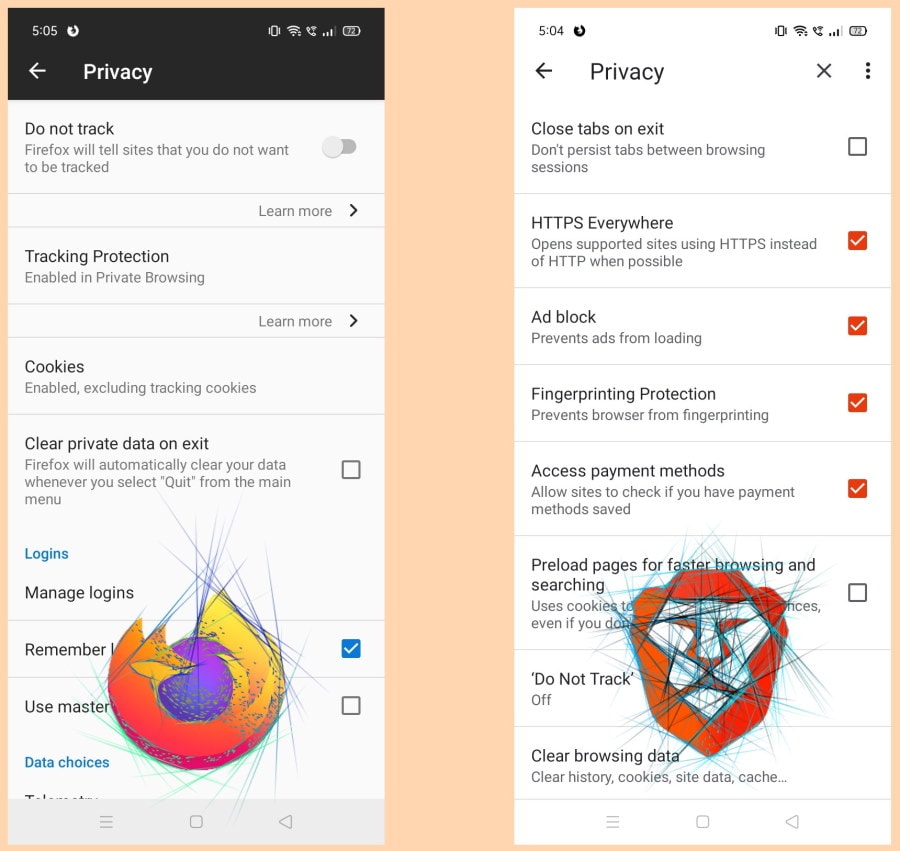 Firefox provides the best privacy and security for its users among any other browsers. You can change various privacy and security features in Firefox. You can also enable the option of Tracking protection by which the web trackers installed on the website can't recognize you.
Brave is also very strict in terms of Privacy of users. This browser has several different privacy features, and it gives control to all of them. Some of them are blocking websites, changing ads preferences, and disabling cookies.
User Interface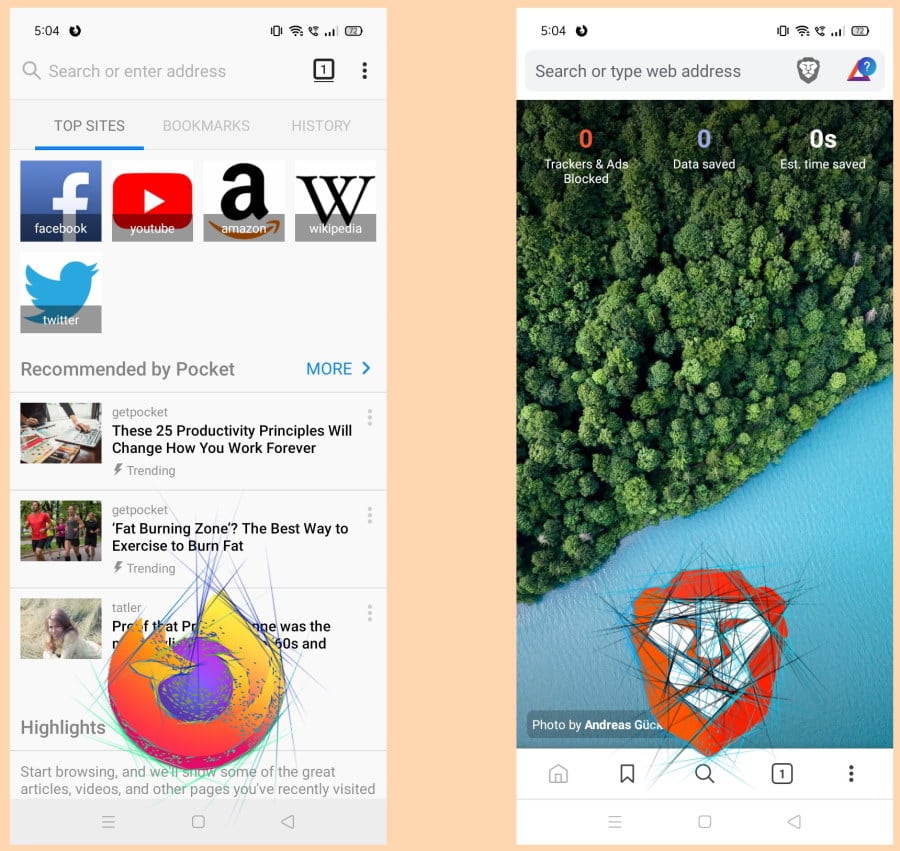 The user interface of Firefox is very smooth and gives a very great browsing experience. You can see the option of history and bookmarks direct in the Home tab, which makes it so much easy to access them. If you use so many tabs, then switching between tabs is also simple.
Brave is a simple browser in terms of UI. On the Home tab, you see a search bar along with some web links, a wallpaper, and some different toggles at the bottom to do other functions. It is not that much advance, very simple, and responsive, which makes it work fast.
Conclusion
Both of these browsers work perfectly fine on Android. If you want a more performance-based browser, then Firefox can be the option for you. But when it comes to privacy and clean UI, then Brave is the one which should be preferred.
The speed of both browsers is almost the same, but brave is slightly better.