Apple Pay is making it easier for users to pay out people for various day-to-day transactions. The application boasts of efficiently supporting contactless and cashless payouts. You can even pay through messages. On certain credit cards, you even get cashback for paying using Apple Pay. Not only using the iPhone, one can pay via their Apple watch as well. However, some folks often complain that Apple Pay is not working as it should do. There can be various reasons for that. Every technological thing however modern always ends up with some kind of snag. In this guide, we will take a look at the possible reasons and solutions to fix Apple Pay not working on an iPhone.
The solutions that I have put up are pretty simple. There are high chances that these troubleshooting techniques will fix up the issue pretty well. Online payment can bring headaches when you are least expecting. I know it's irritating when you are all set to checkout with a few taps but things go wrong. Keep reading the guide to know what may cause the Apple Pay not to work and how you solve the issues on it.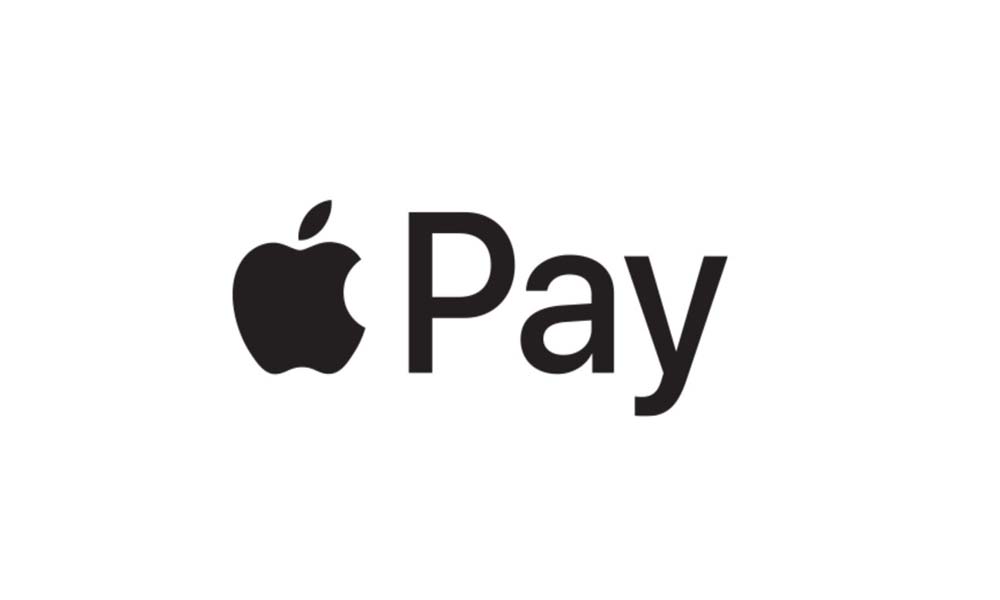 Related | How to Rotate A Video on iPhone
How to Fix If Apple Pay not Working on your iPhone
Let's first check out the possible reasons that may cause a fault in the working of Apple Pay.
Why Apple Pay Won't Work.?
Here I have a few pointers that can cause the issue.
An issue at the server end
Fault in the POS machine
Unsupported card type
Some bug in the iOS build
There can be a problem with your internet connection or Wi-Fi
Having an insufficient balance on the debit/credit card connected to the Apple pay
Guide | How to Crop A Video on iPhone and iPad
Troubleshooting
What I have listed above are the primary reasons that always lead to problems in payment services. Now, that we know of the issues, let's check for the solutions.
Try to Reboot your iPhone
This trick works several times for various kinds of problems.
Press the power button of the iPhone
Slide right to power it off

Long press the power button to start the iPhone again
Now, try to use Apple Pay. See if it solves the problem or not. Otherwise, try out the other troubleshooting methods I have provided below. Normally, by rebooting many software and code fragments reset properly. If it's a minor issue, then restarting the device always works like a charm.
Use A Different POS during checkout
Normally, restaurants, petrol pumps, and shops have multiple POS machines. So, if with one machine, Apple Pay is not working, then try it on another POS. In most cases, the first POS may have some fault in it. So, try to pay with the second one.
Problem with your Internet
Are you using cellular data while making the payout..? Then maybe there is some momentary connection trouble which is happening due to the service provider. So, either use a WiFi network, if it's available, or maybe use some other secondary phone you have.
Check if Apple Servers Have Some Issue
Some of you who are new to Apple may wonder how are you going to know if Apple server has any issues.? Then let me tell you about this website called Apple System Status.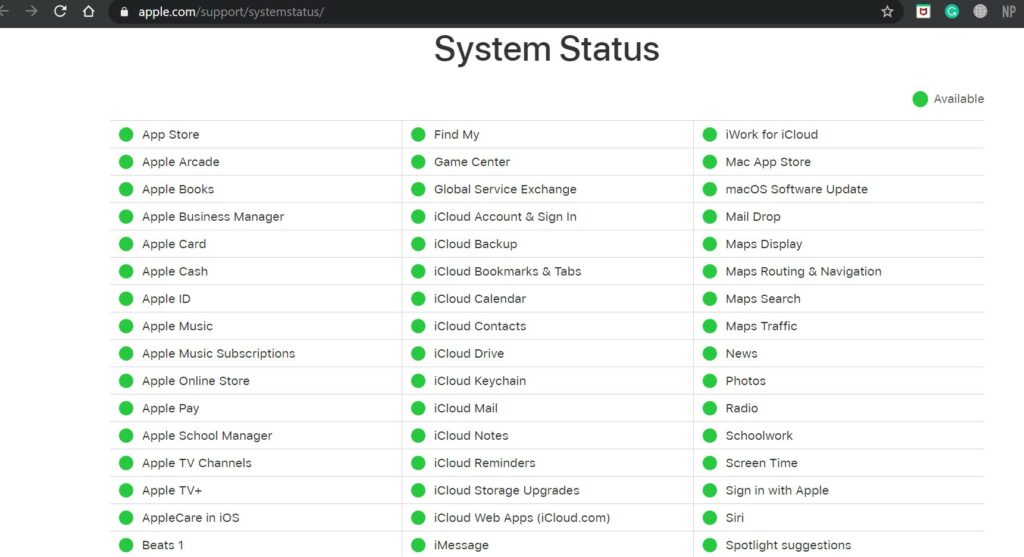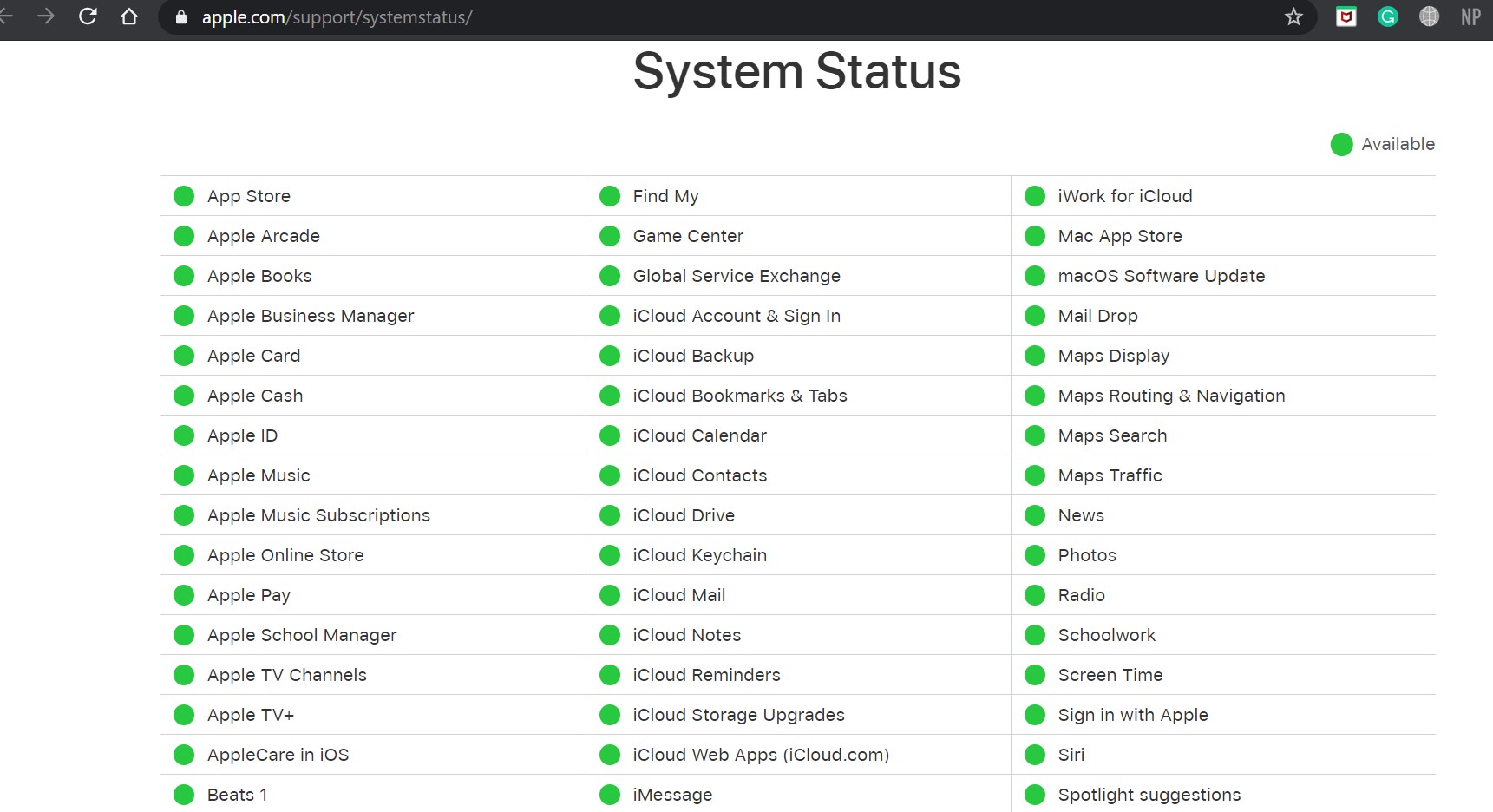 It gives you the latest information about the network status of all Apple services. Thus, it will let you know whether the servers are down or not. This site gets updated continuously every single minute. So, if any issue is happening at the official end, then you will see it mentioned here. As of this writing, there is no issue whatsoever with any of the Apple services and everything is working just fine.
Does the Card Support Apple Pay
Apple Pay supports Mastercard, VISA, and AMEX. If you have a card that is not any of these three then the card will be invalid when you try to save its details for payment. So, maybe contact your bank and convert your debit/credit card into VISA or Mastercard.
Low Balance on Credit/Debit Card
Your particular account must have enough money for a payout using Apple Pay. If you do not have money on your account, then Apple Pay will not work. Check for the same with your banking app and deposit money in the account. Then the corresponding connected card will work and so will Apple Pay.
Is your iOS of the Latest version.?
Most of the time, the problem may lie with the system software. So, look for any available updates for the iPhone. Normally, if Apple detects some bugs on any of their services, they try to fix it as quickly as possible via hotfixes. So, it's wise to install any available updates on your System Settings.
Go to Settings App > tap General
The second option Software Update. Tap on it

See if any new update is available for download/install. If yes, then do it immediately.
Reboot your iPhone
Now, try to use Apple Pay. If there was an issue about the system build bug, then it should be gone and now the application should work smoothly.
Re-Enter your card Details if Apple Pay Not Working
Usually, an issue with a card may happen if you made some changes to its information, and the same is somehow not registered on Apple Pay's database. So, you have to manually re-enter the card details once again.
First, remove the existing card details from the Wallet App. Then re-enter the credentials and save it. Now, try to use that while making a purchase. This time, Apple Pay should work flawlessly.
So, that's all about the troubleshoot you need to perform if Apple Pay is not working on your iPhone. I hope the guide solves your issue. Let me know in the comments section, which method worked wonders for you.
Read Next,