Assassin's Creed Valhalla is now available to the public for a while and this action role-playing video game is attracting players' minds really well due to its story and graphics. Ubisoft has done a great job with this 22nd title in the Assassin's Creed series which is also a successor to the Assassin's Creed Odyssey (2018). Now, some players are reporting about the Assassin's Creed Valhalla not opening issue. So, if you're also one of the victims, make sure to follow this troubleshooting guide to quickly fix the problem.
It's worth mentioning that as the game is new in the market, it's quite expected to have some bugs or errors in the current version which can be fixed by the developers by pushing patch updates. However, sometimes developers may take a quite long time to release patch fixes. Therefore, it's always better to go with some common and possible steps to quickly resolve the issue.
How to Fix Assassin's Creed Valhalla Not Opening issue
According to the affected players, the game either won't start properly or can't cross the loading screen while starting which is very frustrating and the particular issue is mostly happening to the PC users. It's also expected that there may be some corrupted or missing game files, outdated drivers, outdated game or Windows build, improper installation, third-party apps, Windows Defender Firewall or third-party antivirus program, etc can cause this issue.
In other cases, it's also recommended to check out the minimum system requirements of the Assassin's Creed Valhalla game to ensure whether your configuration is capable to run this game or not. Here we've shared the possible workarounds for PC users. Now, without wasting any more time, let's jump into it.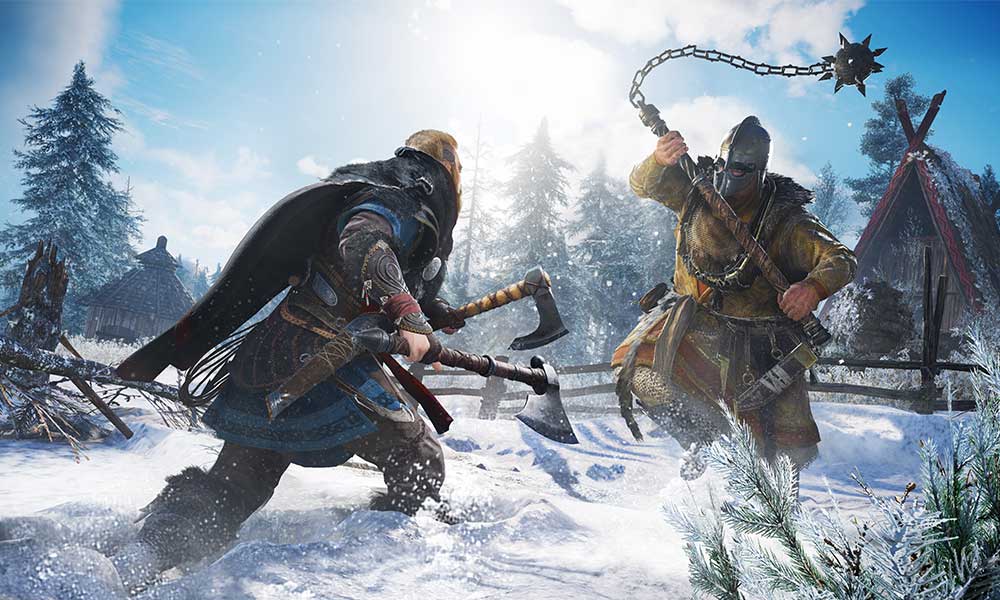 1. Check Minimum System Requirements
CPU: AMD Ryzen 3 1200 3.1Ghz / Intel i5-4460 3.2Ghz
GPU: AMD R9 380 4GB / Nvidia GeForce GTX 960 4GB
Targeted frame-rate: 30fps
RAM: 8GB (Dual-channel mode)
Video preset: Low
Resolution: 1080P
2. Update GPU Drivers
Press Windows + X keys to open up the Quick Start Menu.
Click on Device Manager > Click on the arrow icon of Display adapters to expand the list.
Right-click on the dedicated graphics card > Select Update driver.
Click on Search automatically for drivers and it'll start searching for the available update.
If available, it will automatically download and install the latest graphics driver version.
Once done, restart your computer to apply changes > Try running the game again.
If not available, then make sure that your dedicated graphics card is actually set for primary use or not. You can follow the next step for that.
3. Manually Select Dedicated GPU
In some cases, the Windows system as well as the game system can select the preloaded or inbuilt graphics memory by default which isn't capable to run high-end graphical tasks. So, you'll need to manually select the dedicated external graphics card for your Windows as well as games.
Press Windows + X keys to open up the Quick Start Menu.
Click on Device Manager > Click on the arrow icon of Display adapters to expand the list.
Right-click on the internal graphics card > Click on 'Disable device'.
If prompted, confirm it. [It'll ask the Windows system to use the dedicated GPU instead of internal GPU]
Next, press the Windows + S keys to open up the Windows Search option.
Click on the search bar and type graphics settings.
Now, click on the search result and click on 'Choose an app to set preference' under the 'Graphics Performance' section.
Select 'Desktop app' > Click on 'Browse' > Now, go to the installed folder location of Assassin's Creed Valhalla.
Select the exe game file > Click on 'Add' > Once the game listed, click and select it.
Now, go to Options > Select your dedicated graphics card and choose 'Save'.
Finally, try launching the game file to check whether the Assassin's Creed Valhalla Not Opening issue has been fixed or not.
4. Run the game as an administrator
Sometimes running a program or a game without an administrator's access to the system can cause multiple issues like not opening or stuck at the loading screen or even crashing.
Right-click on the Assassin's Creed Valhalla (exe) desktop shortcut file.
Go to Properties > Click on the 'Compatibility' tab.
Now, enable the checkbox of 'Run this program in compatibility mode for:' under the "Compatibility mode".
Select Windows OS version from the drop-down list > Click on 'Apply' and then 'OK' to save changes.
Finally, you can try running the game by double-clicking on the desktop shortcut file and it should run properly.
5. Verify and Repair Game Files on Ubisoft
Launch the Ubisoft client on the PC and log in to the account.
Click on the Games tab > Here you can see Assassin's Creed Valhalla.
Now, click to select the game and choose the arrow icon in the bottom right corner.
Choose Verify Files from the drop-down list > Click on Repair if prompted.
Let the restoration process finish. [Ubisoft will automatically fix all the missing or corrupted game files if any]
Once done, restart the computer and start playing your game.
6. Update Windows Build
If in case, your Windows OS build isn't running on the latest version for a while, make sure to keep it up-to-date to run all programs smoothly.
Click on Start > Go to Settings.
Click on Update & Security > Click on 'Check for updates'.
If an update available, ensure to Download and Install it. [Windows cumulative updates mostly includes all the security patch fixes, DirectX updates, .NET Framework updates, Visual C++ updates, etc]
Once done, restart your computer and check whether the Assassin's Creed Valhalla Not Opening issue is fixed or not.
7. Reinstall Ubisoft Uplay Client
If none of the above methods worked for you, make sure to uninstall and reinstall the Uplay PC client which can also fix the particular issue in most cases.
First of all, close the Ubisoft Uplay client > Go to the Task Manager and End Task of the Uplay processes.
Second, click on the System Tray icon and check whether the Uplay client is running or not. If running, then right-click on the Uplay icon and click Exit.
Now, go to the Control Panel from the Start menu > Click on 'Uninstall a program'.
Search for Uplay client and right-click on it > Select Uninstall.
If prompted, follow the on-screen instructions to complete the uninstallation process.
Go to C:\Program Files (x86)\Ubisoft\Ubisoft Game Launcher location and delete the 'cache' folder as well (if any). [In your case, the installation location or drive may vary if you've chosen another drive or location]
Once done, restart your PC > Download the latest Uplay client version for PC.
Install it via administrator access > Log in to your Ubisoft account in the client.
Download or update the Assassin's Creed Valhalla game and start playing it.
That's it, guys. We hope you've found this guide pretty helpful. For further queries, feel free to ask in the comment below.