Gaggle Studios, Inc. did release a free-to-play strategic multiplayer video game called 'Goose Goose Duck' which is a game of social deduction. In this title, players will be able to play in the multiplayer mode to complete missions in a cute and funny way throughout the gameplay sessions. Additionally, this game includes both private and public game lobbies that becomes popular. However, it seems that the Goose Goose Duck No Sound Issue is troubling a lot.
In-game audio or voice matters most to enhance the gaming experience no matter whether you're playing with your friends or not. Whereas the background music and other specific sounds can help players in performing well enough. In addition, players will be able to talk with other players during the gameplay sessions. But if the game doesn't have sound due to unexpected reasons, you won't be able to play matches properly for sure.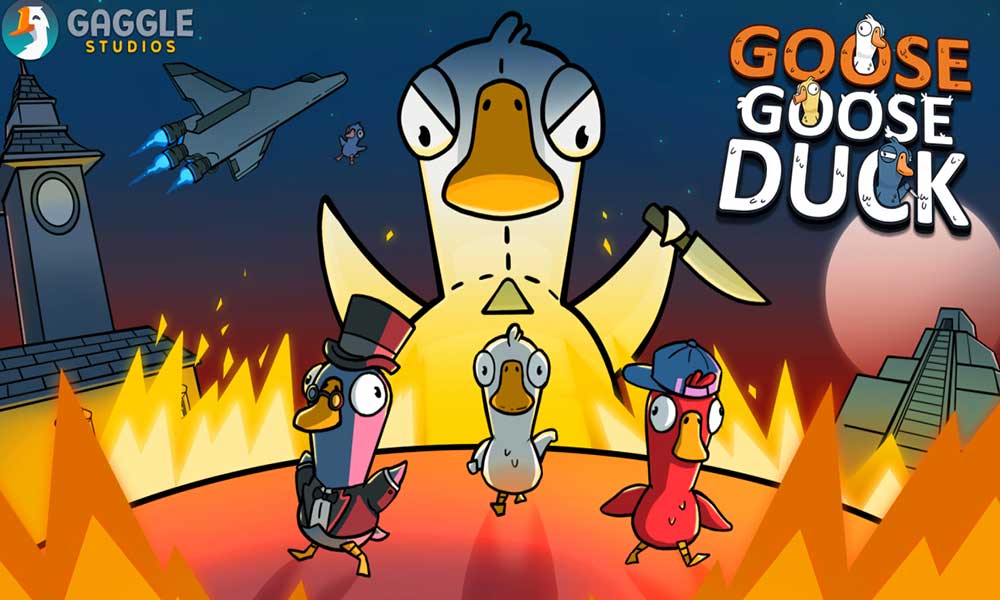 Fix: Goose Goose Duck No Sound Issue
Meanwhile, some of the Goose Goose Duck players are claiming that sometimes the audio cuts out or stutters quite often which needs to be resolved by the developers. But we should mention that you can also try fixing this issue at your end manually by following the methods below. Luckily, we've shared a couple of workarounds for you that should come in handy. Now, without wasting any more time, let's jump into it.
Well, there are multiple potential reasons that can be found behind such an issue that might trouble you. Such as an outdated audio driver, conflicts with the output audio device, problems with the audio port, the low or muted volume level on the device, incorrect audio output settings, and more. Whereas an outdated game version, corrupted or missing game files, physical damage to the audio device, and more might cause audio-related issues.
1. Check the Audio Output Device
If your sound configuration is not correctly sent or a different audio device is selected then the sound-related issue might gonna appear a lot. You should always configure the sound settings option in Control Panel and check if the correct audio device is selected or not. To do so:
Right-click on the sound icon on your taskbar > Click on Open Sound settings.
Now, choose your output device that's connected under the Output section. Make sure to test out the changes with the Master volume.
Finally, launch the game to check for the issue again.
2. Verify and Repair Game Files
If in case, your game files become corrupted or missing for some unexpected reasons then verifying and repairing the game files using the game launcher can help you a lot. To do this:
Launch Steam > Click on Library.
Right-click on Goose Goose Duck from the list of installed games.
Now, click on Properties > Go to Local Files.
Click on Verify Integrity of Game Files.
You'll have to wait for the process until it gets completed.
Once done, just restart your computer.
3. Update the Audio Driver
It seems that multiple affected players have reported the outdated audio driver on their Windows computers. If you're also using the outdated sound driver for a while then make sure to check for updates by following the steps below:
Press the Win+X keys to open the Quick Link Menu.
Now, click on Device Manager from the list > Double-click on Sound, Video, and Game Controllers.
Right-click on the correct audio device that you're using.
Select Update driver > Choose to Search automatically for drivers.
If there is an update available, the system will automatically download & install it.
Once done, restart the computer to apply changes.
4. Update Windows
Press the Win+I keys to open Windows Settings.
Next, click on Update & Security > Select Check for updates under the Windows Update section.
If there is a feature update available, select Download and install.
Wait for some time until the update gets completed.
Finally, reboot your PC to apply changes immediately.
5. Increase the Volume Level
Make sure to increase the volume level on your PC because a low volume can cause no audio issue in most cases. Just click on the sound icon on the taskbar and drag the slider to increase or decrease the volume level accordingly. Alternatively, you can also press the volume button on the keyboard to increase or decrease the volume level.
6. Check Goose Goose Duck Audio Settings
You can try checking out the Goos Goose Duck audio settings to ensure there is no issue with the voice or microphone sound. If in case, you've selected the 'No Mic mode' option on your PC, console then make sure to follow the steps below to disable it.
Open the Goose Goose Duck game.
Go to the in-game Settings menu at the top right corner.
Under the Sound settings menu, you should disable the No Mic Mode option.
Next, you'll have to select your microphone device and the input mode.
Then you can adjust the Amplifier and Sensitivity options.
7. Update Goose Goose Duck
If in case, you haven't updated your Goose Goose Duck game for a while then make sure to follow the steps below to check for updates and install the latest patch (if available). To do this:
Open the Steam client > Go to Library.
Click on Goose Goose Duck from the left pane.
It'll automatically search for the available update. If there is an update available, make sure to click on Update.
It may take some time to install the update > Once done, make sure to close the Steam client.
Finally, reboot your PC to apply changes, and then try launching the game again.
8. Check for Physical Damage
Check whether your microphone is physically damaged or not. Use it on another device to cross-check the same issue.
9. Turn Off Windows Sonic or Spatial Sound
If your desktop or laptop has the Windows Sonic or Spatial Sound feature then make sure to disable it by following the steps below:
Click on the Start menu > Go to Settings > Click on System.
Now, click on Sound > Select Related settings.
Go to Sound Control Panel and select a playback device.
Next, select Properties > Select Spatial sound.
Select Windows Sonic for Headphones.
Click on Apply > Reboot the PC to change the effects.
That's it, guys. We assume this guide was helpful to you. For further queries, you can comment below.