These days it has become very easy to update our devices manually. We have dedicated online repositories where we can download the latest firmware and then install it on our own. Well, sometimes it happens that after you upgraded to a new software version, your phone's stock storage will show incorrectly. To be more precise, if a device's storage is 64 GB, it will show as 16 GB. This issue is mainly seen in Google's Pixel and Nexus range of devices. In this post, we will tell you easy steps to fix incorrect storage capacity on smartphones. Besides we will also discuss what's the reason for this incorrect storage.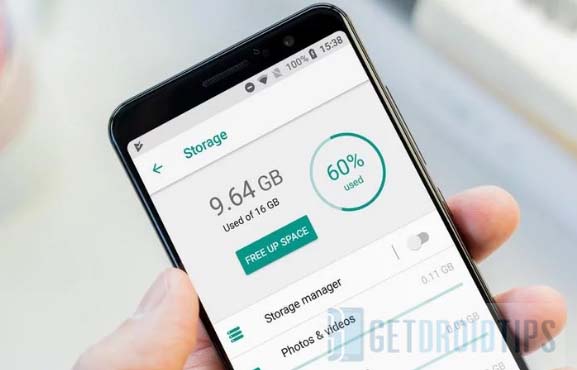 Why Does Incorrect Storage Capacity Shows on Device..?
Now, let's tell you why does this storage error show on the phones. The firmware file packages come with a userdata.img file. While installing, this file also gets installed. Now, if the userdata.img is of 16GB and is installed on 32 GB storage device, then it will incorrectly show as 16 GB. Usually, there are two ways to solve this. Either, get a userdata image or full firmware file for the device model corresponding to the storage capacity of your phone. Otherwise, install TWRP on the device and use it to fix incorrect storage capacity issue.
How to Fix Incorrect Storage Capacity on Smartphone
So, now, let's see what is the exact method to fix the incorrect storage display. However, before that, you have to follow a few important guidelines.
Pre-Requisites
GetDroidTips will not be responsible for any damages to your device while or after following this guide. perform this at your own risk and follow the guidelines properly.
You May Also Like,
Steps to Solve the Incorrect Storage Guide
Step-1 Switch your phone off
Step-2 Boot into TWRP recovery. To do it, Press Vol Up + Power Button and wait till TWRP logo shows up
Step-3 In the TWRP Menu Select Wipe > Advanced Wipe.
Step-4 Tap to check the Data partition checkbox.
Step-5 Select Repair or Change File System button.
Step-6 Now select Resize File System button. Now, this process will take some time.
Step-7 Once resizing finishes up, reboot your device. To do it, From TWRP menu, select Reboot > System.
So, that's it, guys. We hope this tutorial was helpful to you. If you have any queries do let us know.