TVs are getting smarter every day. One of the most advanced features on your LG C1, G1, or Z1 (or others) is the HDMI-CEC that brings a tonne of features to the table. ARC or Audio Return Channel connects your television to the existing audio system using a single high-speed HDMI cable to eliminate the need to have an optical cable installed. ARC sends the sound from apps and other sources from your LG TV to the audio system such as a home theatre or soundbar. Turns out some LG C1, G1, and Z1 users are facing ARC not working issues on their systems. Here's an account of everything you can do to fix the ARC not working issue on LG TVs mentioned above.
Also Read: Fix: LG G1, C1, and Z1 Won't Turn on Issue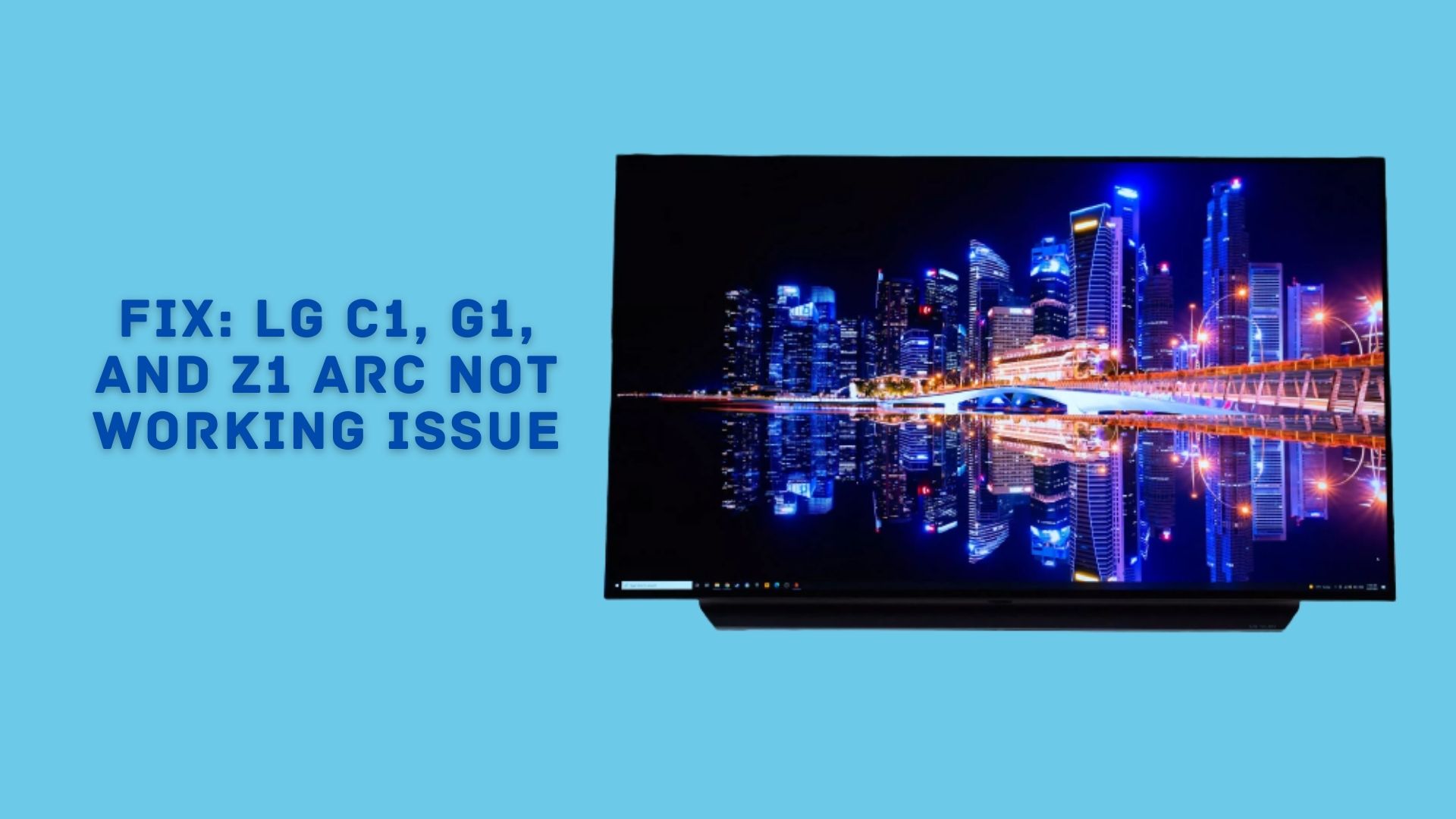 Method #1: Turn on HDMI-CEC
For ARC to work on your system with ease, you must turn on HDMI-CEC, to begin with. Ignore this method if you are already an HDMI-CEC ARC user and the problem with the ARC just started.
Turns out HDMI-CEC is also known as HDMI Control by Sky Q, Samsung calls it Anynet+, similarly, even LG calls it with a different name i.e. Simplink. This means you will have to turn on the function for the ARC to work properly. You will get the HDMI-CEC option on the settings of your TV that enables your system to interact with set-top boxes, soundbars, Blu-ray players, and other devices. Look out for the HDMI control on your LG TV and enable it. This should be fairly easy to do. If it is already enabled and yet you are facing ARC not working issue, follow the next method.
Method #2: Unplug and replug everything
HMDI-CEC takes the order of connection of devices including the TV, Soundbar, and others very seriously. This means if you have not arranged and plugged cables in order, things might not work out. Turns out this method comes in handy if there's a minor software glitch and all it needs is a reboot to curb and turn on the ARC so please go through it for sure.
First up, unplug all the cables including the cable powering the LG TV, and wait for a few seconds.
Plugin the cable to power on the TV.
Now, plug in any external sound devices including AV amp, soundbar, or others into the HDMI port on your TV first and power ON the corresponding device.
Next up, connect the set-top box via HDMI and power it ON.
If you have a Blu-ray or any other media player, it is its turn to be connected and powered ON.
Now verify if the ARC via HDMI-CEC on your LG C1, G1, or Z1 is working or not.
This method works both ways if there's some issue with the proper connection of devices or if there's any sort of software issue that must have been resolved by now. If not, you are required to follow the next methods unless you find a solution.
Method #3: Turn on HDMI ARC
Next, you need to turn on HDMI ARC on your device which is a subset feature of HDMI-CEC. Check out the settings under the Sound section where you have options like Internal TV Speaker, Optical, or HDMI ARC. Select the HDMI ARC and this should resolve the ARC not working issue.
Method #4: Use an optical cable instead
I am aware that if you use the optical cable as an alternative and workaround the ARC not working issue, you will be limited to audio-only and that too discounting the high-res formats like DTS HD Master and Dolby TrueHD audio. However, it is better to have something instead of nothing. Plugging in an optical cable to a soundbar or a home theatre or any other external device should work in your favor albeit there are some backlogs as mentioned above. However, this is also one of the most recommended workarounds to fix the LG ARC not working issue.
Method #5: Turn on eARC Support
Another workaround for the ARC not working issue on LG C1 and other TVs is by turning on eARC Support. You can get the said option via Settings >> Sound >> Advanced Settings >> turn on eARC Support. If this doesn't kickstart ARC, try selecting the "Digital Sound Output" from Auto to Pass-Through which is essentially instructing the TV to direct the sound from an external device connected with the TV. Hope this works for you.
Method #6: Software issue
It is quite possible that the latest software patch you received on your TV made the ARC go defunct. Based on what OEM and model of TV you use, try retreating to the last known firmware where ARC was working properly. If not, wait for a patch from the OEM and that should fix the problem.
Method #7: Turn on HDMI-CEC on both the devices
If you have turned on HDMI-CEC (also known as Simplink on LG TVs) on your TV, it is better advised to turn it on the other paired device as well, be it a speaker or soundbar or a receiver. A user reported that doing so works so here's it. Let us know if that worked for you.
Use this method to connect LG TV to Denon receiver via HDMI ARC
If you are facing trouble connecting HDMI ARC between LG TV and Denon, here's how you can fix it.
Firstly, make sure of a few things before starting. First, check if your TV supports HDMI ARC and that an HDMI cable is connected to the port "HDMI (ARC)" on your TV. Next, check whether you are using a HighSpeed HDMI or a simple HDMI cable to connect your TV to Denon HomeCinema. Also, make sure that you are using HDMI OUT (ARC) (toTV) on top of the receiver and the HDMI functionality is enabled on both devices. If after all this, the HomeCinema doesn't detect HDMI ARC on your TV, here's what you can do.
Firstly, run the Setup Assistant on your smartphone via the HEOS HomeCinema app. Go to My Devices >> MyHomeCinema >> Setup Assistant. Use the instructions mentioned on the screen and see if it does make any difference. If not, there's probably a last resort i.e. to report the issue to a service center.
Report to the service center
It's your TV and you should be able to use all the features available on it. If the ARC is not working on LG C1, G1, and Z1, or others, you need to walk into a nearby authorized LG service center or a local service center to get the problem fixed. There should be a workaround or a permanent fix to this issue that the technician will instruct you about. This is probably the last resort you have after going through the aforementioned methods. Hopefully, it will work for you.