PUBG Mobile happens to be one of the busiest apps in the world. 24*7 in almost every part of the world, people are busy pulling triggers in the battle royale. However, out of enthusiasm, sometimes users make a mistake. They end up updating their PUBG app at certain times when it should not be done. So, they end up spending a lot of time and a lot of data trying to install a new update. However, after a long time of sluggish installation period, they get PUBG Update Error.
In this guide, I will tell you how not to get such an error while trying to update the app. There can be many factors that can cause this error to be seen. We will discuss all of them and you can try avoiding the same while you get ready to upgrade the build of PUBG Mobile.
Related | How to get 60FPS on PUBG Mobile on any Android Device
Use These Tips to Avoid PUBG Update Error on your Device
Normally, users who are super busy in gaming, they miss out on the fact that PUBG developers always provide notice before releasing any server end update. This notice is regarding downtime for maintenance and making necessary changes to the application.
Do Not Update while Maintencace is On
Maintenance of any application is not a cakewalk. Tweaking in new changes does take time and the developers also test it before finally making a build public.
It is a common occurrence that the user tries to install a new update when the maintenance is still going on. It only results in an unsuccessful update. Imagine spending half an hour and a few GBs of data only to see PUBG update error.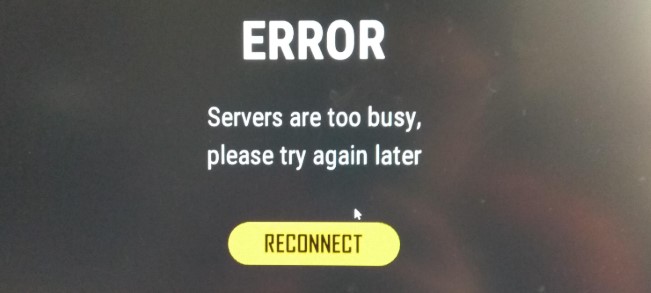 So, the best practice is to wait for a day or two. Yes, so that you get an affirmation that the maintenance is completely over. Also, it will give an idea of whether there are bugs or glitches are present in the new public build. Then, you can go ahead and install the new update.
Normally, a major update is released when a new season begins. This update is quite big weighing in gigabytes. So, it is a good idea to be careful not to waste a huge amount of daily data to install an update when the maintenance period of the application is active. Yeah, if you download using Wi-Fi, then also it's a waste of time and resources.
So, check thoroughly before you initiate any software update download.
Check for Internet Connectivity
Another common problem that happens with various users is the use of poor internet connectivity. This means constantly trying to download a huge update but it is not happening. Users don't really check for this but usually, it's the internet that may be at fault.
If you use the regular data and trying to install then it will definitely take a lot of time. So, you can make use of a stable Wi-Fi network to swiftly install the update. However, if there are too many users trying to access the internet over the same Wi-Fi, then it would take time as well.
Server Overload
This issue happens when a lot of people from all around the world try to download the update. Though it is not a frequently happening issue, there are chances you will face a constantly sluggish download even after you have a nice internet connection.
So, the solution is to wait for a day and then try downloading the update.
Restart your Device
A simple troubleshoot that everyone should try is switching off their devices and restarting it. Trust me, in a lot of cases of suddenly buggy apps and problematic network connections get alright after you perform a simple device restart.
Clear Cache of the PUBG App to Fix PUBG Update Error
Either before starting a fresh installation of a new update or post the completion of the installation, you can try clearing the cache of the PUBG app.
Go to Settings > Apps & notifications
Under the See All Apps option, scroll down to PUBG app
Tap on Storage & Cache
Then tap on Clear Cache and Clear Data

So, that's how you can avoid facing the PUBG Update Error on your device. If you found the guide informative, do check out our other gaming-related guides as well.
You May Also Like,