Although Redmi Note 5 has an excellent configuration that makes it quite faster and reliable than others, as long as it is less cultured. It is a generic problem faced by all the smartphones of all makes which is screen freezing. Generally, the smartphone uses RAM and ROM to support its processes, however, when one or both of this memory is filled or less amount of resources are available to use, the phone might suffer a performance issue where its screen will become unresponsive. It is something which happens a lot during watching videos on YouTube over WiFi or playing heavy games or using heavy apps that use more resources. Moreover, the cache is also responsible for the majority of performance issues.
Being a Chinese brand, Xiaomi has made its name over all major markets around the globe but there is much less available on Xiaomi smartphones like installation guides and how-to fix issues which makes users skeptical of using these smartphones. But rest assured as GetDroidTips has bought a list of troubleshooting guide on how to fix Redmi Note 5 which goes same for all Xiaomi smartphones and other Android-enabled phones.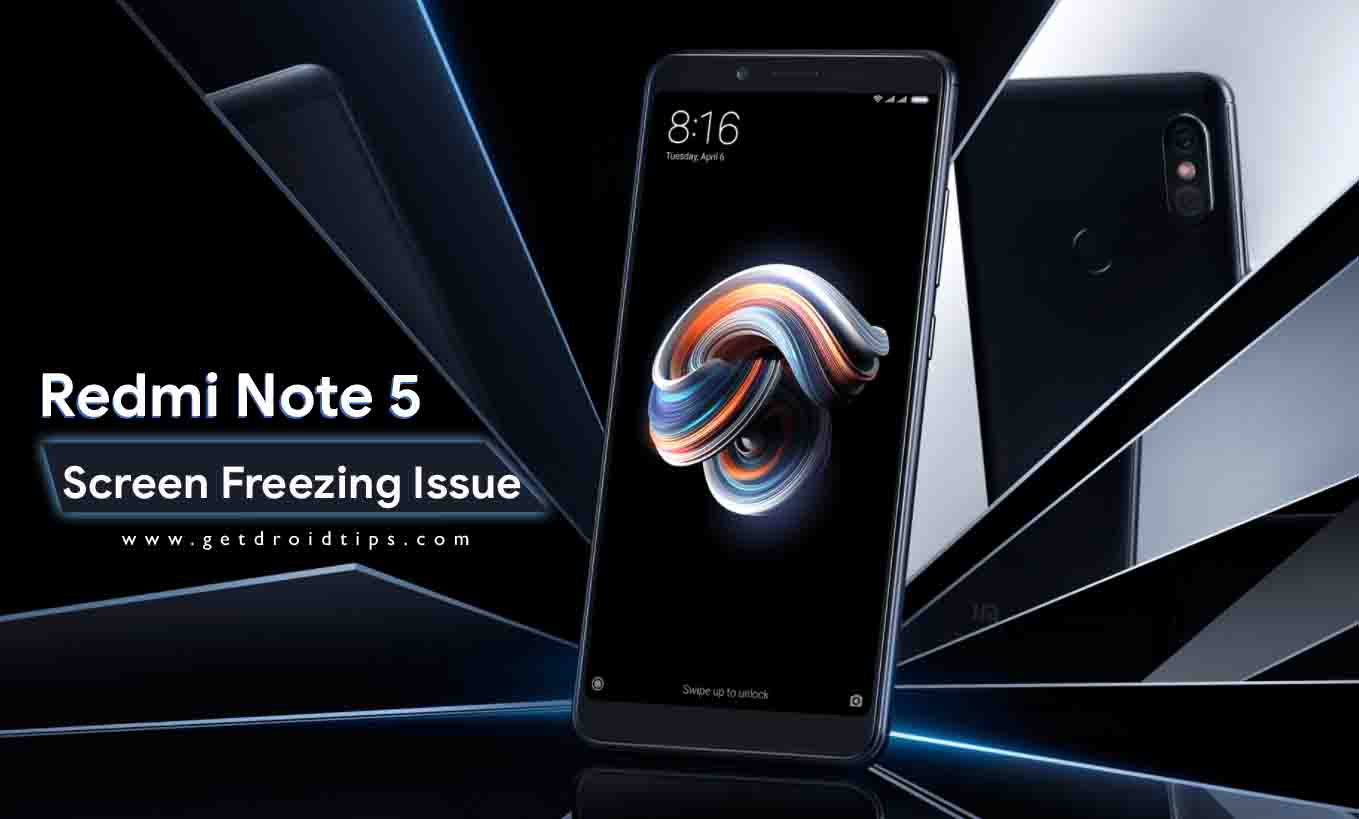 How To Fix Redmi Note 5 screen freezing?
Before commencing with the methods on how to fix screen freezing, note that we have quoted the solutions assuming that your phone has software-related issues and not hardware. Other things to keep in mind is that installing latest firmware can also be a reason why your device isn't working properly. Check for the compatibility of the latest firmware with your phone model and uninstall it if it is not compatible. Based on the RAM & ROM configuration on your phone, you must keep at least 1.5GB space free in ROM if you have a 1GB RAM smartphone. For a smartphone with 2GB RAM, you must keep at least 1GB ROM to use at all time.
#1 Solution – Forced Reboot
Redmi Note 5 has a non-removable battery that means you can't just remove the battery if the phone freezes or doesn't respond. Luckily, there is a sound alternative available to do just that, Force Reboot is a procedure that performs battery pull which completes a battery cycle and restarts the phone.
First, press the Power button and Volume Down button firmly and hold it for some time.

Release the buttons when the phone reboots and the display become alive.
#2 Solution – Clear Cache [For Individual Apps]
If you are looking for a quick way to complete a task rather than taking a long tour of how to hard reset or clear cache, the quickest solution is clearing cache storage, however, it is a recurring procedure or says a temporary one.
Firstly, go to Settings > Apps or Apps and Games on your device.
Now, open the app under 'Downloaded' section and clear cache for each app individually.
Scroll to 'Running' section and then, open the apps and clear the cache storage accordingly.
Although this is a simple and quick process, it is a temporary process and needs to be done several times to make things work properly on the phone.
#3 Solution – Wipe Cache Partition
Following the Solution #2, 'wipe cache partition' gives you more control over the phone and gives a number of associated feature. It is located in the recovery mode where the users can enter following a combination of hardware keys. We have quoted the entire procedure on how you can fix the screen freezing issue by clearing cache partition.
To enter the recovery mode, switch off the phone.

Press Power button, Volume Up button and Volume Down button together until the Android logo is displayed on-screen.

Here, you can scroll the options using Volume Up/Down and select using Power button for which, clear instructions will be available.

Scroll towards 'wipe cache partition' and confirm wiping it.

Once done, reboot the device and there you have it. You have successfully cleared cache partition following these simple steps.
#4 Solution – Uninstall Unwanted Apps
The Play store and MIUI store has plenty of useful apps that you love, agreed. But hoarding apps on your phone puts a constraint on the resources available. Unwanted apps still use some part of RAM, ROM and other resources no matter if it is being used or not. There are some apps that run background processes even when it has been a week or more since you opened it. This hampers the resources available causing deficit when actual apps that you usually use demand more space. Thus, uninstall bloatware and unwanted apps from the phone is an easy solution to fix the performance issue. This is a non-invasive method that doesn't delete any data unlike 'Hard Reset' which is ironically the last solution that you can use to curb screen freezing issue.
To uninstall any app, go to Settings > Apps.
From the list of 'Downloaded' apps, select an app that you wish to uninstall.
Click on Uninstall button and confirm by hitting 'OK' or 'Yes'.

Repeat the same procedure for all the apps that you wish to remove.
#5 Solution – Enter into the Safe Mode For Diagnosis
There is a spat between developers and users over if safe mode is available on Redmi Note 5 or not. Some UIs on your device might support Safe Mode which is used to diagnose the apps and services on the phone. As it is a diagnostic mode, the phone virtually remains in no-cellular network mode.
Switch Off the phone using the Power button.

Now, Power On the phone and then, tap continuously on the fingerprint scanner located in the back of your device.

This will enable the safe mode on your phone where you can diagnose and necessary steps.
#6 Solution – Perform a Hard Reset
There are basically two alternatives using which you can hard reset the phone to fix the screen freezing issue if nothing else works. Remember to take backup of the data stored on the device as it will literally wipe off all the data from the device in a jiffy. Use any of the given alternatives.
Hard Reset Using Hardware Keys
Power OFF the phone and keep it idle.

Now, press Power Button, Volume Down and Volume Up button together until the Android logo doesn't appear on the screen.
Scroll to the feature 'wipe data/factory reset' and press the OK button as per instructed above,
Select 'Yes, delete all user data' or another moniker to it.

Finally, reboot the device after it performs a hard reset and you have it.
Hard Reset Using Built-in Feature
Open Settings app on your phone and proceed towards 'Backup & Reset'.
Now, click on 'Reset Phone' and enter PIN and Password to confirm.

The phone will automatically reset it to its original factory settings.
This extract was regarding 'How To Fix Redmi Note 5 Screen Freezing Issue' and hopefully, it has helped you to fix such a performance-related problem. You can visit GetDroidTips for more information on Redmi Note 5 and it's troubleshooting tips and tricks that you won't find on other websites. That's not all, you can read an entire guide on how to fix wifi issues on Redmi Note 5?, How to check software update? and more.