Applications with advanced hardware make a smartphone really smart. Xiaomi Redmi Note series smartphones come with excellent features to support its firmware and other third-party applications. Most of the apps work synchronized with the cloud storage or use the internet in one or other manner at least to store/ register a data in the database. Therefore internet connectivity is an inevitable matter for the proper functioning of the smartphones.
Wi-Fi plays a major role in connecting smartphones to the network. Many cities, restaurants, parks, shopping malls, railway stations, etc provide high-speed internet. So now it is just a matter of being there near the Wifi spots and so it is a cash saving opportunity. But what if your smartphones Wifi is not working properly? It is highly unfortunate to encounter such a situation where you could possibly make use of free public Wifi. Here we discuss some fixes for the WiFi connectivity issues on Xiaomi Redmi Note series smartphones.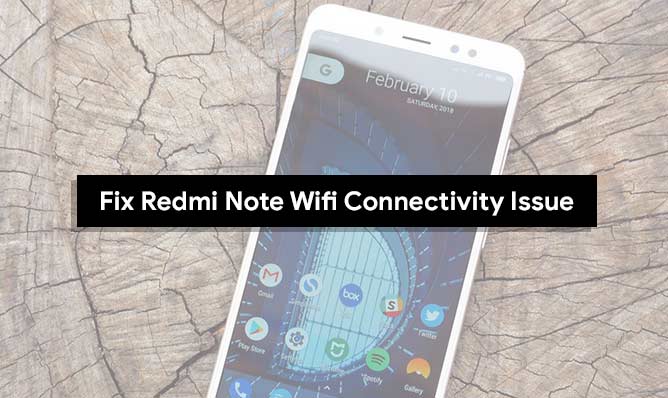 Problems and solutions for Wifi connectivity issues on Xiaomi Redmi Note series smartphones.
Most of the time you can fix the issue easily by just restarting the Wifi of your phone, but sometimes the fixes may not be that easy. Here are some of the problems and their fixes for the issue:
Problem 1: Phone is not able to scan the network
This can be because of the frequency band which your phone operate does not match with the frequency band of the wifi modem. There are different wifi standards like 802.11a/b/g,802.11n etc which uses 1.2 GHz and 5GHz respectively. If your phone mismatch with the frequency band it won't be able to connect to the network.
Another cause can be that the network can be hidden. For fixing this you have to search for the network for its name and connect with the password if it is enabled.
Problem 2: Slow Wifi connection
Keep your phone within the wifi range limit. For this, first of all, you have to find the location of the wifi modem and you have to stay as close as it is possible for better connection and speed.
This can be caused because too many devices are connected to the same network. So be patient, you might have to wait until some devices to go offline if you are in a crowded area.
Problem 3: Frequent disconnection of the wifi network
Check whether you have enabled "the option "Wifi on during sleep" on the settings. If no enable it else phone will shut down the wifi connection while it is at sleep.
If still, the problem persists try restarting the router. And check whether the issue is resolved.
Even after doing all these steps if you still encounter some problem with the wifi you may try factory data reset. Be aware that this can erase all the data previously stored so it is advised to backup the data.
Hope all these solutions will help to fix WiFi Connectivity issues on Xiaomi Redmi Note. If you have any queries, feel free to ask via comment or contact us page.