Poco has unveiled its new device in India i.e., the Poco X2. The brand has been teasing the device for a long period, and finally, they have launched the device. It's a Redmi K30 4G rebranded as Poco X2. The new device comes with a glass sandwich design and also has a 27W charger in the box. However, people have reported Bluetooth problems with Poco X2 that needs to be fixed.
Bluetooth might be a slower mode of data transfer but it is still one of the most widely used features on smartphones. No doubt getting Bluetooth connection issues on your Poco X2 will actually bring your daily life to a complete halt if in case you are fed-up of wired and corded headphones and other add-ons to listen to music or talk to a friend or colleague holding the phone for a long time or using the wired earphones or headphones, etc that are messy. Here, Bluetooth comes to the rescue as the technique is easy to use, connects with a wide range of Bluetooth enabled devices such as Bluetooth speakers, infotainment systems mounted in your car, and lots of other devices. Here are a few ways you can fix Bluetooth connection issues on your Poco X2 to go through with it.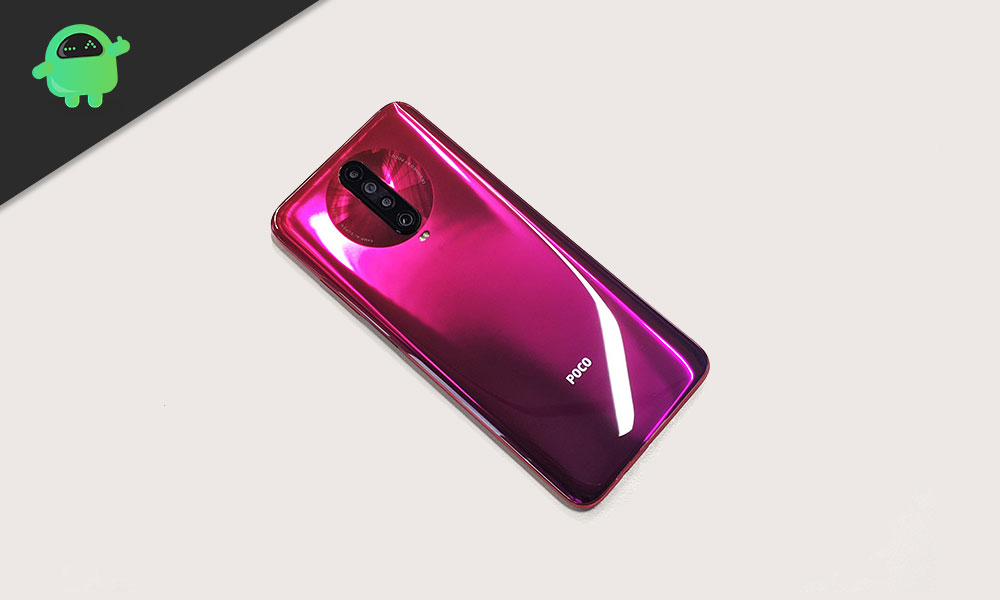 Xiaomi Poco X2 Device Overview
The Poco X2 sports a 6.67-inch FHD+ IPS LCD punch hole Display with a whooping 120hz screen refresh rate. The device has a screen to body ratio of 91% and in the aspect ratio of 20:9. This LCD display panel also comes with support for an "Intelligent Dynamic Refresh Rate" technology that is claimed to adjust the refresh rate to provide enhanced results dynamically. Corning Gorilla Glass 5 protects the front and rear of the smartphone. Underneath the Poco X2 it sports Qualcomm Snapdragon 730G chipset, which pairs Adreno 618. Further, there is also a second-generation Game Turbo mode, which is to boost graphics rendering.
The new smartphone also has a proprietary LiquidCool technology, which is claimed to provide 300 percent faster heat transfer over the models which don't have a liquid cooling system. The device pairs with 6 and 8GB LPDDR4X RAM and 64, 128, and 256GB of Ufs 2.1 internal storage options. This internal Storage is further expandable up to 256GB via a micro SD card. Although the device has a hybrid SIM slot, i.e., you can insert two Nano SIMS or a Nano-SIM and a micro SD card.
Talking about optics, the Poco X2 sports a quad rear camera setup. This setup comprises of a 64MP Sony IMX 686 primary sensor with an f/1.89 aperture value. This sensor pairs with an 8MP ultra wide-angle sensor with a 120-degree field of view and f/2.2 aperture value. Further, it has a tertiary 2MP macro sensor with f/2.4 aperture and another 2MP depth sensor with the same f/2.4 aperture. To the front, the device has a dual-camera setup, which is placed in the punch hole to the top-right edge.
The Poco X2 packs a 4,500 mAh battery, which charges via type c and supports 27W fast charging tech. Poco claims that this device can be charged from 0 – 100 in just 68 minutes. The new device from Poco runs on MIUI 11 Designed for Poco on top of Android 10. The Poco X2 has a side-mounted fingerprint scanner and supports face unlock for security purposes. Connectivity options include 4G VoLTE, Wi-Fi 802.11ac, Bluetooth, GPS/ A-GPS, USB Type-C, and a 3.5mm headphone jack.
How to Fix Poco X2 Bluetooth connection issues
Make sure to follow the step by step solutions to fix the Bluetooth problem on Xiaomi Poco X2.
Ruling out the obvious
For two users or two devices to transfer data wirelessly via Bluetooth, they need to be paired together. This means that if the pairing is not possible or successful, it will discourage any data transfer even if the process is ongoing, the transfer will stop abruptly. But first, if you are having trouble finding a Bluetooth device nearby, check if the receiver's device is in 'Discoverable' mode or not. On the other hand, if the sender or receiver is not able to find your device, you must have not enabled to 'Discoverable' mode yet. For this, you need to go to the Settings >> Bluetooth and tap on 'Discoverable' and it is done.
Toggle Bluetooth
First up, when you tap on 'Bluetooth' service, it isn't activated right away. It takes barely a few seconds to activate. But if even after activating Bluetooth, you are not able to pair to a new or older device or maintain the connection between the two devices, you can toggle the 'Bluetooth' button placed on the notification tray and that must fix the problem if created due to a temporary software glitch.
Ruling out the problematic device conundrum
When you try to pair up to a device and it doesn't pair, it is either the sender or the receiver having trouble establishing a connection between the two. Since you cannot just detect the problematic smartphone, you need to take a certain method to detect which device is going west. First up, take your phone and toggle Bluetooth to try and connect again. If it doesn't pairs up, take a different phone and try to connect to that phone in case if the receiver's phone is problematic. On the other, do the same with the receiver's phone to check if your phone is troublesome or not. This must help dictate which end of the transfer is faulty and suffering from Bluetooth connection issues.
Check if the Bluetooth devices are compatible
To put things into context, Bluetooth is generally backward compatible which means even the latest Bluetooth 5 iteration will connect to the wonderful year's Bluetooth 2.1 released in 2007. However, there are some limitations such as older versions might not connect to and fro between Bluetooth Classic and Bluetooth Smart devices where the former is for smartphones while the later is for other Bluetooth-enabled products. You need to know if your phone is compatible to connect with the receiver's end or not which could be anything from a phone to a speaker to a smartwatch or even cross-platform smartphone such as an iPhone, etc.
Distance matters too
Bluetooth was a mainstream data transferring protocol a few years ago before apps like Xander or features like Wi-Fi Direct and others didn't come into being widely used. This means if you have been using the phone for a long time, you know that Bluetooth is slow and sensitive to distance between the sender and receiver as well. This is why you should maintain a short distance between the two which is basically five feet or so as a generalized notion while there might be devices with a higher range.
Restart both the devices
If you aren't able to squeeze out what's causing the error between the two devices to connect, simply reboot both the devices. This is because temporary software glitches are common on smartphones while exhibiting any process such as pairing with a device in this case. Rebooting the devices will fix any impending and temporary software issues or glitches thereby resolving the Bluetooth connection issues as well.
Get rid of old connections
Similar to how old Wi-Fi connections might intervene while you are pairing up with a Wi-Fi connection, Bluetooth suffers from the same fate sometimes as well. Ever wondered why that speaker of your friend always connects to his/her phone and not yours or vice versa? It is because Bluetooth-enabled devices tend to find out available connections and usually would connect to the one paired last time which means even if you have activated Bluetooth on your device for a long time, it will still connect to your friend's phone if he/she has paired it the last time as well.
This is where getting rid of old connections comes into play. You can go to Settings >> Bluetooth to get rid of all connections to prevent the device from automatically connect allowing you to intervene and manually pair up with a device you want to connect with.
Charge up the devices
If you connect to a Bluetooth device, it must show battery backup on your phone. Have you ever wondered why Bluetooth suddenly stops working when either your phone's battery is low or the paired device's battery is low? This is because these devices have a feature that disconnects Bluetooth when it reaches a certain critical battery level. To fix this type of Bluetooth connection issues, simply charging up the device in question must resolve the issue as well.
Forget and reconnect
Similar to Wi-Fi, if you are facing trouble either connecting to a Bluetooth device or if you are connected, you are facing trouble transferring data, you can actually use the 'Forget and Reconnect' technique without any fail. For this method to work, you need to forget as said network and wait for a while before reconnecting to the same. Hope this helps your Xiaomi Poco X2 to connect with the device in question asap.
Clear Bluetooth Cache
You know how we are GetDroidTips treat cache files which are unnecessarily temporary files that must be gotten rid of immediately. Now, if you are using Bluetooth, it will deposit some cache memory as well as this, if you are facing Bluetooth connection issues, what's better than simply destroying the Bluetooth cache using this method as prescribed.
First up, open the Settings app on your Poco X2 and proceed to 'Application Manager' or 'Apps' where all the apps are listed.
Next, tap on the three vertically stacked dots on the top right side of the screen and select 'Show system apps' from the given dropdown menu.
Search for Bluetooth and tap on it.
Press 'Clear Cache' and there you have done it.
Update the firmware
Firmware is the platform where all the apps (downloaded and bloatware) and the hardware components interact on a smartphone. Thus, updating or letting the firmware get outdated might have a drastic impact on the system as well. This is because outdated firmware is susceptible to a tonne of issues which means an update can actually prevent it from going down the cliff by strengthening its protection against bugs, viruses, and whatnot while providing added features, UI changes, and whatnot to the user as well. You can check out available firmware updates via Settings >> About Device >> Software Updates where you can search for available updates and take necessary actions to install it.
What if the Bluetooth doesn't turn on?
If you are facing difficulty turning on Bluetooth, it could be a minor software glitch. The easy solution to fix it is to simply reboot the device and hopefully, you will be able to restore the said service without any further ado.
Use the various alternatives available
There are a plethora of alternatives available when it comes to sharing files such as you can install apps such as ShareIt or Xander to transfer files between the devices including cross-platform smartphones as well. Furthermore, you can use Wi-Fi Direct to transfer files while uploading the files onto Google Drive and downloading it onto the user's smartphone can get things done. You can move the files into the memory card and swap it to the receiver's phone to copy or move the files into that device as well.
Take the phone to a service center
Unless any of your work is totally dependent on using Bluetooth, I wouldn't ask you to produce the phone to a service center. But say you love to listen to songs in your car whilst driving or connect to a Bluetooth hands-free or headphones or earphones all day long or even depend on that Bluetooth speaker to enjoy or are left with using Bluetooth as the only method of transferring data, you can visit an authorized service center to get your Poco X2 scrutinized professionally. The whole fixing Bluetooth connection issues might take a minute or a few days depending on the severity while it will also bank a repair or replacement charge so be ready for that too.