Poor signal? It's really annoying at times when the network strength on your phone which is denoted with bars on the top-most right corner of the screen. In a substantially weak network, you won't be able to browse the internet or even place a call. The situation worsens if the network is lost and you couldn't find anywhere at all. There are a plethora is woes related to signal and its strengths such as poor or weak signal, lost network, or you have network but you aren't able to place a call, it could be due to intermittent issues, the antenna or the network receiver is either blocked, malfunctioned, damaged or the phone is going through a rough patch of outdated software that needs to be updated.
As mentioned, there are plethora of reasons why you are facing ZTE Nubia weak signal or lost network issue on your phone and that is why GetDroidTips has compiled a list of all the possible and probable cause of such issues and provided a comprehensive list of quick fixes and troubleshooting tips that will be helpful to fix weak signal or lost network issue so here we go.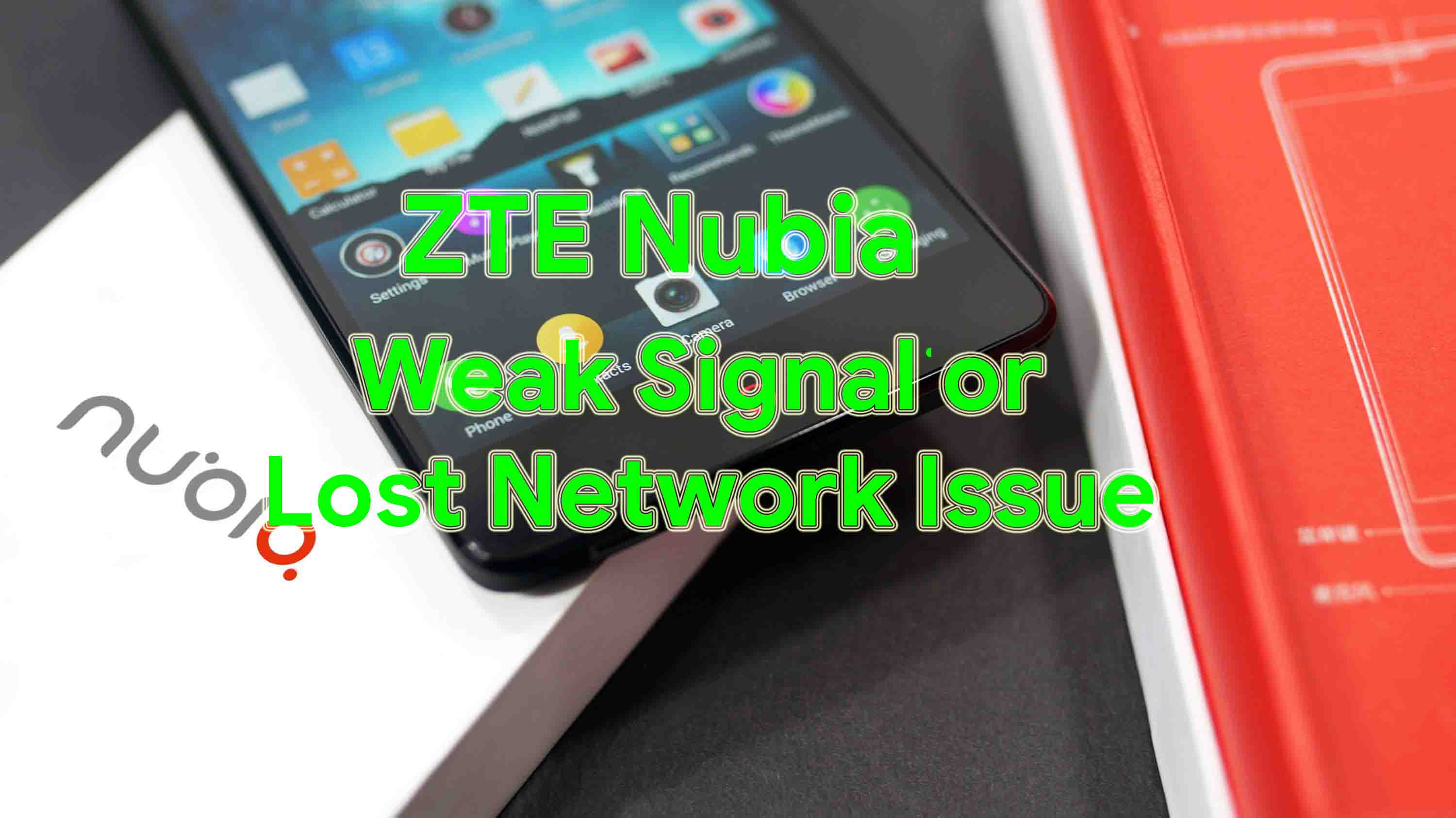 Check for intermittent issues
It is highly probable that the weak signal or lost network issue that you are facing is due to an ongoing upgrade or maintenance work that your carrier or service provider is getting done. Although this is temporary, it could cause major snarls since the network quality might take a dip to an extreme no to nil and since people depend upon the phone for most of the tasks, it might take a toll on your day if not your life.
Although your carrier is deemed to notify all the users including you about the ongoing work and any disruption in the network reception, you must check with the customer representative to confirm the reason. If the carrier is working optimally to provide the best network while you are facing such issues, then it's something to without the hardware or the software component mounted on your device.
Switch the carrier
Okay, if you are totally aware of how bad the service of your network provider because of which, you have to suffer, you must port your number to a more reliable and worthy carrier. You can port your phone number from one network provider to another by paying a premium (if any). There is a specific procedure followed in India and other countries that you must perform to port your number to another network provider.
Reboot
This is the first and foremost thing you can do and you must do to fix any software glitch. It is possible that when you tried to call someone or use the phone's network to browse the internet, the phone developed a temporary software glitch. This is where rebooting the device comes into play. Furthermore, rebooting the device can also boost the performance on your phone and thus, make it process data much faster. In fact, experts recommend users to reboot their phones at least once a day.
Airplane mode
It is an irony that how you can fix a network-related issue with a built-in feature that disables all incoming and outgoing connections and networks but it somehow works wonderfully. When you turn on the airplane mode and turn it off, a majority of users will see that the network strength has been restored while there will be a bunch of people who might not be satisfied with it. If you belong to the second group, follow the methods prescribed below.
Switch between network selection mode
There are two network selection modes i.e. Automatic and Manual where the former automatically searches and registers for the available network while the latter needs human intervention to search and then, register for the network, if available. If you are facing weak signal or lost network issue, then, you must go to Settings >> Mobile Network >> Operators to tweak between these two modes to get the network reception.
Change the Preferred Network
If you use 3G or 4G network but aren't able you search for 3G or 4G network, you can always opt for a lower band which is most penetrative across India and the globe. For instance, if you are a 3G user and aren't receiving 3G network on your phone, you can downgrade to 2G and you'll notice that the network is available irrespective of its speed and reliability. Similarly, you can downgrade from 4G to 3G or 2G to get better network coverage especially in developing countries that suffer network outage in rural areas.
Check out the battery saving mode
It is quite possible that the battery saving mode is causing problems with the network reception. To verify if its the cause, turn off the battery saving mode and check for the signal strength.
Use Wi-Fi VoIP services
With the increase of internet users, many services have mushroomed over the years that enable the user to use its VoIP services to call someone. Call it WhatsApp or Viber or Skype, Facebook, Instagram, or choose from a plethora of hundreds of apps available on Play store that you can download and use. You'll near a good quality and working wifi connection to use the service and that's all. But this is a temporary solution that you can use for a short amount of time and it is subjected to limitations.
Install network boosters
Network boosters have receivers, amplifiers and other equipment that intercept network from outside and broadcast it inside in a house or office or any such areas. The network quality can be boosted eccentrically using these network boosters, although you'll have to pay for the device upfront.
Restore the phone
Restoring the phone will actually put an end to all software-related issues, however, you must take a backup of all the data before doing so as this process is permanent and irreversible unless you are a techie or someone who knows how to retrieve deleted data.
You can reset the phone using recovery mode >> wipe data/factory reset >> Yes — delete all user data.
OR
You can follow this procedure Settings >> Backup and Reset >> Reset the Phone >> (Enter password or pattern) >> Reset Everything.
Report the issue to a service center
Still searching for a fix? You can report the weak signal or lost network issue that you are facing with your ZTE Nubia smartphone and let the service center do its job. Note that if your phone is in warranty and you want to continue with the warranty period, report the issue to an authorized service center as if any third-party technician disassembles your phone, the warranty will be void.
Read More: