Guns are the dignity of every shooter and adventure game. Likewise, Project Zomboid is a survival shooter game where the player is challenged to survive for as long as possible before dying. Even in a shooter game finding guns is always a challenge and feels amazed. As the Guns can be found in separate locations or under a hidden container, that excites a lot. Even Project Zomboid has launched 8 years ago.
But Unfortunately, numerous players tolerate several difficulties in finding guns in it. And, this specific issue becomes an annoying part rather than a surprising one. For such a reason, they are looking for a guide explaining everything about their concern. On that note, we have prepared an article that let you know the location to find guns in Project Immortal.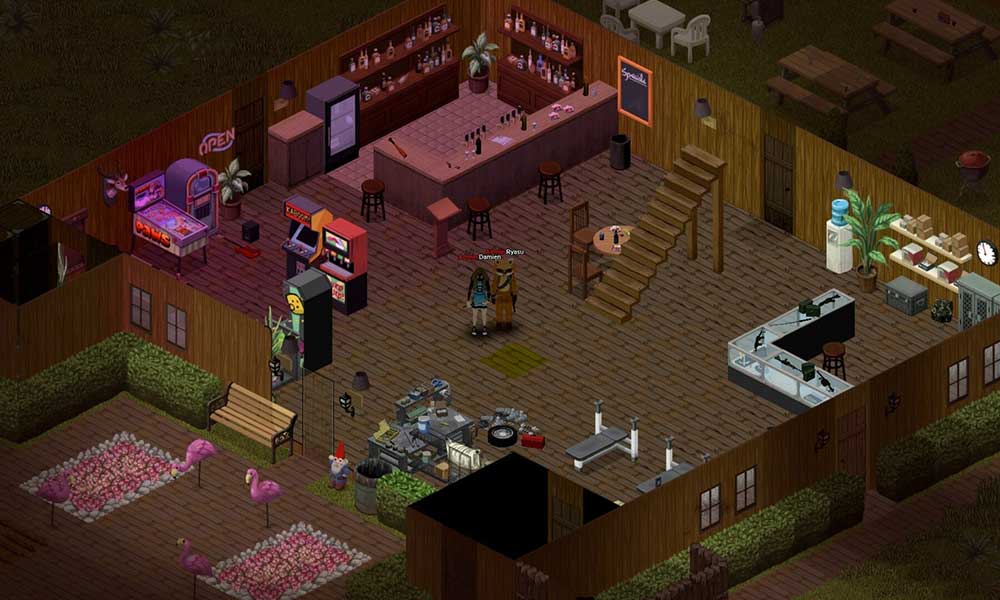 At What locations Will I Get Guns In Project Zomboid?
Project Zomboid is a survival game filled with numerous surprises among them finding guns is the best moment. Because Getting guns from an unexpected source or location always amazed the player. And, All this result in influencing players to find more guns in the game. Below we are covering all the potential information relating to Guns in Project Zomboid. However, there are many popular guns like M9 Pistol, M36 Revolver, JS-2000 Shotgun, MSR700 Rifle, and MSR788 Rifle.
Meanwhile, there are certainly three kinds of guns in Project Zomboid handguns, shotguns, and rifles. Although, all these guns are rare in this survival game. Basic firearms are hard to get from the usual loot distribution. Moreover, If you want to find a gun in Project Zomboid, then the best place to go is a gun store or police station. Because Gun stores are the most favorable place where you get your exciting loot with full stocked.
Alongside Police Station is another place where for sure the guns will be available. As this place is for ammo holders it requires a good stock of loots. It means priorly you can go police stations or gun stores to get guns in Project Zomboid. However, these locations have zombies and may have alarms at the door so be aware of that while looting guns over there. Majorly there are several things like that so, let's take a look at all of them briefly.
Louisville Army Surplus Store
Valley Station Shooting Range
Riverside Police Stations
Residential's House
Westpoint Gun Store
Restricted Buildings
Police Outpost
However, Only listing the place's name would be explained to you about these things. Because Along with each location, there are some misconceptions and warnings that you should know. For that purpose, we are elaborating on these precious gun locations below. So that players will have ease in finding guns in Project Zomboid.
Louisville Army Surplus Store
It is an army-dedicated store where you find a large variety of guns with always available stock. Usually, they are wisely stocked for army-related purposes. But, players who are doing survival challenges can grab it easily. However, before going into this place make sure there could be some alarm that could be a trouble for you.
Valley Station Shooting Range
As the name suggests, the Valley Station Shooting range is a specified place for practicing shooting. It is the proper station where officers do normal patrolling and increase their shooting potential more easily. Meanwhile, A place where you can get other exciting loots easily. But, As it is a confidential place so, be aware whenever you enter it.
Riverside Police Stations
Some player thinks Ricerside police stations will not have any gun or other loot. But, Users claimed that they got guns from there. Although, there is no such big stock of guns. Instead, it acts as hope for the basic survival of the players in the game. So, Whenever you need guns and if you are nearby any riverside police station. Make a round and check for loots in that police station.
Residential's House
The most favorite place to grab guns in Project Zomboid is from residential houses. There are many houses in the game where players claim a bunch of loots available. However, some houses are like that where you get nothing. But, some houses are such that where you get everything even a rare also found there.
Westpoint Gun Store
Gun stores are numerous in Project Zomboid, but west point gun stores are the dedicated ones. In which you will get guns sometimes with a good variety. So, while playing Project Zomboid if you are in trouble. And, you are nearby a Westpoint Gun store. Then, make a straight entry to the gunpoint and grab the available guns.
Restricted Buildings
There are several Buildings in the game even few are restricted and some are open to entering. From a beginner's perspective, the player thinks the guns are only available in open buildings. But, Some players claimed that they got guns even from a restricted building. Although, not a big stock of guns for survival they are sufficient. So, from restricted buildings, you can get guns.
Police Outpost
Apart from posting the police inside the city. The police have some specific posts outside the city called Police Outposts. And, As a police-related post, it contains a gun with some additional loots over there. So, if you are nearby any police outpost and think that you will not get anything from there. Then, we insist you least check because players claimed few guns on these outposts.
Furthermore, these are the specific places where you can get guns easily in project zomoid. However some similar places like Louisville Military Check Point, Dixie Police Station, Muldraugh Police Station and more. So, from these places, you can also get guns. Alongside, there are some specific containers where you get guns Metal Lockers, Dressers, Zombies, Cabinets, Storage crates, Drawers, Closets and Wardrobes.
Wrapping Up
Conclusively, Concerning these places and specific containers in Project Zomboid, you will get guns and other additional loots easily. Although, we have elaborate every place where you get guns. Even, if any user has a query with the same concern. Then, you are allowed to ask queries in the below-mentioned comment box.