Battery draining problems have become popular among all sorts of smartphones irrespective of make or model unless you have a smartphone with massive 4,000 or 5,000 mAh battery. Now, here we are discussing the Coolpad battery draining problems and how severe these problems have grown in our day-to-day life when battery is one of the important commodity one could have so that any given task on a smartphone can be fulfilled because, in absence of a power source, even the smarter supercomputer by IBM won't work, will it? There are many reasons why your Coolpad or basically any smartphone is losing battery faster than it should such as a bug, malware, or certain stimuli that either the user is causing or the phone is swirling itself in and thus, must be detected and rectified.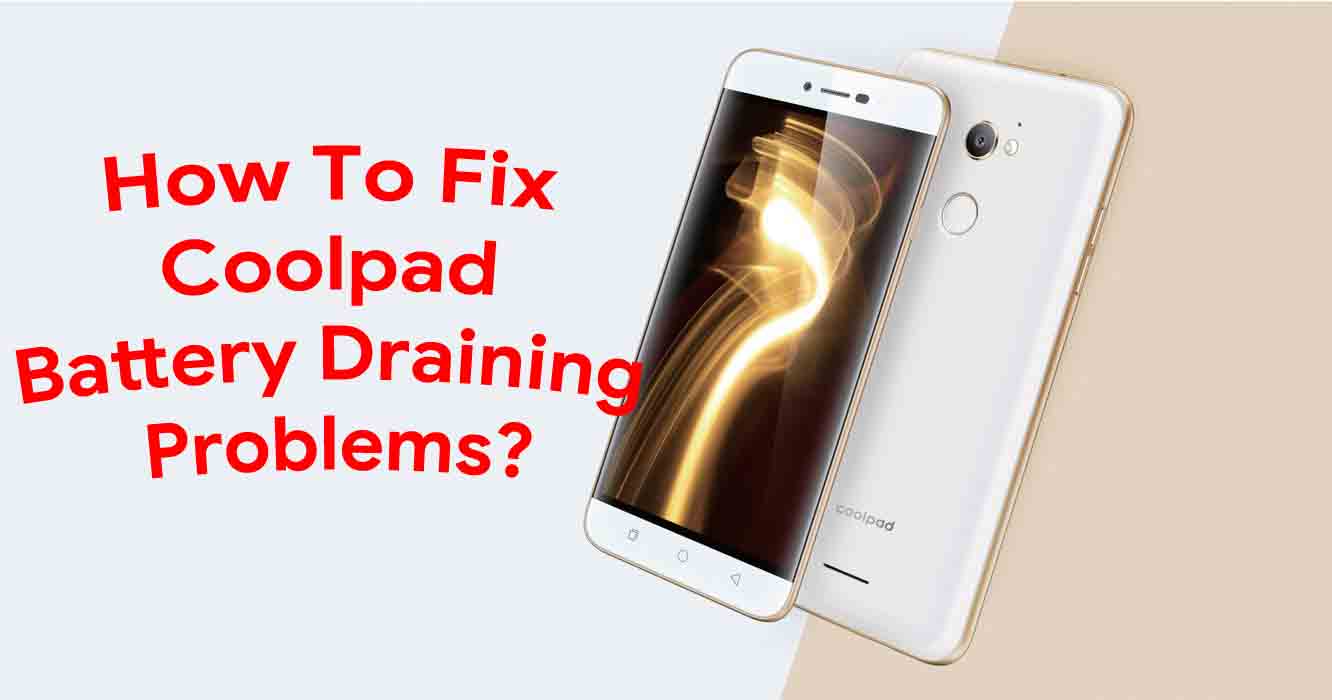 In this blog, we decided to tackle the Coolpad battery draining problems and how one can possibly get rid of it or at least reduce its severity so that you don't have to keep the phone plugged into a charger whole day.
How Fix Coolpad Battery Draining Problems?
Change the display settings
If you look closely, the display is LED backlit which means it consumes power when it's own unless you have an OLED display which would consume power even if it isn't turned on or sleep. Altering the display settings can have a massive difference because it can lower the strain put on battery day-in and day-out. Will it resolve the battery draining problems? Of course, because it is just a step you can take forward towards putting off the strain put on the battery and somewhat alter its consumption. You can club it with other methods prescribed below for an effective solution.
The importance of maintaining a rich battery life
Many of us would resort to charging to phone once a day and then, plugging it again when it dies which is usually twice or maybe thrice a day. You must understand that maintaining a rich battery life can put off the excess strain that a rough or ill-maintenance. What you need to do is to maintain a proportion of 90-10 percent which means, you charge the phone to 90% and use it till it drops to 10% and then charges again. For better performance, you can also opt for a proportion of 80-10 percent. Doing so can help curb battery draining problems if you combine it with other healthy tips that I have mentioned below.
Be considerate of apps
Owning an Android smartphone like Coolpad literally means you have millions of apps available at the Play Store. This is why you would find tons of apps loaded on an Android smartphone even if the user doesn't require some of it. There is bloatware then there are apps that we can download which also means we can download plenty of third-party apps of which, many will be buggy or problematic. Thus, it is advisable to install only those app that you need in actual and not those which you don't actually use or want.
Close or Uninstall apps
If you open an app, you can keep it open even in the background and can retrieve it when needed but this consumes battery. If you are someone who would open apps and then, let it be, you must rethink the situation as you need to close them in order to save battery life. Further, there are plenty of apps that we used to use or not anymore, why are they still installed? You must get rid of these apps too. You can uninstall the apps by going to 'Settings >> Apps >> Downloaded'.
Scrutinize battery-hungry apps
This method will help you draw a conclusion about whether which apps are consuming the most battery. You can check the same by going to 'Settings >> Battery' or you can install battery health apps that let you view the daily consumption of battery and breakdown it with respect to each individual apps so that you can limit those battery-hungry apps or even uninstall it if not required.
Update all the apps
Keeping all the apps updated is by far crucial as you get new features and bug fixes with updates. Furthermore, it is possible that an outdated app introduces bugs causing faster battery drains and that is what for you are here to find a solution to. Check out if there are updates available for any apps by opening the 'Play Store >> My apps and games'. You can also select the 'auto-select' feature in case if you are too lazy to press a few buttons and get all the apps updated.
Update the Android OS
The same goes for Android OS or firmware which is actually the framework on which apps and hardware interact with each other in order to make things work. Updating the Android OS is crucial because if an outdated OS introduces bugs, it can have far-reaching effects since the OS controls all hardware and software capability of the device as well as throttles the power consumption and more.
Reboot the phone
This is a rather basic but powerful troubleshooting tip that you can use. The moment you feel like the phone' battery is draining too quickly, simply reboot the phone as it is possible that a minor software glitch had occurred which led to consumption of more battery power. Performing a reboot is self-explanatory since you literally have just one key to press to reboot the phone.
Wipe app cache
Cache files are actually helpful as it speeds up the retrieval of an app or service but these files get corrupted easily. This means that corrupted cache files can cause an app to crash or a slew of apps to crash at once. It can also cause various other problems such as screen freezing, battery draining problems, etc. You can resolve the same simply by going to 'Settings >> Apps >> (Click on individual apps) >> Uninstall.
Delete storage cache
This is another type of cache storage which is system-level. It can be wiped off simply by opening the Settings tool on your device and then, navigating to 'Storage' and then, tap on 'Cache Memory' where you'll get a prompt dialog box confirming the action where you need to select 'Yes' and 'Confirm' or whatever is in affirmation.
Wipe cache partition
This is the third method you can do to boost phone's performance and wipe remaining cache files for which, you are required to boot into the recovery mode for which, the procedure is stated below.
Firstly, you need to start by turning the phone OFF.
Press the power button and volume Up key together and hold it for 10 to 15 seconds until the screen lights and release the keys when it shows an Android logo.
Note that the protocol for navigation to follow here is press power button to select an option and use the volume up or down keys to scroll or otherwise stated by the respective recovery mode version.
Select 'wipe cache partition >> Yes' and that must resolve the problem once-and-for-all.
Restart the phone and verify if the problem is resolved or not.
Restore the phone to factory settings
If it is a software-related issue, it must be resolved with this powerful method to restore the phone completely erasing all the data ever saved on the device with irreversible changes unless you are a techie and know how to get the data back after being erased.
Before commencing with the said method, ensure that the phone is properly charged and turned off.
Press the power button and volume up keys together to boot it into recovery mode where you can perform a factory reset.
Release the keys only when an Android logo pops up on the screen.
Once you log into the recovery mode, you can select the option from the menu titled 'wipe data/factory reset' and then, 'Yes — delete all user data'.
Finally, reboot the system and check whether the problem is resolved or not. Note that if it was a software-related issue, it must have resolved by now but if its a hardware issue, it would have been fixed by a technician.
Get the battery replaced
In case if you had followed each of the troubleshooting steps that I mentioned above or you simply performed a hard reset or factory reset but the problem still persist, the battery is problematic probably. It can be damaged or faulty or just overused since lithium-Ion batteries have a specific lifecycle after which, it begins to deteriorate. You can verify if the battery is damaged or not and then, get it replaced.
Seek help from a service center
Finally, its time to report the issue to a service center if all your efforts into resolving the issue when into a vein. You can approach an authorized service center or get help from third-party repair stores where each one has its own pros and cons. If you are looking forward to keeping the warranty intact, go for the former one though because reporting the issue to the latter and getting it fixed will void the warranty period then and there.
Read More: