Just over a month ago, Apple announced its Apple News Plus service, which claims to bring together all the news magazines right at your fingertips every day at a nominal subscription charge of $10 per month. While the service sure is affordable, the only reason many Apple users joined it when it was first released a month ago was that Apple was providing the first month of it free of charge. However, this means since Apple already has your credit information, it will start billing you automatically every month for the service unless you stop it. And that's exactly what we're going to be doing today. Read on to find out how you can cancel your Apple News Plus subscription before the free trial ends.
Before we begin, make sure your free trial is still in the run. If the subscription has already begun, we recommend waiting till the end of the month to cancel it to avoid any mishaps in between. Anyways, we have a tutorial to cancel your Apple News Plus subscription, and we will be going over 3 different methods with which you can opt out of the service. Without any further delay, let's check them out!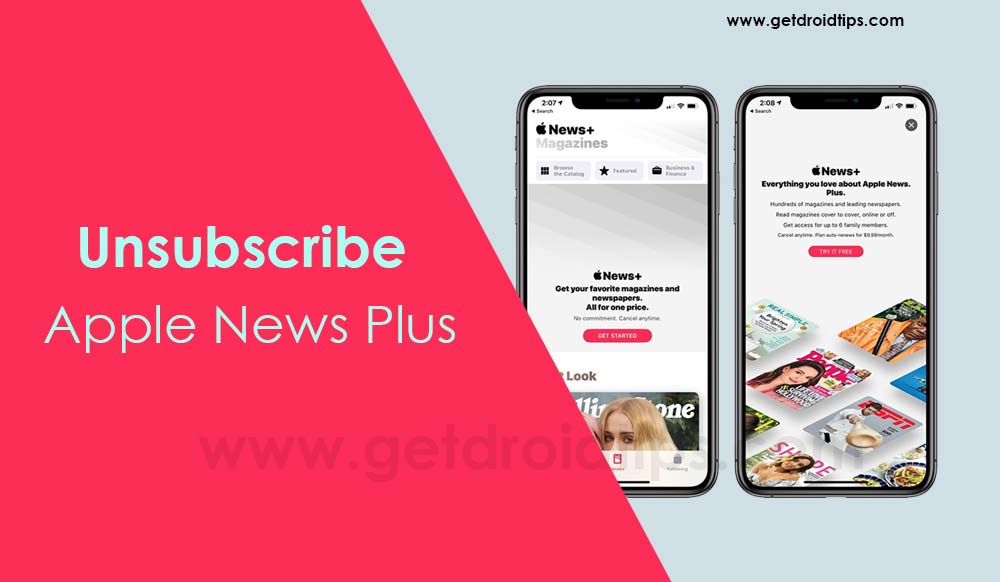 How to cancel your Apple News Plus Subscription
You can cancel the subscription from any Apple device that you own. If you own an iPhone or an iPad, then the first 2 methods will work for you. However, if you only have access to a Macbook, then the final method will assist you in canceling the subscription.
#1. Cancel your Apple News Plus Subscription using the News App
Launch the Apple News app on your iPhone or iPad, and navigate to the Following tab.
Scroll all the way to the bottom, until you see the Manage Subscriptions option. Tap on it to dive deeper into these settings.
A simple tap on Cancel Free Trial, and then tap on Confirm.
This was the quickest means of canceling your Apple News Plus plan. However, if this doesn't work out for you due to any strange reasons, you can try to opt out of the service using the App Store itself.
#2. Cancel your Apple News Plus Subscription using the App Store
On your iOS device, launch the App Store, and tap on your profile icon to the top right of the display.
You will have to enter your Apple Password if you haven't accessed this tab for a few weeks.
Once the menu shows up, tap Manage Subscriptions from the list. This will display all of your current Apple subscription plans.
From the list tap on Apple News Plus.
Lastly, tap on the Cancel Free Trial button, and then confirm it.
Both these methods can be accessed on any portable Apple device. If you, however, want a way to cancel the subscription using a Mac, the following procedure will deem useful to you.
#3. Cancel your Apple News Plus Subscription using a Mac
On your Mac, launch the Apple News app.
Click on File and then choose the Manage Subscriptions button.
Just like on the App Store, here you can have a glance at all of your current subscriptions.
From the list click on Apple News Plus, and then click on Edit.
Finally, click on Cancel Free Trial and confirm it.
That's been it! If you've successfully been able to cancel your Apple News Plus subscription, then we're glad to have helped you through the guide. If for some reason you have any queries regarding the guide, then do let us know down below, we'd be happy to help!