Smartphone location plays a vital role these days. Whether you are trying to catch more pokemon in Pokemon GO or match with more friends on dating apps, your whereabouts will play a crucial role. If you live in a rural or isolated area, it will be difficult for you to make the most out of these location-based apps. To overcome this problem, you need a iOS GPS Spoofer. Here's Tenorshare iAnyGo, the one-stop solution to all your problems.
Tenorshare iAnyGo is an iOS GPS Spoofer that lets you change your GPS location on your iOS Device in just 1-click. The app allows the user to freely change the GPS location on their iOS device without jailbreak. Unlike other iOS GPS Spoofer, Tenorshare iAnyGo actually works and comes with a bunch of additional features to make your overall experience even better. You can spoof your location to catch more Pokemon in Pokemon GO or get more matches on dating apps like Bumble. Using the app, you can plan a route by selecting two or multiple spots on the map, Save favorite places records to design the route, adjust moving speeds, hide your real location, and a lot more. It also works with apps like Facebook, WhatsApp, Instagram, etc., and you can pretend to "travel" to any place. The app also allows you to collect commonly used places to make the user experience more convenient. The app supports the latest iOS 14.3 and iPhone 12/12 Mini/12 Pro/11/XS/Max/XR. To show you just how easy it is to use the Tenorshare iAnyGo, here's a quick guide on How to change your GPS location on your iOS device using Tenorshare iAnyGo:
⦁ Download and Install Tenorshare iAnyGo on your Computer.
⦁ Open the app on your computer.
⦁ Connect your iOS device via a USB cable.
⦁ By default, the app is in location change mode. Click on "Enter" to start the process.
⦁ Now use the search bar or select a location on the map screen to replace your current location with it.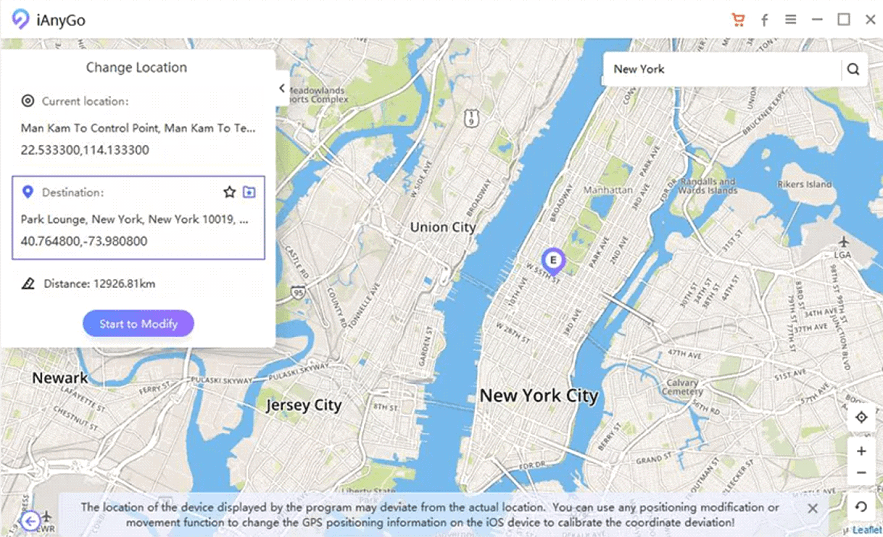 ⦁ Click on Start to Modify, and now your location is changed.
So that's how easy it is to spoof your GPS location using the Tenorshare iAnyGo. The app is available for both Windows 10/8.1/8/7/Vista/XP and MacOS 11.0 or later. While the app is free to download, you need to buy a plan to have access to all the features and to get the most of the app along with free technical support. You can go with a quarterly plan which will cost you around $19.98, or a yearly plan for $59.98.
If you are in the market looking for an iOS GPS Spoofer, Tenorshare iAnyGo is hands down the best option out there. The app is simple to use yet really powerful. You can change your GPS location to anywhere in the world in just 3-steps without any hassle. And in case you are not satisfied with your purchase, it comes with a 30-Day Money-Back Guarantee.