VPN stands for "Virtual Private Network", which provides the service to encrypt information you send across the internet and redirect your internet data traffic, making it unreadable to third party who will possibly track your activities online and take your data. A good VPN is quick and secure, and allows you to access any website in the globe including those which are banned in your region. iTop VPN is one of the best options. It offers a secure VPN service, allowing you to conceal your IP address and access prohibited websites. On one hand, It enables you to watch any content you want without any limits. On the other hand, iTop VPN will help you safeguard your online privacy and personal information easily. Regardless of whether you use this VPN for any common systems, you will receive military-grade safety in any case. It quickly conceals your location, identity, and internet behavior.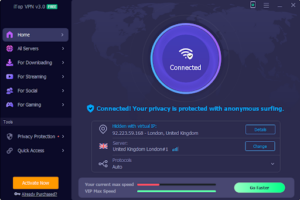 iTop VPN is quick, with ideal speed and memory, and may be used at any time. Let's get started with the VPN's functionality. You get military-grade protection when you use the iTop VPN. This VPN can be used on a variety of platforms, including iOS smart devices, Android smartphones, and, of course, Windows. The finest feature of this program is the variety of security layers it provides. They provide private web access that transports you to a secure world with no latency. Furthermore, because iTop VPN provides private web access, it will assist you in securing and concealing your personal information such as location, online activities, and data sharing. You can use the two main features at the same time. The first is IP protection, and the second is easy access to restricted content. Finally, if you enjoy playing games, you may play limited games. Nowadays, it is far too simple to get a game banned. iTop VPN offers dedicated gaming connection lines for numerous popular games, like PUBG, FreeFire, and MLBB, among others.
Faster Speed is one of the benefits of using iTop VPN.
Many individuals avoid using VPNs since they slow down internet speed and performance. However, this is not the case with this software. It provides unlimited bandwidth.
Block Access to Personal Information
Nowadays, everyone want to conceal their identity, location and activities. As a result, by utilizing the app, all of your information will be safe. Hackers and third-party corporations will never have access to your private information and data.
Access to Restricted Content
It provides you with access to prohibited content regardless of your location. It has almost 1800 servers available. Geo-restrictions are now used by websites to prevent users from specific countries. The good news is that you may access such stuff with a single click if you use iTop VPN. In addition, for video game lovers, if you play games, you may have a more steady experience by lowering pings with a VPN app.
Lower Speed is one of iTop VPN's disadvantages.
You may be asking why we said that it has quick speed, yet now we're claiming that it has a disadvantage of slower speed. It has particular data constraints, and when you exceed them, the speed decreases. Otherwise, it's lightning fast.
Conclusion
iTop VPN provides a simple free VPN service that covers all of the VPN's common requirements, such as access to prohibited websites, better streaming, and smoother and faster gaming experience. iTop VPN has demonstrated its capacity to keep its users' data secure.