Wifi usually comes with two operative bands, i.e. 2.4 GHz and 5 GHz. Some of the Huawei routers support both these bands but keeps 2.4 GHz as standard and default Wi-Fi option. But a 5 GHz wifi band works faster and provides high ping, which is essential for online activities, including collaborative work or online gaming. Due to this, users want to enable the 5Ghz band but facing issues as Huawei 5 GHz Wi-fi network is not showing after settings configuration.
Although you need a compatible wifi card in order to catch 5Ghz signals, most laptops or modern smartphones do come with 5Ghz compatible hardware. In most cases, the superior band is not prioritised in the wifi panel, and as a result, it keeps running on the 2.4 GHz band. In this article, we will troubleshooting possible causes of the Huawei 5Ghz Wi-Fi network not showing and possible solutions for the same.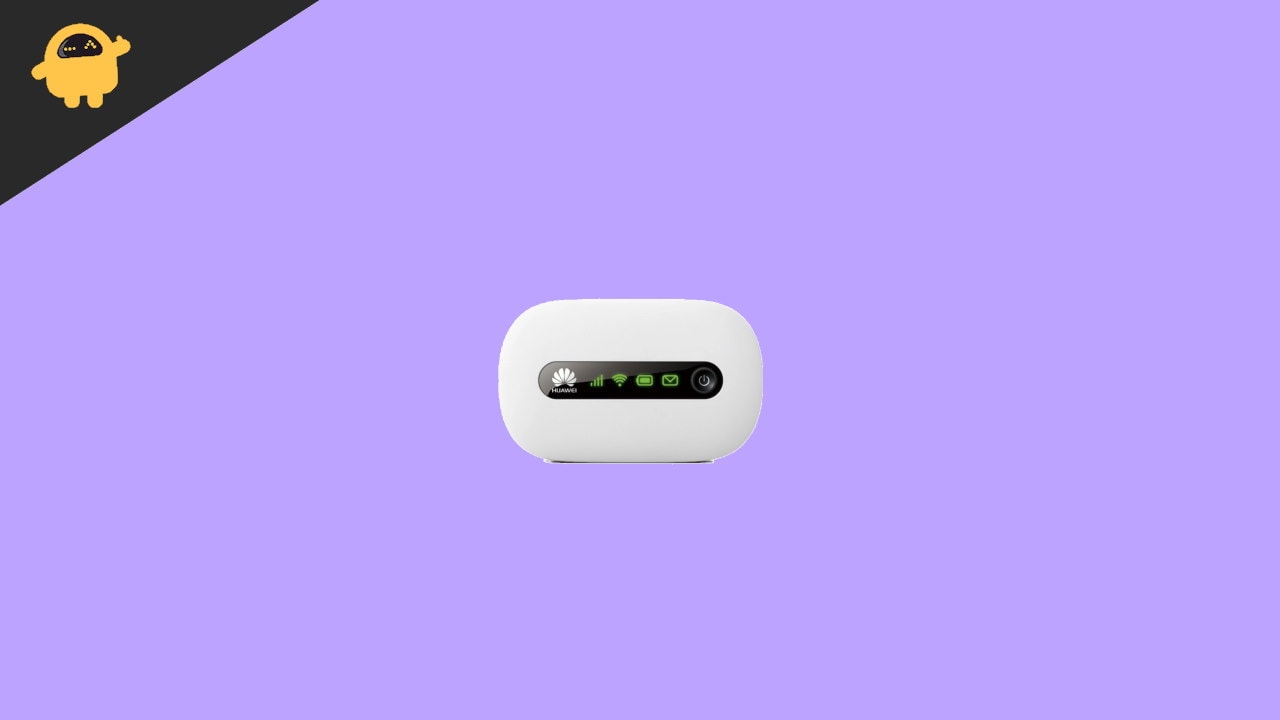 Fix: Huawei 5 GHz Wi-Fi Network Not Showing or I Can't Find
5GHz wifi is relatively a new feature for many users, and that is why most users struggle to use this perfectly. As default, all routers work on the 2.4Ghz band, but if necessary, you can configure them to work on 5Ghz bands. The benefit of the 5Ghz band gives the user faster network speeds and high connective ping. But if for some reason, your Huawei 5 GHz Wi-Fi network is not showing or not connecting, then these methods will fix it.
Method 1: Check whether the device supports 5 GHz Wi-Fi
Not all routers support 5Ghz bands, so it's important to ensure that the device you're connecting with supports the same. Most laptops come with a 5Ghz band antenna and few flagship smartphones as well. If you're not able to see your Huawei Wi-Fi on your laptop then probably your hardware doesn't support this feature yet.
Steps to check whether your laptop supports 5GHz Wi-Fi networks:
Open command prompt on your computer.
Type this command and press enter.
netsh wlan show drivers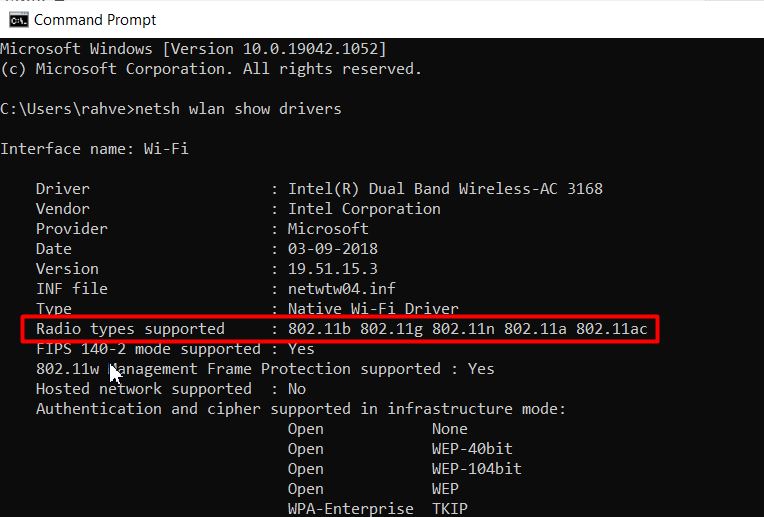 Check for values in radio type supported.
802.11ac: Supports both 2.4 GHz and 5GHz, Dual-Band Compatible.
802.11n: Supports 2.4 GHz band only
Method 2: Enable 5Ghz on your Huawei router
As I said earlier, in most cases, this feature is disabled by default on many routers. If you wish to use the ultra-fast connection speed and more bandwidth benefits of the 5GHz band, you have to enable this feature on your router.
Steps to enable 5Ghz Wi-Fi on Huawei router:
Login to your Huawei router dashboard page.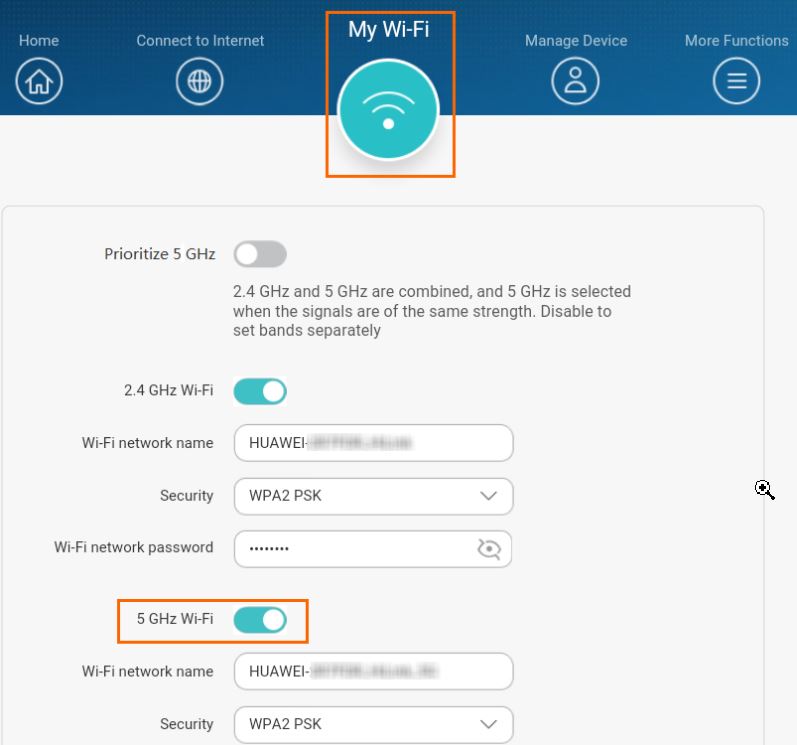 Navigate to My Wi-Fi option and enable the 5Ghz Wi-fi option.
After enabling the feature, make sure to restart your router and then try to connect your wifi devices.
Method 3: Enable or prioritize 5Ghz band on your router
If you do not prioritise a 5Ghz band connection on your router, it will use the basic 2.4Ghz band until and unless the traffic increases. In order to use 5Ghz, you have configured some settings on your router as follows.
Login to your Huawei router dashboard page.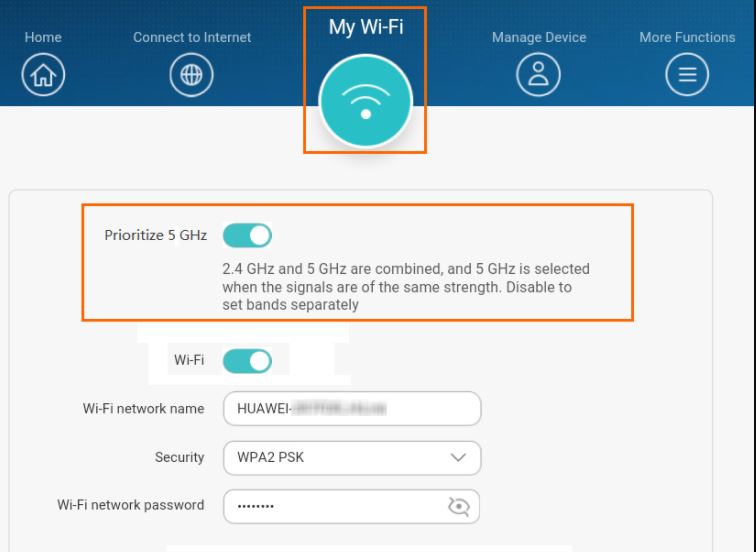 Navigate to My Wi-Fi option and enable the "prioritize 5Ghz" option.
Prioritize 5 GHz is currently supported on the following routers: HUAWEI WiFi Q2, HUAWEI WiFi WS5200, HUAWEI WiFi Q2 Pro, HUAWEI Router A1, HUAWEI WiFi AX3
Method 4: Disable Invisible Wifi
Most routers come with extended features which can help users to hide his/her network to protect the router from network attacks. Where Wi-fi stealing is a common practice, it's possible that your network administrator has enabled this feature for your own safety. Invisible wifi is a feature renamed from hiding APN, and it essentially hides the Wifi name so others can find the network.
If you have enabled the invisible Wi-Fi feature on your router, then Huawei 5 GHz Wi-Fi network will not be showing on your wifi connectivity screen.
Steps to disable invisible Wi-Fi on Huawei routers:
Login to your Huawei router dashboard page.
Navigate to More Functions > Wi-Fi Settings > Advanced Wi-Fi Settings.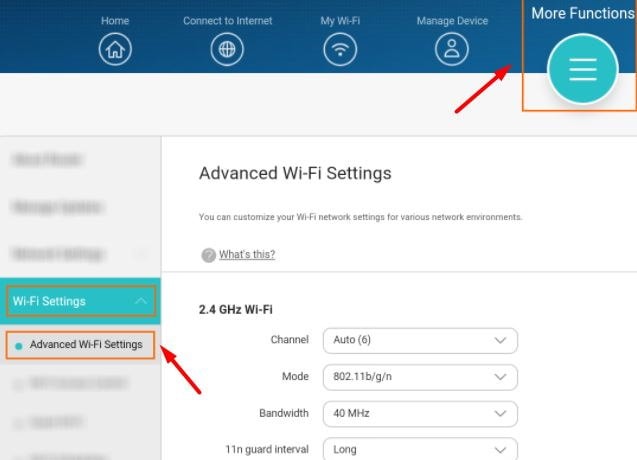 Here make sure the invisible wifi settings are disabled.
Click on the save button and restart your router.
Method 5: Check for Wi-Fi timers
If you are facing a problem where Huawei 5 GHz Wi-Fi network is not showing, or you can't find it on the Wifi connection page, then there are chances that the router is off. If you have configured the settings for the Wi-Fi timer, then the router will go to sleep mode when this timer is activated.
Steps to disable Wi-Fi timers in Huawei router:
Login to your Huawei router dashboard page.
Navigate to More Functions > Wi-Fi Settings > Wifi Timer.
Here check for off periods. If it clashes with your Wi-Fi usage, then either change the timer or disable the feature.
Wi-Fi timer is an important feature that is designed to turn off the router for the designated time. This helps in preserving the router from extended heat or overuse of the network. Turn this feature off only when it's needed.
Method 6: Reset the router
In case none of the above methods works for you, that means the software or firmware that runs the router is corrupted. It is also possible that few settings are clashing or creating problems and as a reason, you are not able to connect with your 5Gh Wi-Fi.
All routers come with a reset button which reset all the settings in the router and runs it with a fresh configuration of settings. After the reset process, you might have to log in to your internet ISP to regain access to the internet.
Conclusion
As you see, the problem of the Huawei 5 GHz Wi-Fi network not Showing or can't find issues is just because of configuration mismatch. You have to enable the 5GHz wifi option in order to get the 5Ghz wifi benefits. Also, you need to make sure whether your device supports receiving 5Ghz signals or not. If you're a smartphone user, then you can download an app to check the Wifi bands supported on your device. For further queries, make sure to comment down below.