New Update
ViPER4Android now supports Android 10. Yes, you heard me right! Now you can install ViPER4Android on any device running Android 10 Q.
ViPER4Android is one of the most useful Audio equalizers or mods for Android devices. It offers system sound customizations without any restriction and easily available, developed via XDA Developers. Here in this guide, we will share with you the guide on how to install ViPER4Android v2.7.0.0 on Android devices. The best part is that any of the Android devices running on Pie, Oreo, Nougat, and Marshmallow will be eligible for this Mod. Some of the third-party music players offer custom audio equalizer and some of the devices come with Dolby ATMOS as well. Similarly, the ViPER4Android is a fully-featured sound mod made by the XDA Developers team.
Meanwhile, if you have rooted your Android device either via Magisk or SuperSU tool, you can easily install the ViPER4Android mod. But before going into the installation process, take a look at the ViPER4Android features and changelogs first.
What is Viper4Android?
One of the popular Android mods, available for Android devices is the Viper4Android. It was by one of the XDA members and audiophile, Viper520, this mod is developed to give the users complete control on the sound settings on their phones to get the optimum sound quality of their Android devices. The Viper4Android offers sound driver mods for fine-tuning the audio output of Android devices.
You can individually tune the sound settings of headphones, speakers, or Bluetooth devices with the Viper4Android mode. But the app requires rooted Android device and you can easily install the Viper4Android Xposed Module directly from Magisk Manager. It's free to use tool and most of the users prefer to use it over Custom ROMs.
Features of Viper4Android
Here are some of the prominent features of Viper4Android, courtesy XDA:
FET compressor
Quad-Channel Convolver
AnalogX
Spectrum Extension
x86 Platform Support
USB/Dock effect Support
Speaker Optimization
Differential Surround / Haas Effect
ViPER Fidelity Control
Headphone Surround+ (VHS+)
Auditory System Protection (Cure Tech+)
Convolver
FX Compatible Mode
3D Surround Sound
ViPER4Android v2.7.0.0 for Android – New Features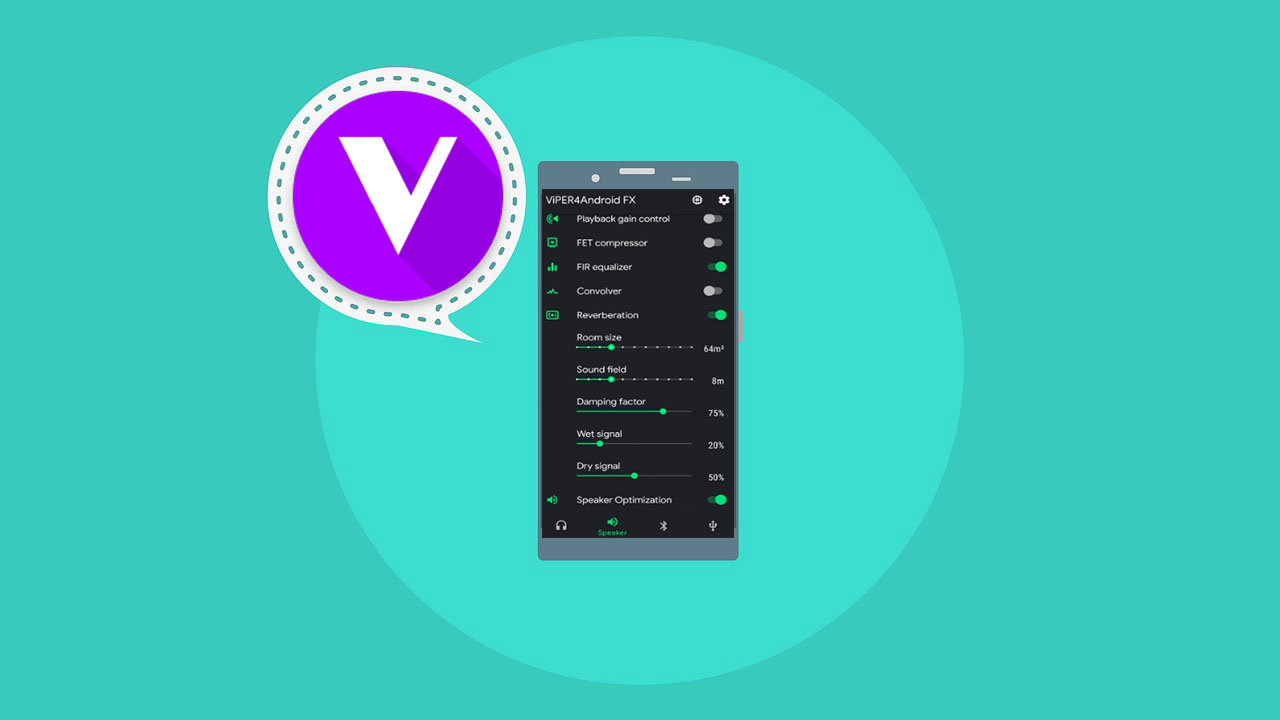 ViPER4Android (V4A) is an audio equalizing tool to provide a customizable and better sound experience on Android devices. It was founded by 'ViPER520' and first introduced on XDA-Developers forum by 'zhuhang' back in 2013. The main interesting feature of V4A is that it allows the user to tweak the sound for headsets, Bluetooth, or USB connected devices.
The developers are constantly working on this software and adds support for Android devices with all latest versions respectively. A couple of years ago, the developers have also released a Magisk Module to install ViPER4Android on the rooted Android devices.
The updated version v2.7.0.0 comes with a new Material UI that looks clean and offers some of the extra features as well. Some of the stability issues and bugs also fixed with further updates. You can check out the complete changelog of V4A from below. Otherwise, skip it to get into the downloads and installation process.
Changelog:
ViPER4Android V2.7.1.0Changelog:
– Support magisk 19.1+
– Fixed preset not loading
– Fixed multiple driver install loops
– Add compatibility mode back (needed for car mode)
– Add session attaching logic
ViPER4Android v2.7.0.0 Changelog:
Full rewrite in Kotlin
New material UI
Presets can be managed in the app itself
Effects can be set more precisely with seek-bars
Min API 23 Level
Uses 2.5.0.4 driver only
Audio routing bug fixed
Driver status bug fixed
Cross device effect changing bug fixed
App follows system dark/light mode
Installation is faster and more versatile
Optimized Notification settings
Reduced APK size drastically
Download ViPER4Android v2.7.0.0 APK
You just need to download and install the APK file just like any other third-party Android applications. You don't need to flash or extract the zip in this case. That's cool. Isn't it?
After installing the APK file, you need to run and configure it in order to use this mod effectively. The app will work on any Android device running on Android 6.0 Marshmallow or higher and supports up to Android 9 Pie till date.
ViPER4Android v2.7.0.0 APK: Download via XDA Labs
Please Note: Your device should be rooted via Magisk or SuperSU. Only then proceed. You just need to register and sign in on XDA Developers to download the APK file. That's important.
Steps to Install ViPER4Android on Android [v2.7.0.0]
As we already mentioned that it requires root access on your Android handset. So, make sure to root your device at first via SuperSU or Magisk tool. Then you can follow the installation and configuration steps mentioned below:
After downloading the APK file from the link given above, simply Install the APK file.
Now, open the ViPER4Android FX app on your handset.
You'll require to enable the superuser permissions for this app.
Just allow the permissions and install the drivers by simply tapping on OK button.
It will automatically install the necessary drivers on your device.
Then simply reboot your device for once.
You're done. Now, enjoy the V4A tool. You can set or customize the options according to your preference.
You can also tap on the gear icon on the top-right corner of the screen to check the display driver status.

If the status shows Normal and Audio format Supported, you're good to go.
Otherwise, check out the XDA Developer's F.A.Q section for more info.
We assume that you have successfully installed the ViPER4Android tool on your Android device easily. Feel free to comment down below about your thoughts or queries.