Jailbreaking means gaining full control over the root of the iPhone's operating system to access full features of it. It is similar to the term Rooting in android, which in terms provides similar access. Even though they both do similar stuff, they are different from one another. There are many types of jailbreak and namely, tethered, semi-tethered, semi-untethered, and untethered. With the new iOS 14 beta update, many developed are looking for Jailbreak options for development purposes. So far, there are many unofficial jailbreaks available, but here we have some good options as well.
There are two main methods in jailbreaking your iPhone. Either through chekra1n or through unc0ver jailbreaking tools. But that depends upon the phone you are using. If you are using newer phones with A7 to A11 devices, you should use the checkra1n method to jailbreak.
Why should you jailbreak iOS 14?
If you like to tweak the phone to your needs by modding and customizing it, then you should jailbreak it in order to achieve it. There is also darker usage of the jailbreak, which is installing pirated apps and games, although we wouldn't recommend that because that's just stealing someone's hard work, which is also illegal and unethical. But looking at the brighter side, we have an iPhone that works exactly as how we want it to work. We can customize the home screen, control switches, themes, icons, and much more. This also enables tweaks that make the phone easier to use.
Is there iOS 14 Beta Jailbreak?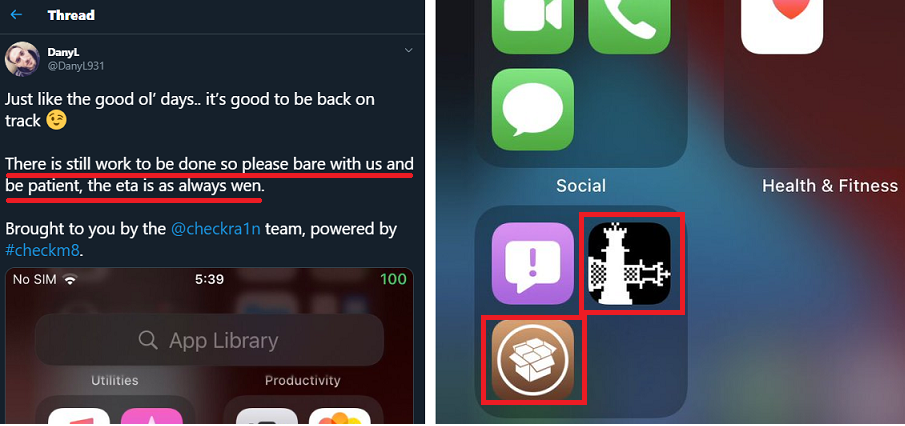 With newer versions of their operating system, apple patches the previous methods of exploits. Hence the developers of jailbreaking software and tools have to work from scratch to be able to achieve jailbreak on the newer operating system. The latest most jail breakable version of iOS is 13.5, which is was patched by 13.5.1 update. So currently the 13.5.5 beta 1 is the latest jail breakable version through software methods (unc0ver).
But since the iOS 14 beta version started rolling out and many people have upgraded to it, already. Hence they might be wondering if there are any exploits available for them to jailbreak. But still, there aren't any updates available from the team about fully working exploits or tools. The existing exploits don't work on the iOS 14 devices. The latest checkra1n version (0.10.2 beta works up to iOS 13.5 without any issue. But we can soon expect the working version for the latest iOS anytime soon.
When to expect a jailbreak for iOS 14
The team behind the checkra1n tool is working rapidly on finding exploits for the newer version. Although a person (DanyL twitter: @DanyL931) tweeted that they have been working on the iOS 14 and got jailbroken. From this, we can understand that there are still many bugs and the need to be fixed.
Just like the good ol' days.. it's good to be back on track 😉

There is still work to be done so please bare with us and be patient, the eta is as always wen.

Brought to you by the @checkra1n team, powered by #checkm8. pic.twitter.com/0uulJS5u0D

— DanyL (@DanyL931) June 24, 2020
Another person Sam Bingner (twitter: @sbinger), also tweeted, "A little more progress :)". The picture shows the running iOS version and Cydia version running on iPhone 10.
A little more progress :) pic.twitter.com/aBPI9QDawa

— Sam Bingner (@sbingner) June 24, 2020
Although the ETA is not clearly mentioned by them, they are working really hard. Just we have to give them time, and anytime soon, there will be a working checkra1n method for the latest iOS. But you can always roll back to the previous versions if you really need those jailbreak tweaks. Above all, the iOS 14 itself is buggy, and on top running the buggy jailbreak apps or tweaks may lend your phone unusable or barely usable.
Conclusion
So, to sum it up, there aren't any working methods available yet to jailbreak the latest OS from Apple, but there is a team working on it. Hence we can expect a working method anytime sooner. Also, we don't recommend or entertain using piracy of content using jailbreak. Always use such tools only to customize and tweak your iOS-based devices.