ASUS has launched yet their other gaming smartphone ASUS ROG Phone 2. With the increasing demands of Indian youth to play graphics-intensive games such as PUBG and COD, ASUS has launched this device. It comes with the top-notch features and specification mobile gamer could ever desire in a smartphone. Since this gaming smartphone is going to come with a premium price tag of around 35,990 INR, customers are very skeptical about its security. Most smartphones in this price range come with a proper IP68 rating to secure the device from any water damage. So today in this post, we will check whether the new ASUS ROG Phone 2 is waterproof or not. So without wasting any time, let's start.
A waterproof gaming smartphone is something every mobile gamer would want. Because of the waterproof capabilities, you can play games while taking a shower, while swimming, on the beach and much more. You can have endless possibilities with a proper waterproof gaming smartphone if you may. So customers are eager to know whether the new ASUS ROG Phone 2 is waterproof or not. Well, today we will find out in our ASUS ROG Phone 2 waterproof test.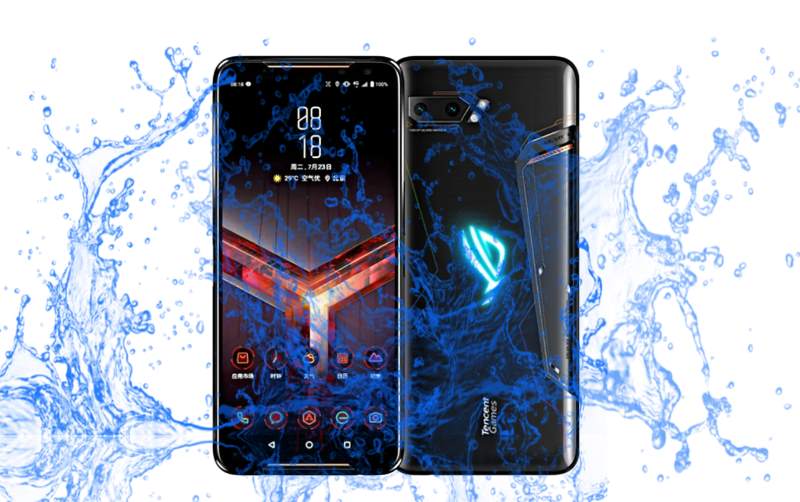 Is Asus ROG Phone 2 Gaming Waterproof device?
The previous ASUS ROG Phone was having official IP ratings which made the device splashproof. Because of this, the potential customers of ROG Phone 2 wants to know about the waterproofing technology of the device.
info
A waterproof device contains special IP ratings. An IP rating is an international standard which is used to define levels of sealing effectiveness of modern smartphones. These IP ratings are presented in the form of IP followed by two numbers. The IP68 rating is the best that a smartphone can hold. However, it is important to note that this IP testing is done against freshwater. So you might end with slightly different results against saltwater or other liquids such as soft drinks.
After checking the official sources, we can say that the device is not waterproof. More on the waterproofing capabilities in the Asus ROG Phone 2 below.
Asus ROG Phone 2 Waterproof test
The Asus ROG Phone 2 is a gaming-centric flagship smartphone that comes with a robust configuration to meet the need of the gamers. It has a long-time battery backup, which will be greatly admired. The camera performance is also very promising. Here is a quick specs sheet.
| | |
| --- | --- |
| Device Name | Asus ROG Phone 2 |
| Screen | 6.5-inch OLED panel with 1080 x 2340 pixels |
| Processor | Octa core (2.96 GHz, Single core, Kryo 485 + 2.42 GHz, Tri core, Kryo 485 + 1.8 GHz, Quad core, Kryo 485) |
| RAM/ROM | 8 GB/ 128 GB |
| Battery | Li-Polymer Capacity 6000 mAh, supports fast charging |
| Camera | 48 MP + 13 MP Dual Primary Cameras |
| IP67/68 waterproof ratings | none |
warning
This test is purely based on individual/team observation. This test will only give an idea whether a device is waterproof or not. So users are advised not to try this at home, as it might damage your device.
We are going to perform Splashproof test, Water immersion test and dustproof test. After performing this test, we can deduce whether the latest ASUS ROG Phone 2 is waterproof or not.
| | | |
| --- | --- | --- |
| Test type | Details | Result |
| Splashproof Test | Putting tiny droplets of water on the device | No damage to the device |
| Water Immersion Test | Immersing device underwater for 1 minute | speaker doesn't work, problem in power button |
| Dustproof test | Keeping the device in an artificial sand storm | No dust found inside the device |
After conducting all the tests, we can clearly see that ASUS ROG Phone 2 is not waterproof. However, the device is dustproof and splashproof to some extent. But we do recommend ROG Phone 2 users to take proper care of their device and do not accidentally spill water over the device.