Samsung keeps coming up with more surprises each year. In 2022, Samsung has already released quite a great number of smartphones from different series. And now, they are all set to launch two more devices from the Samsung Galaxy A series by 22nd April 2022. The two new devices are expected to be the Samsung Galaxy A33 5G and Galaxy A73 5G. So far, both the devices have made a remarkable image in the market and there is certainly a very high expectation from both these devices.
Talk about their premium looks, mind-blowing features, or their budget-friendly price, Galaxy A33 and A73 stands out in all sections. But what's more interesting about both devices is the IP rating that comes with them. Well, this has led Samsung users stunned as they wonder what this IP rating really means. Does that indicate that Galaxy A33 5G and A73 5G are both waterproof phones?
Perhaps, we shall find it out on our own. Not just based on the specifications that are given, but we will be conducting a practical water test on both devices to check their capability and identify the true potential of this IP rating.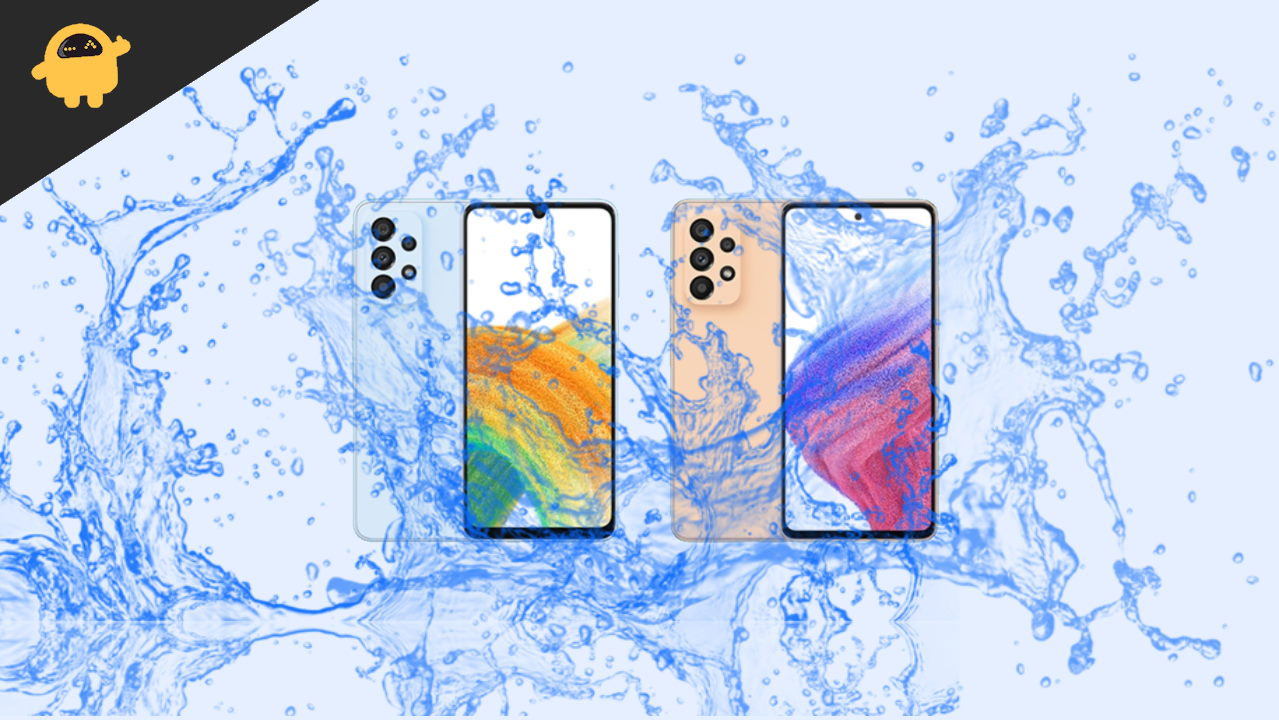 Is Samsung Galaxy A33 5G or A73 5G Waterproof Phone in 2022?
Well, waterproof phones always had the edge over other regular devices. As their demand seems to increase, Samsung has certainly shown some hope to provide a waterproof IP rating on budget smartphones. And if it turns out to be true, then Samsung Galaxy A33 and A73 could be the most successful mid-range smartphones in 2022.
As per official resources, both devices come with the IP67 rating. This surely doesn't sound as great as the IP68 waterproof rating. However, there had been controversy regarding this IP rating. While some people consider it to be waterproof, others have a different point of view. Therefore, to end such confusion among the users, we will be holding a practical test on both devices to check out their water-resisting capabilities.
But before moving on with the water test, let us first have a sneak peek over the most highlighted features of both the devices.
Samsung Galaxy A33 5G Specifications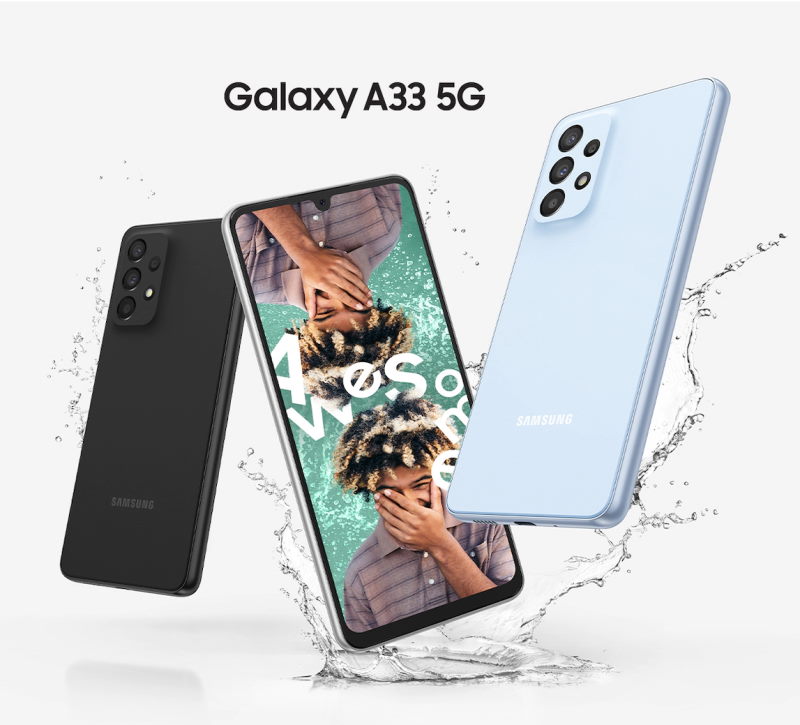 To begin with our first device for today, Samsung Galaxy A33 comes with a 6.7 – inches Super AMOLED Plus display. Running on Android 12, Galaxy A33 is powered by Qualcomm Snapdragon 778G 5G. The device will be available in three different storage variants, 128GB + 6GB RAM, 128GB + 8GB RAM, and 256GB + 8GB RAM. Apart from this, you will also get a shared microSDXC card slot.
As for its cameras, Galaxy A33 5G features a Quad-camera setup with a 48MP main lens + 8MP ultrawide + 5MP macro + 2MP depth lens. it also comes with a 13MP selfie camera that supports 1080p@30fps video recordings. The 5000mAh battery makes sure for longer life on a single charge. And the 25W fast charging allows you to charge the device in a very short time.
Also Read: Samsung A73 5G SM-A736B FRP Bypass | Use EFT, CM2, UMT
Samsung Galaxy A73 5G Specifications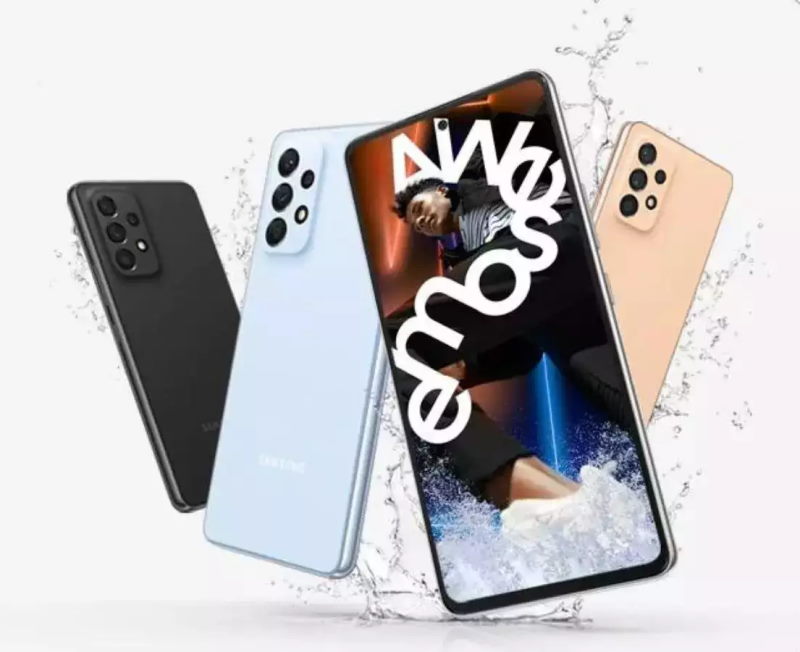 Just like A33, Galaxy A73 also features a 6.7 inches Super AMOLED Plus display. It comes in limited color variants that look sophisticated and feel premium on hand. Samsung Galaxy A73 also operates on Android 12. It again comes with the Qualcomm Snapdragon 778G 5G Chipset. Galaxy A73 shares the same storage variants as Galaxy A53 and also provides a shared microSDXC card slot as well.
Coming to the rear camera, Galaxy A73 comes with a Quad-camera setup with certainly some notable enhancements. It features a 108MP main camera + 12MP ultrawide + 5MP macro + 5MP depth lens. As a result, you can get some absolutely amazing macro shots as well as high-quality clicks. Talk about the battery, A73 also comes with a 5000mAh battery along with 25W fast-charging support.
But one of the best things about both these devices is that both Galaxy A33 and A73 will receive 4 Android updates at most. This means you can update them till Android 16 which is rarely seen even with the flagship phones. With that said, let us now look at our most awaited water test and find whether the Samsung Galaxy A33 and A73 are waterproof phones or not.
Samsung Galaxy A33 5G and A73 5G Water Test
We will basically conduct two types of tests on both devices. First, we will start with the wash test where we will wash them with clean water followed by the sink test. In the sink test, we will put the devices in two different plastic containers and then fill them with water. Since Samsung mentions that the IP67 rating ensures high dust/ water-resistant capability of up to 1 meter for 30 minutes. We will put the devices underwater for a complete hour. However, we will keep checking for their performance after every short interval of a time period.
Water Test: Outcome
Finally, after conducting the water test successfully, we have the outcome for both devices. Fortunately, both Galaxy A33 and A73 share a much-expected outcome as per the IP rating. After conducting the Wash test, we noticed that the devices took it quite comfortably and none of its functions were hindered. It worked with the same fluency as before.
Then moving on to our sink test, we put both the devices underwater and kept them there for 1 long hour. We checked on their performance after every 15 minutes. The first two times, we hardly noticed any change in their performances. Both devices kept functioning with the same flow. However, after completely keeping them underwater for 1 hour, we had some expected outcomes. We could notice some differences in the speaker as we tried playing audio. The screen was also not functioning properly and we had to dry it out for normal performance. But they are still having some trouble as the screen response is hindered and taking a longer time than usual.
As a result, after all the observations, we have come to the decision that the Samsung Galaxy A33 5G and Galaxy A73 5G are not actually waterproof phones but water-resistant devices.
Conclusion
After practically conducting a water test on both the devices, we concluded that they are highly water-resistant devices and not specifically waterproof. So, as Samsung assigned the rating of IP67, the devices show their remarkable capability justifying their IP rating. They can withstand underwater for a long time, although not long enough to be considered waterproof.
But ultimately, you do not have to worry in case of accidental water splashes or if you dropped the device in the sink or in the pool. Just make sure not to use it like a fully waterproof device capturing videos underwater and so. And also keep it away from dirty water as it might cause harm to the device.