Xiaomi has launched yet another smartphone making your decision more tougher if you're planning to buy Xiaomi smartphone soon. The new Xiaomi Mi 9T is a fantastic device with premium features at a relatively low price. It comes with a beautiful all body screen and a pop-up camera. It sounds very nice however customers are particular worries about the pop-up camera. Moving parts in smartphone trouble the durability of a smartphone and makes it harder to waterproof the device. So, customers want to know whether the new Xiaomi Mi 9T is waterproof or not?
Xiaomi doesn't really have many waterproof smartphones its product list but the new Xiaomi Mi 9T might be an exception. However, we will conduct our very own Xiaomi Mi 9T waterproof test to find out the truth.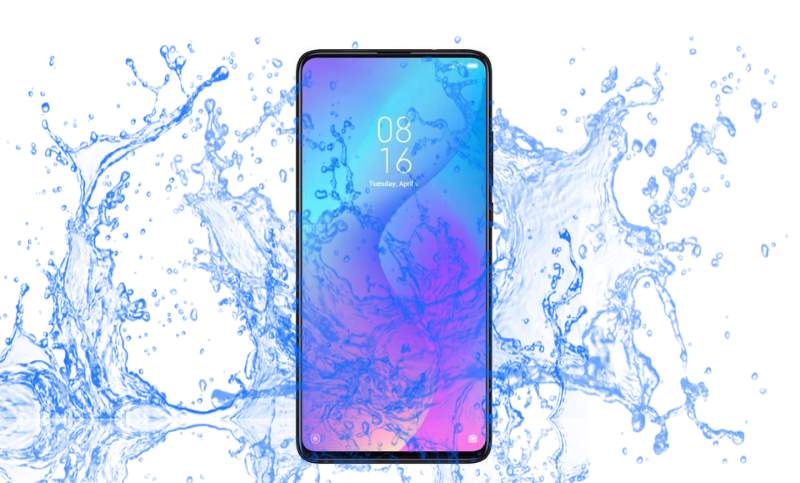 Is Xiaomi Mi 9T Waterproof device?
Modern smartphone customers now require a waterproof smartphone to take underwater selfies and what not. Not to mention that a waterproof smartphone doesn't get any damage from the accidental coffee spill, or you can even take it with you for swimming. All waterproof smartphones have an IP rating to verify their durability under water.
info
An IP rating is an international standard which is used to define levels of sealing effectiveness of modern smartphones. These IP ratings are presented in the form of IP followed by two numbers.
IP68 rating is the best that a smartphone can hold. However, it is important to note that this IP testing is done against fresh water. So you might end with slightly different results against salt water or other liquids such as soft drinks.
Xiaomi hasn't put any official update about the waterproof capabilities of the device and nor we could find any IP67/68 rating for the device. At this point, it's safe to assume that Xiaomi Mi 9T is not waterproof given that it has a pop-up camera mechanism. But don't worry, we will conduct a Xiaomi Mi 9T waterproof test to confirm that.
Xiaomi Mi 9T Waterproof Test
Despite all the killer features, it's sad to see that Xiaomi Mi 9T doesn't come with a waterproof body. However, it might be splashproof and dustproof. So we are going to perform a quick Xiaomi Mi 9T waterproof test to find out the truth.
warning
This test is purely based on individual/team observation. This test will only give an idea of whether a device is waterproof or not. We recommend users not to try this test at home, as it might damage your device.
| | | | |
| --- | --- | --- | --- |
| Device part | Waterproof Test | Splashproof Test | Dustproof Test |
| Camera | pop-up camera mechanism fails | camera fail | dust in lens |
| Screen | flickers | works | works |
| Speaker | works | works | no dust in speaker |
Upon conducting the splashproof and dustproof test, we came to the conclusion that the device is certainly not waterproof. And because of the pop-up camera mechanism, the water goes inside even in accidental water splashes. We recommend users not to use this device in rain, shower or anywhere near pools or lakes. Also, keep special care of your device since its not officially waterproof.
What to do if your device is not waterproof?
Since your device is not waterproof, we advise you to take proper care of your device. You can follow these steps to do so:
Not to take underwater photos with the device
Don't make or receive calls in rain or while taking a shower
Not to take underwater selfies etc.
Do not drink coffee, soft drink or alcohol when you're using your device.
In case your device gets water damage, keep the device in a box full of rice for 1 hour and check with the nearest service center.