JBL is a top brand that makes audio devices and is known for its top-quality products. Their earphones, headphones, speakers, etc., are ruling the market because of their quality. However, if you are a party lover, then they have some unique audio devices for you, and JBL PartyBox is one of them. JBL PartyBox is specially made for party geeks. That's why the PartyBox is the most sold speaker by JBL to date.
But, there are some problems with the PartyBox as many users started reporting that the Partybox's microphone is not connecting or working. Well, when we investigate about this issue, our team found some fixes to the problem. Therefore, if your JBL PartyBox microphone is not connecting or working, make sure to follow the methods we have discussed below. So, let's get started: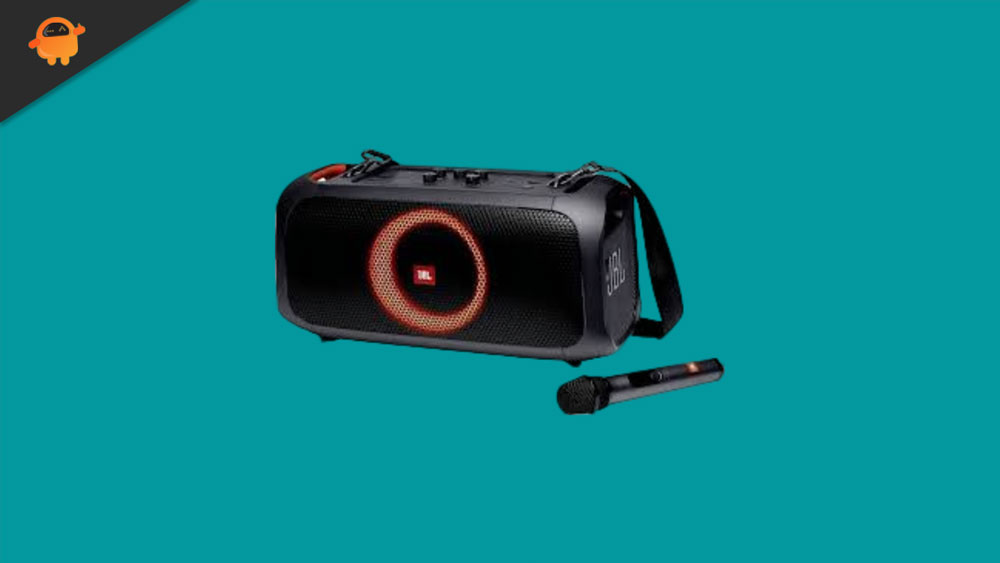 Supported Model
JBL PartyBox 100
JBL PartyBox 110
JBL PartyBox 310
JBL PartyBox 200
JBL PartyBox 300
JBL PartyBox 400
JBL PartyBox 410
JBL PartyBox 710
How To Fix JBL PartyBox Microphone Not Connecting or Working
Fixing the JBL PartyBox microphone not connecting or working issue isn't a big deal. You can do so just by performing the needy troubleshooting methods we have discussed below.
Fix 1: Reconnect It
If you are using the JBL PartyBox and find that the microphone is not working, then the possibilities are there that you, due to some random glitch, you are facing this problem. It is therefore recommended to try reconnecting your Mic to the JBL PartyBox due to the fact that many users have previously reported that this has assisted them in resolving this type of issue. So, you must also try this out and check if it helps.
Fix 2: Perform Reset
The first step to troubleshooting a device is to perform a factory reset or hard reset. When the Bluetooth speaker's data has been deleted, it will revert to its default settings. Follow these troubleshooting steps if you are experiencing issues with your JBL Partybox:
Ensure that the speaker is unplugged from the charger. Keeping it disconnected will prevent it from charging.

Connect the speaker to the power source. The power button must be pressed in order to do so.

By holding volume + and pressing power at the same time, you can play music. At least three seconds should pass before the speaker restarts.
Fix 3: Check The Cable
You can also get this JBL Partybox microphone issue if your charging cable for your JBL speakers is damaged or cut. As the last fix, we suggest thoroughly checking your charging cable; if any damage occurs, replacing it is the only option at this point. Depending on whether your JBL speaker's microphone works or not, you will need to replace the cable.
Fix 4: Check The Battery
Damaged batteries can also cause the JBL PartyBox speaker's microphone to not work or connect. Changing the battery will fix the problem if it is the battery that is causing the issue. Therefore, if you have any technical knowledge, or if you have no technical knowledge, you should check out your batteries.
Note: Heat or repeated overcharging can damage batteries. It is therefore important to avoid charging it frequently.
Fix 5: External Damage
In light of the fact that Bluetooth speakers are prone to damage easily, it is advisable to take extra care with these systems. Nevertheless, you must carefully inspect the JBL Partybox and take it to your nearest service center immediately if you find any cracks, dents, damage, etc. There have been cases, however, where we have seen that the speaker got damaged internally as well as externally due to external damage.
Fix 6: PowerCycle It
The most likely cause of this type of issue could be a random bug that prevents the microphone from working properly, which leads to this type of problem. Moreover, many JBL Partybox users reported that they were able to resolve this issue after rebooting or power cycling their devices.
The best thing to do is to power cycle your speakers to have a fresh start to function properly. Instead of rebooting, you should power cycle your speakers. This may help you, so you should try it.
Fix 7: Check Your Microphone
Did you check if your microphone is able to work properly or not? Well, there are possible chances that you are getting this problem because there is some external damage occurring on your microphone due to which it fails to function properly.
Fix 8: Contact the Support Team
You should consider reaching out to the nearby service center if you think you cannot fix the problem yourself. Nevertheless, we advise you to raise a complaint ticket on the official JBL support page first. Then, take it to your nearest service center for repair. The good news is that if you're lucky enough, you may be able to get your device repaired for free if it's still within its warranty period.
So, that's all on how to fix the JBL Partybox microphone not working or connecting issue. We just hope this guide is helpful to you. Let us know which troubleshooting method you found to be effective in the comments below.