For music, the JBL PartyBox speakers are satisfactory. A large room can be filled with sound from this party speaker. Even if you set it to a minimum, the bass boost generates a somewhat boomy sound profile, with a balanced midrange, so vocals and lead instruments can be heard clearly. Outdoor use is satisfactory with the JBL PartyBox. Despite its solid and durable build, there is no water or dust resistance to it.
For a price range like this, JBL wins the game. Even though it's a great device, many users still reported that the JBL Partybox users face no sound error. That's why we are here with this article; here, we have mentioned some easy tricks you can easily fix if the JBL PartyBox has no sound error.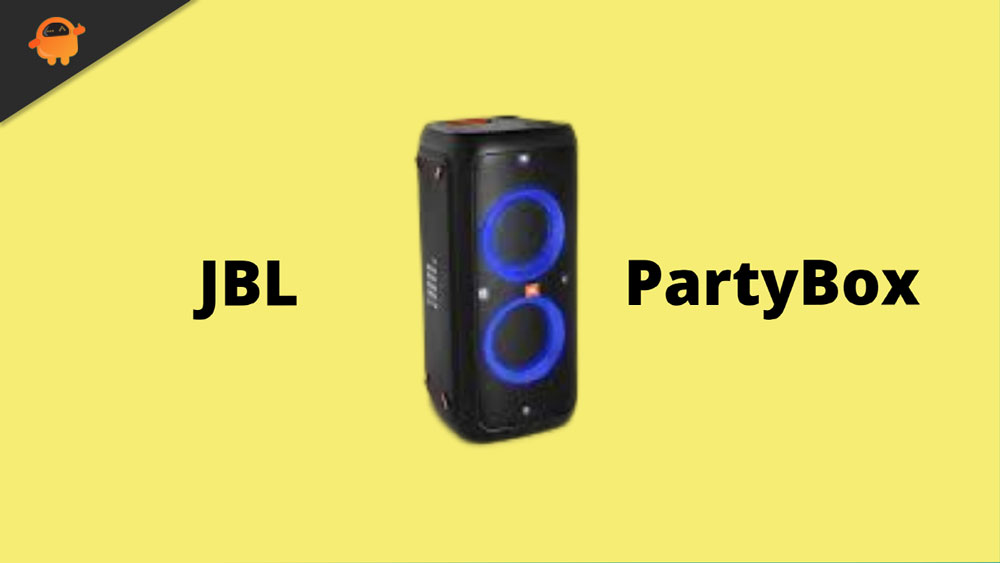 Supported Model
JBL PartyBox 100
JBL PartyBox 110
JBL PartyBox 310
JBL PartyBox 200
JBL PartyBox 300
JBL PartyBox 400
JBL PartyBox 410
JBL PartyBox 710
How To Fix JBL PartyBox No Sound Error
So, here are some needy troubleshooting methods that you can try to resolve this error. Therefore, if you are facing the no sound issue with your PartyBox, make sure to perform the fixes mentioned below:
Fix 1: Reboot Your PartyBox
It is recommended that you disconnect the Partybox and all other connected devices once at a time since there are multiple devices connected. After unplugging the Partybox for about two or three minutes, it is advisable to plug it back in. You can reconnect the cables once you have unplugged them. Then, connect it again and check if it fixes the issue or not.
Fix 2: Internet Connection
JBL PartyBox can also be inconsistent with your device if your internet connection is bad. An internet connection that is reliable is therefore very important. Your WiFi speed can be determined by running a speed test on the Ookla site.
Nonetheless, power cycling your router/modem can help if your WiFi isn't working properly. After that, if the speed does not normalize, contact your ISP and ensure that the connection is functioning properly.
Fix 3: Check If It Is Properly Connected
Try reconnecting your JBL PartyBox several times if you are continuously experiencing no sound issues with this device. Try pairing it again after disconnecting it from your device. It may be necessary to repeat this step several times to determine whether the issue of no audio or sound is resolved.
Fix 4: Check The Power
It is possible for your speaker to go into battery saver mode without causing a sound error if you have a low battery issue. In order to ensure that it is always fully charged, you must always make sure it has at least a 20 percent charge.
In order to keep this from happening again, we recommend you keep charging it until the JBL PartyBox is completely charged. Check whether the sound issue has been resolved by connecting it to your PC or mobile.
Fix 5: Make Sure The Content Doesn't Have Any Issue
Have you checked whether the content you're watching has a problem? The possibility exists that your content may contain any sound-related issues that are causing this issue. Instead of using the JBL PartyBox speakers, we recommend playing the same content from your device's speaker.
Fix 6: Check For External Damage
Bluetooth speakers can be easily damaged, so it is important to take extra care when using them. Therefore, if you find any damage, crack, or dent on your JBL Partybox, you should take it to your nearest service center.
It is extremely difficult to fix speakers when they become damaged internally. Even at JBL's service centers, it is rare for a speaker to be repaired if it suffers an internal defect.
Fix 7: Make Sure You Haven't Mute
Did you check if you have muted your JBL PartyBox? Yes, possibilities are there. Therefore, we will suggest you to check if you have muted your device. After unmuting it, try playing a song to check whether the no sound error gets resolved or not.
Fix 8: Connect To Different Device
Imagine if your JBL PartyBox has the no sound issue only when connected to certain devices. If that happens, we recommend changing your device and checking if the same problem occurs when you connect it to other devices. It may have compatibility issues with your previous device if it works with different devices.
Fix 9: Try Different Content
You may also encounter this no sound error when watching or listening to a song on your JBL PartyBox if the content that you are watching or listening to has no sound. Hence, in that scenario, we suggest playing another video on your device, then checking whether the sound comes through properly.
Fix 10: Reach To Service Center
A professional team of customer service representatives is always available for every brand. To resolve this error, please contact JBL PartyBox technical support as soon as possible if you are still having trouble. Partybox service centers are also available near you.
So, that's all on how to fix the JBL PartyBox no sound error. This guide is meant to help you, so we hope you have found it useful. However, comment below if you have any further questions.