Nothing is more eye-catching than these prominent, tall speakers from JBL that come with LED lights. Its tweeters can create a stereo image either horizontally or vertically, depending on its positioning. Additionally, most JBL Partybox speakers have extremely long battery life. It also features a microphone and guitar port, making it perfect for musicians.
But unfortunately, even though it is a great sound device, many users started reporting that their JBL Partybox is not charging. Generally, we are talking about why the party box is not charging; then, most probably, it might be due to either a bad USB cable or a faulty battery.
However, no matter what the reason is, we need to fix it. But how? Don't worry! We have solutions for you in this guide. So, if you are looking for some solution to fix your JBL Partybox, perform the fixes mentioned below.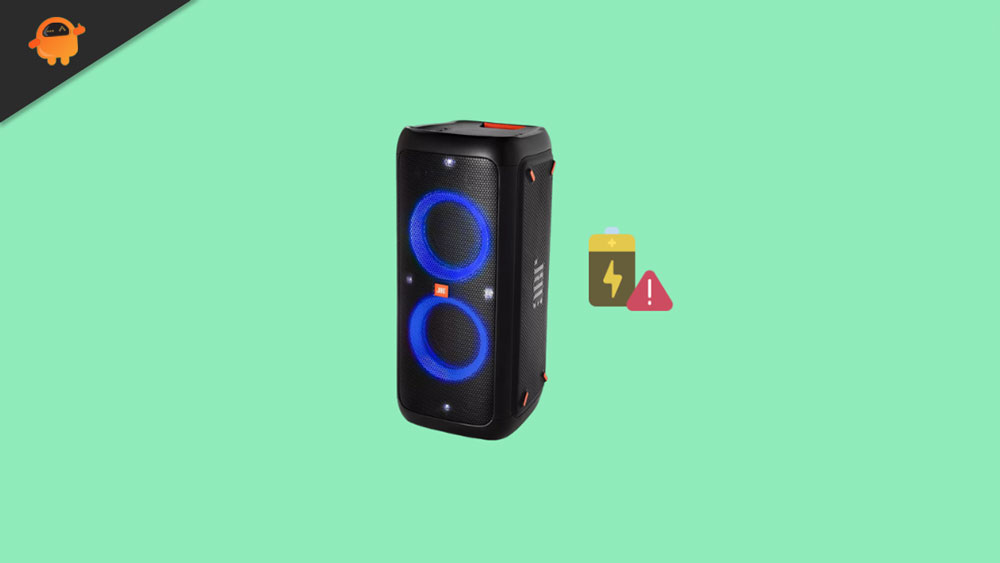 Supported Model
JBL PartyBox 100
JBL PartyBox 110
JBL PartyBox 310
JBL PartyBox 200
JBL PartyBox 300
JBL PartyBox 400
JBL PartyBox 410
JBL PartyBox 710
How to Fix JBL Partybox Not Charging Issue
So, here is some workaround to resolve the JBL Partybox not charging issue; therefore, make sure to perform the fixes we have mentioned below one after the other until you get the right one for yourself. Also, before we start, keep in mind that it might be possible that these fixes may not work for some users depending upon the reason behind this issue.
Fix 1: Reboot The Device
If you find that your Partybox is not charging properly, then the possibilities are that there might be some random bug that prevents your speaker from working properly, and you end up getting this type of issue. Also, many JBL Partybox users reported successfully fixing this issue after rebooting their devices.
But, you do not need to reboot; we advise you to power cycle it as it will break the working state of your speakers and give them a fresh new start to function properly. Therefore, you must try this and check if it aids you.
Fix 2: Perform a Factory Reset on JBL Partybox
It is crucial to perform a hard reset or factory reset as the first step to troubleshooting. After removing the stored data, it will restore the Bluetooth speaker to its default settings. If you are having issues with your JBL Partybox, following this troubleshooting step will help:
Disconnect the speaker from the charger. So that it won't charge while it's disconnected.

Plugin the speaker. To do so, press the power button to turn it on.

While holding volume + and playing, press the power button. Wait for the speaker to restart for at least 3 seconds.
Fix 3: Clear The Dirt Present in the Charging Port
It generally happens when the JBL speakers have constant exposure to dirt and debris, as it damages the speaker internally. The speaker performs poorly when the charging port is clogged with dirt.
If you find any debris or dirt in the speaker's charging port, you can clean it off by blowing it into it until it is removed. But, again, we do not recommend using a toothpick or any other sharp tool to remove the dirt. Instead, check if the PartyBox can be charged now.
Fix 4: Try Using a Different Charger
There may be an issue with the charger you are using, which is why your JBL speakers are not charging properly. Therefore, you must try using another charger on the JBL Partybox speaker and then check whether the issue is fixed.
Fix 5: Check The Cable
Possibilities are also there that the cable you are using to charge your JBL speakers might have nay cut or damage due to which you are not charging your JBL Partybox.
However, in this situation, we suggest you thoroughly check your charging cable and if you find any damage that occurs in the cable, make sure to replace it as this is the last option. Once you replace the cable, you will find that your JBL speakers start charging again.
Fix 6: Defective Batteries
The speaker can also not get charged if the battery has been damaged. Replacement of the battery will fix the problem if the battery causes the problem. Therefore, you must check out your batteries if you have any technical knowledge, or it would be recommended to hover to your nearest service centre.
Note: Batteries can get damaged if they are repeatedly overcharged or exposed to heat. Therefore, you must have to make sure to do not to charge it frequently.
Fix 7: Use Different Circuit Board
Chances are there that your JBL speaker's motherboard might have some issue due to which it fails to charge up properly. This generally happens if the JBL speaker comes into contact with water.
However, there is a huge possibility that this is the cause of the problem, in which case your system will need to be serviced. So, if you think that accidentally your JBL speaker comes into water contact, then hover to the service center and fix it.
Fix 8: Check If It Is Damaged
As we have already stated, Bluetooth speakers are prone to damage easily; therefore, we need to take extra care with these sets of speakers. You must thoroughly check out the JBL Partybox, and if you find any crack, dent, damage, etc., immediately take your speaker and hover over to your nearest service centre. Unfortunately, however, in many cases, we have seen that the speaker got damaged internally due to external damage, which is very unfortunate.
Fix 9: Hover To Service Center
We have already mentioned that for any type of issues that you think you may not be able to fix on your own, then reaching to the nearest service center will be the right choice. But, before that, we advise you to go to the JBL's official support page and raise a complaint ticket. Then, go to the nearest service center and ask them to fix it. However, if you get lucky enough and your device is under warranty period, you may get a free repair.
Also Read: Fix: JBL Quantum 100 Mic Not Working
So, that's all on how to fix the JBL Partybox is not charging issue. We are just hoping that you find this guide helpful. But don't forget to comment below and let us know which method worked for you.