JBL Party box is one of the most popular ready-to-go party speakers from JBL. These sound systems have everything that a party animal like me needs. The quality of sound that JBL's Partybox series gives is extraordinary and makes you feel like you are sitting out of the world enjoying the music.
But, unfortunately, there was a time when JBL's Partybox gave you this kind of experience as nowadays, JBL Partybox appears to be the sound device with the most flaws. Yes, recently, users have complained that the JBL Partybox won't turn on, which is why we are here today. In this guide, we have discussed some of the main reasons this issue occurs and how to fix it if your JBL Partybox won't turn on the issue. So, let's check out the fixes.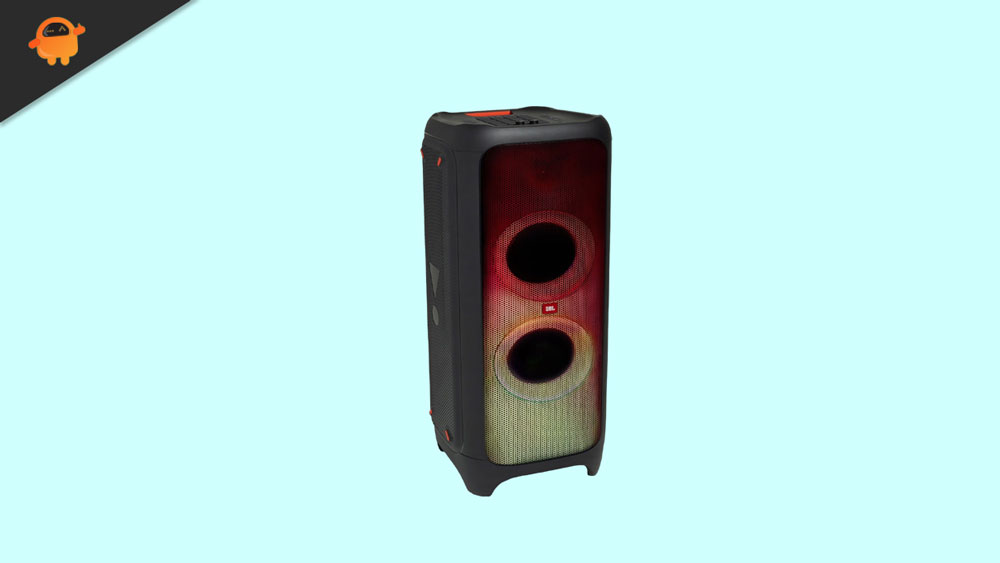 Supported Model
JBL PartyBox 100
JBL PartyBox 110
JBL PartyBox 310
JBL PartyBox 200
JBL PartyBox 300
JBL PartyBox 400
JBL PartyBox 410
JBL PartyBox 710
How To Fix JBL PartyBox Won't Turn On Issue
So, here are the valuable fixes that will surely help you fix the JBL Partybox that won't turn on the issue. Therefore, make sure to perform them one after the other until you get the right option. So, let's have a look at them:
Fix 1: Restart Your JBL Partybox
Your Partybox may have some technical glitches due to which you end up experiencing this type of problem as it prevents your speakers from functioning properly. However, JBL Partybox users also report that rebooting their devices resolved this issue.
Nevertheless, there is no reason to reboot; instead, we recommend you power cycle your speakers since this will completely reset their state and enable them to return to normal. Thus, you should try this and see if it helps.
Fix 2: Reset It
Resetting this speaker to factory settings will erase all data and restore it to factory defaults. If you cannot connect to the device over Bluetooth or if it won't turn on, this is an excellent troubleshooting step. If you perform these steps while the speaker is plugged into its charger, make sure it is unplugged. However, once you unplug it, make sure to perform these steps to factory reset your speakers:
Unplug the speaker from the charger. This will prevent it from charging while it's unplugged.

Then, plug the speaker in after pressing the power button to turn it on. So, press the power button while holding volume + and playing. This will allow the speaker to restart after three seconds.
Fix 3: Defective Batteries
A defective battery may be the cause of the problem. However, the problem would be fixed if the battery were replaced. Meanwhile, among the reasons why batteries fail are when they are constantly overcharged or when they are regularly exposed to heat.
Both of these factors contribute to a rapid decrease in battery performance. Therefore, it is recommended that you check out your batteries or visit your nearest service center if you have any technical knowledge.
Fix 4: Charge the JBL Partybox Speaker
When the speaker's battery has been drained of its charge, this can cause this issue. First, check if the problem can be fixed by charging the speaker with its AC adaptor. So, you must plug the AC power cord into a wall outlet because it is all that's required and also connects the other end to the speaker's back.
After that, let JBL Partybox charge until the battery charging indicator indicates that it's full. Finally, turn on the JBL speaker after the charging process is complete to check if the won't turn issue gets resolved or not.
Fix 5: Check For Damaged
In light of the fact that Bluetooth speakers can be damaged easily, it is important to take extra care with each set of speakers. If you find any damage, crack, or dent in your JBL Partybox, immediately take it to your nearest service center.
Sadly, in many cases, we've observed the speaker getting damaged externally and internally, which is very unfortunate. Therefore, even in service centers, you have very little chance to have your speaker repaired when it suffers any internal damage.
Fix 6: Faulty Circuit Board
An internal damaged circuit board is one of the most common causes of this problem. In addition, this speaker will suffer damage if it gets water into the circuit board. In this case, your system may need to be serviced since this is likely the best option to fix the reason behind the cause of this problem.
However, there are also possibilities that when your JBL speaker comes into contact with water, your speaker may get damaged. Therefore, you should take it to a service center and have it repaired in that situation.
Fix 7: Clear The Dirt Present in the Charging Port
When the JBL Partybox doesn't turn on, it can be caused by several things, and dirt and debris are some of them. As a result, JBL speakers start to break down when constantly exposed to dirt and debris.
However, if the charging port is clogged with dirt, the speaker will not function properly. Therefore, you can blow dirt and debris out of the speaker's charging port if you discover any.
So, keep in mind that the toothpick or other sharp object should not be used to remove dirt and charge your speaker. Then, check if the won't turn on issue gets resolved.
Fix 8: Try Using a Different Charger
Your JBL speakers are not turning on properly because of an issue with the charger you're using, which effect its charging. Therefore, it is necessary to try another charger on the JBL Partybox speaker and charge your JBL Partybox speaker fully before determining whether or not the issue is resolved.
Fix 9: Check The Cable
There is also a high chance that you may be using a cable with any cut or damage, and your JBL speaker would not work correctly.
However, in this case, we recommend thoroughly checking your charging cable, and if you find any damage in it, you should replace the cable, as this is your last option. You will find that your JBL speakers won't turn on issue gets resolved after replacing the cable and charging it fully.
Fix 10: Help Desk
The right choice to fix any type of issue that you can't handle on your own is to reach out to the closest service center. Nevertheless, we recommend you first go to JBL's official support page and submit a complaint. Then, once you've done this, go to the nearest service center and ask the staff to fix it. However, you can get a free repair if your device is still under warranty.
That's it on how to repair the JBL Partybox, won't turn on issue. We hope you learned something from it. If any of these worked for you, please let us know in the comments below.