Are you facing a problem with the Jio network? Then you are not alone. Well, there are many complaints that users are facing problems in the Jio network where the user's unable to make calls, internet not working, Slow internet issues. Let's find out whether Jio is really down or it is not working only for you.
As we write this, we found many users reporting about the Jio internet outage problem all over India. Yes, the Jio network is having a technical issue now. The team is currently trying to fix the problem. If you are alone facing this issue, it is always better to contact the support team of Jio to look into your problem and resolve this.
Reliance Jio Infocomm Limited, d/b/a Jio, is an Indian telecommunications company and wholly owned subsidiary of Reliance Industries, headquartered in Mumbai, Maharashtra, India. It operates a national LTE network with coverage across all 22 telecom circles.

It does not offer 2G or 3G service, and instead uses only voice over LTE to provide voice service on its 4G network. – Wikipedia
New Update on April 22, 2020: Along with Airtel, Even JIO started experiencing Internet issues, call drops, and many more issues today. While checking some of the tweets, we understand the problem is still there in the network all over the country.
@MukeshAmba my jiofibre network is disconnected from yesterday afternoon. Contacted customer case thrice but of no help. @jiocare guys also not responding. What is use of paying in advance when service cannot be given. Are you going to handover this type of business to @facebook

— Adv VB Singh (@vbsingh60) April 22, 2020
My issue still had not resolved, can you help me on urgent basis. I am not able to work.

— RUTA GANDHI (@RUTAGANDHI) April 22, 2020
@jiocare the network in Kalunga, Rourkela Odisha 769041 is pathetic now. Internet too doesn't work properly. Earlier it was good. Kindly look into it else we might need to change all our employees jio connection to some other operator.

— Anurag Agarwal (@AnuragRkl) April 22, 2020
New Update on March 25, 2020: Another Jio Outage, Many users started reporting about the network issue such as the internet not working, the call cannot be connected, no network and many more.
Even Jio and local Wifi also not working well. Where is fastest internet promises gone?? @JioCare @TRAI

— Aariz Sheikh (@Mushir07910042) March 25, 2020
@reliancejio @rsprasad Dear Jio we are experiencing network problem now a days 2-3 bars are showing on mobile and problem is of indoor network. When irony is that Tower is installed Next door to me How we are experiencing this type of problem Jio is not listening to us shame

— Patriotic ?????? (@Chopraca2) March 25, 2020
@JioCare Pincode 642006 Net work is there net connection not happening Mobile: Poco F1
Tried Flight Mode & Restart not working

— HITLER?ATACW (@sathish90) March 25, 2020
@reliancejio internet problem in our area do something

— UC (@UC67396371) March 25, 2020
Updated on March 20, 2020: Today, many Jio users started tweeting about the network issue such as slow internet, can't make any calls, network drops, and many more issues. Here are some of the tweet which we have collected recently.
@manojsinhabjp @DoT_India @JioCare @reliancejio
Facing very slow internet speed on my Jio mobile no 8105174521. Kindly rectify the fault as early as possible.

— Manish Kumar Singh (@ManishK39957750) March 20, 2020
@JioCare in my area same problem many of them have Jio sim but they suffer alot regarding ur network issue,internet speed is very poor already complaint regarding the issue but ur careless behaviour doesn't look into the matter,
##bogus internet

— भारतीय (@Ankurkaundilya) March 20, 2020
@reliancejio @JioCare
Hello , jio I'm facing worst ever internet service in my area didn't expect this from u i complained many times but there is no update from your team look into asap

— Akhil Reddy?? (@msdianssmbfan) March 20, 2020
@reliancejio Internet connectivity seems to be weak! However other user in the same area seems to receive a proper connectivity. Always said that network team is working However no resolution towards this?

— Cletus Dsouza (@Cleee97) March 20, 2020
Here is the official tweet by @Jiocare regarding the technical issue
We will definitely look into this for you. Click here to DM your Jio number & alternate number to get it checked – Vinodraj [More help? Click https://t.co/8Quc6xDKJM] https://t.co/3LgXqjkQPn

— JioCare (@JioCare) March 20, 2020
Is it a Really Jio Network issue?
If you are probably wondering how to confirm whether it is a Jio technical issue or you alone facing this problem, well, the answer is simple. You can check the down detector website to see if the problem persists for everyone around the states. To do that, Go to Downdetector website and look for the graph if there is a trouble you will see a graph hike in blue color.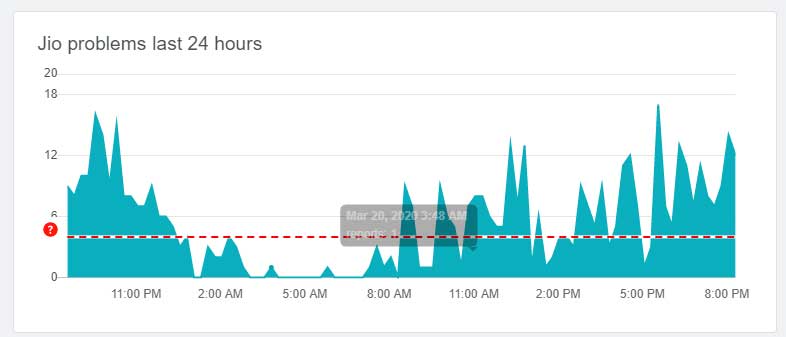 From the graph, we can clearly understand that many are facing the network issue on their Jio sim.
How to Fix Jio network issue?
If the Jio Internet or Network is down for everyone, then you need to wait patiently for the Jio to resolve this issue by themself. If you are alone facing any trouble with the internet, then you can contact their support team to resolve your problem.
Here are the support team:
https://www.twitter.com/JioCare
https://www.facebook.com/191711917620584
Once the problem has been restored, make sure you follow our next steps to fix any problem
Restart Your device
When the problem has been resolved, and you are still alone facing the problem, then make sure to restart your device. Rebooting can fix the problem.