Kospet is always known for its budget-friendly and best-in-class products that boast better performance compared to its competitors. Well, since they have released their first Android-based product KOSPET Hope, they have come up with many new innovations. However, this time they are going to rule the smartwatch market with their new smartwatch KOSPET Tank M1.
Well, talking about this new Tank M1 smartwatch, it is a unique product that KOSPET offers at a very reasonable price. So, if you are looking for a good smartwatch that you can use in your day-to-day life, but don't have a large budget, then you can read this comprehensive review guide. In the meantime, you'll have an idea about this Tank M1 watch. So, let's get started with it.
KOSPET Tank M1: Should You Buy Or Leave It?
Everyone wants a good smartwatch at a very reasonable price in this era where most of the people go for showoff, but no one wants to spend thousands of dollars. However, KOSPET takes this note very seriously, and one after the other launches many budget-friendly smartwatches in the market. Well, this time, they come with Tank M1 as the name sound. It is as tough as America's M1 Tank. So, let's take a look at some of its specifications:
Features of KOSPET Tank M1: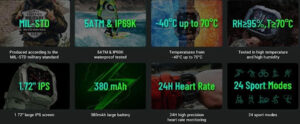 This smartwatch comes with 5ATM & IP69K waterproofing technology and obtains IP69K certification.

As we have already mentioned, it is inspired by the Tank M1 and can withstand repeated rolling of cars weight 2 tons.

If you are a person who loves to do adventures or work in a mining field or a civil engineer, then this watch is perfect for you as it passed the dust resistance test.

Talking about the battery, then it will give you around 50day battery backup because it comes with a massive 380 mAh battery.

The latest HRS3690 heart rate sensor is compiled in this smartwatch, giving you one hundred percent accurate results.

It has a 1.72 Inches split-screen display with 280*320 resolution.

Talking about the memory comes with the 64KB RAM and 128MB ROM.

Although the name sounds like the great M1 Tank, but it is a lightweight watch with a weight of around 55g.
Is It Good To Buy?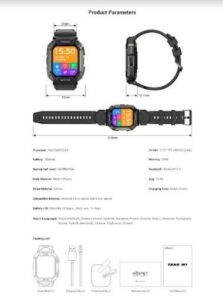 Well, in my opinion, this watch is very good, and no other brand will provide you with that much specification at a very reasonable price. So, we suggest you go for it. In addition, you don't have to worry about their services as if the watch gets damaged or not workable, you can simply contact their support team, and they will manage everything for you.
Where To Buy It?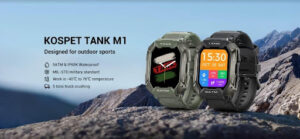 You can buy this amazing watch Tank M1 from their official website after 10 Feb 2022. However, taking about the pricing, then the retail price of this product is $54.99. But, thankfully you'll get an exclusive offer of 10% off along with one free extra strap. However, to avail the 10% extra off offer, you can use the code: KOSPETTM11. Now, if you want this product, then you must click on the KOSPET Tank M1 given purchase link and grab one.
So, that's all from our side on should you buy the KOSPET Tank M1 or not. We hope that now you have decided whether you should buy it or not. For more details, go to their official page.