Religions and faith play a really important role in Crusader Kings 3. When it comes to religions, a person's faith and area pretty much influence which religion you'll fall into. Faith in Crusader Kings 3 influences how players can gain certain resources and Religion will influence marriage doctrines, criminal doctrines, any other special doctrines, and how your clergy works.
In our guide below, we'll run down through the list of all Religions and Faith in Crusader Kings 3. The list of Religions and Faith in Crusader Kings 3 extends as a pretty long one as there around 100 religions in the game. So without making much delay, we'll jump straight into the complete list of Faith and Religions in Crusader Kings 3.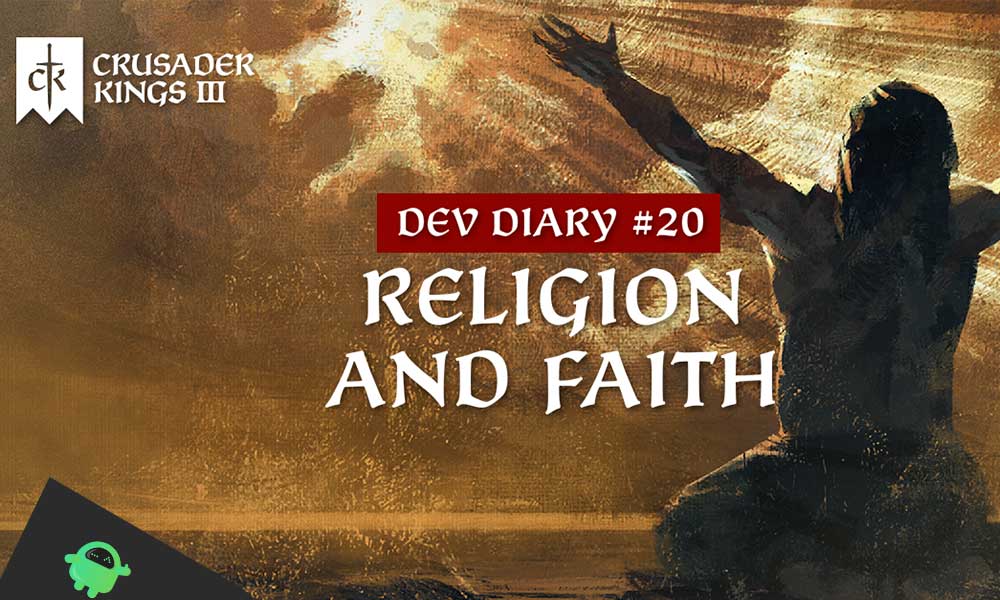 Complete List of Faith and Religions in Crusader Kings 3
The characters in the game fall into a certain religion by default. Like we already said, the area plays a petty important role in influencing the religion you fall into. This means that Europe is mostly Christian and Pagan, the Middle East and Northern Africa mostly being Islamic, and the East adds up as a mixture of Buddhism, Taoism, and Hinduism. Each religion in the game roots from one of the three religious families – Abrahamic, Eastern, and Pegan. With the basics out of the way, we'll look right into our list of Religions and faith in the game:
Akom – Akan
Vidilism – Baltic
Nangchos – Buddist
Mahayana – Buddist
Vajarayana – Buddist
Theravada – Buddist
Ari – Buddist
Catholicism – Christian
Orthodoxy – Christian
Coptic – Christian
Nestorianism – Christian
Apostolic – Christian
Bogomilism – Christian
Insular Christianity – Christian
Krstjani – Christian
Catharism – Christian
Conversos – Christian
Waldensianism – Christian
Lollardu – Christian
Iconoclasm – Christian
Paulicianism – Christian
Messalianism – Christian
Adamitism – Christian
Manicheanism – Dualist
Mandeaism – Dualist
Sabianism – Dualist
Valentinianism – Dualist
Sethianism – Dualist
Priscillianism – Dualist
Cainitism – Dualist
Suomenusko – Finno-Ugric
Hellenism – Greco-Roman
Bori – Hausan
Shaivism – Hindu
Srikula Shaktism – Hindu
Vaishnavism – Hindu
Smartism – Hindu
Krishnaism – Hindu
Kalikula Shaktism – Hindu
Advaita Vedanta – Hindu
Vvluphixje – Hsexje
Melie – Hsexje
Digambara – Jain
Svetambara – Jain
Yapaniya – Jain
Kabarism – Jewish
Haymanot – Jewish
Rabbinism – Jewish
Karaism – Jewish
Malabarism – Jewish
Samaritanism – Jewish
Kushitism – Kordofanian
Siguism – Mande
Bidaism – Mande
Yazidism – Milete
Meshefaresism – Milete
Kitebacilweism – Milete
Kiratism – Mundhum
Yumaism – Mundhum
Ash'arism – Muslim
Isma'ilism – Muslim
Muwalladism – Muslim
Maturidism – Muslim
Ibadism – Muslim
Almohadism – Muslim
Zayidism – Muslim
Sufrism – Muslim
Mu'tazilism – Muslim
Quranism – Muslim
Qarmantianism – Muslim
Nizarism – Muslim
Imamism – Muslim
Ikhtilafism – Muslim
Alawism – Muslim
Alevism – Muslim
Druze – Muslim
Azraqism – Muslim
Najdatism – Muslim
Asatru – Norse
Waaqism – Oromo-Somali
Paganism – Pagan
Roog Sene – Senegambian
Tengrilism – Shamanic
Slovianska Pravda – Slavic
Donyi-Poloism – Tani
Sedism – Tani
Zhengyi – Taoist
Shangqing – Taoist
Quanzhen – Taoist
Gyur Bon – Tibetan
Khyarwe Bon – Tibetan
Taitosism – Uralic
Orisa – Youruba
Mazdayasna – Zoroastrian
Zurvanism – Zoroastrian
Gayomarthianism – Zoroastrian
Khurmazdism – Zoroastrian
Mazdakism – Zoroastrian
Khurramism – Zoroastrian
Arewordik – Zoroastrian
Zunism – Zunbil
As evident from the list above, Crusader Kings 3 contains a total of 101 Religions in the game, each having its own class of faith. There are other complicated elements that fall into religions and faith like Modifiers, which you'll understand by playing the game. That said, we hope reading the article above has equipped you with some bit of information. Please let us know by commenting down below if you have any further queries regarding the same.
Also, check out our iPhone Tips and Tricks, PC tips and tricks, and Android Tips and Tricks if you've got queries for it or want help. Thank you!