Logitech is always known for its extraordinary computer accessories and equipment for years. Well, that's the reason why whenever we need any accessories like a keyboard, headphones, mouse, etc., our first choice is Logitech.
However, talking about their best headset, the name that comes to our mind is the Logitech's G435 Lightspeed, a stylish wireless gaming headset like a new sports car because it's reasonably quick and has a low-latency connection. But, right now, this headset is going through a lot of criticism because, for some users, the Logitech G435 Lightspeed is not working at all.
There could be multiple causes behind this issue, such as a faulty battery, cache data, internal hardware damage, etc. But, guess what? We have a few simple tricks using which you can easily get rid of this issue. So, if you are also frustrated just because your Logitech G435 is not working, then be with us until the end.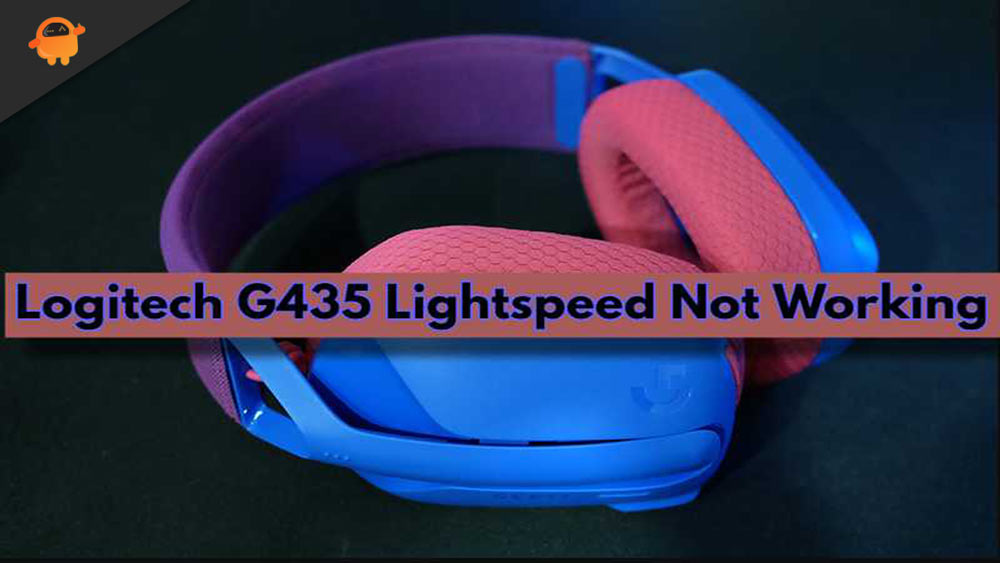 How To Fix Logitech G435 Lightspeed Not Working
There are multiple fixes available that you can use to fix this error. But, you know what the fixes that we have mentioned here in this article will have the potential to resolve this kind of annoying issue. So, if you are also bothered due to this error, make sure to follow the methods discussed below.
Fix 1: Power Off/On Your Headphone
The first thing you require to try is turning off the Headphone and then turning them back on. In many cases, we have seen and some users also reported that after several times trying this method helped them to fix the issue, and now they are able to use the Headphone without any error.
Therefore, we suggest you try this out; you can simply press the power button for a few seconds and check if it has started working or not. However, if you find that the issue won't get fixed even after doing this, make sure to perform the other fixes mentioned in this guide.
Fix 2: Check For Damage
Is there any damage appearing on your Headphone? Well, there are chances that due to a few minor or major damage to your Logitech G435 headset, that is why you are getting this type of issue.
Therefore, we suggest you thoroughly check your headset and if you notice any damage on it, then hover over to the nearest service center. Then, tell them how the damage occurs on your headset and if it is possible to fix it, they will repair it. Otherwise, you need to buy a new one. So, do it and let us know if you get any help from the customer service or not.
Fix 3: Make Sure The Battery Is Fully Charged
It is possible that the Headphone has a low battery percent, due to which it is not able to work properly. So, you must have to make sure that your headset battery is fully charged. In many cases, we have seen that users get this error just because their device is running on a lower battery percentage.
But, when they charged up their headset, the issue automatically got fixed. Therefore, take the original cable of your headset and charge it. Once it gets fully charged, check if it starts working or not. However, if it is not working, then don't get afraid; simply follow the other methods we have mentioned in this guide.
Fix 4: Check The Charging Cable
Did you verify if your charging cable is working fine or not? Yes, there are possibilities that your charging cable might have some damage or cuts or any malfunctioning due to which your headset is not able to charge up properly and end up getting this error.
So, it is suggested to deeply check your cable and if you find any cuts or damage on your cable, immediately change it. Also, make sure that the charging port is working fine or not because a faulty charging port most of the time prevents your headset from charging properly, which further results in this type of issue.
Fix 5: Make Sure The Batteries Aren't Damaged
Chances are there that your device batteries have some fault or are dead, due to which you are getting this error. Previously we have seen many cases where users find that their Logitech G435 battery gets damaged due to some reasons. So, you need to check if the batteries of your headset are working properly.
But, how will you scale your battery whether it is damaged or not? Well, really simple, you just need to first charge your batteries fully and after that, just notice how much time it stays. So, do it and then, if possible, change the batteries and check if the Logitech G435 is not working issue gets fixed or not.
Fix 6: Update The Audio Driver
If you are using your Headphone on your PC and find that it is not working with your PC, then there are possibilities that you are getting this error due to an older audio driver. So, we suggest you always keep your drivers up-to-date on your PC. Therefore, you can update your audio driver by following the guidelines given below:
First of all, you have to right-click on the Start menu and select the Device Manager from the drop-down context menu.

After that, locate the Audio inputs and outputs tab and click on it to expand the option.

Then, make sure to right-click on your headphone name and select the

Update driver

option from the list.
That's it. Now, just wait for a few minutes until it searches and installs the updates on your PC. Once done, check if your Logitech G435 is started working or not.
Fix 7: Contact To Support Team
Regrettably, if none of the above mention fixes worked for you, then there is a simple way that might help you fix the issue. Yes, you guess it right! First, you need to contact the support team and explain to them about the issue. However, depending upon how you explain them, you may get a reply from the officials and some suggestions on how to fix this error.
From Author's Desk
We all know about the legacy of Logitech; therefore, it is possible that they will look upon these errors and provide some fixes soon, but until you can follow the above-mentioned fixes. So, that's how to fix the Logitech G435 lightspeed is not working. We hope this guide has helped you. But, suppose in case you have any questions, comment below.