You pay a premium price for a laptop like MacBook Pro because you want a quality laptop that can stay with you long without running into hardware or software-related issues. So, it becomes a headache when we discover that some keys on the MacBook are not working. This will surely limit how you can use your laptop and can be frustrating if you are too dependent on your laptop like me.
Many users have reported that their MacBooks are not responding to clicks or the power button. For some users, the problem lies in the right click, while some are having issues with the left click. Even if some keys or the entire keyboard are not working, this guide has a solution to every keyboard-related problem. So, just keep reading and applying fixes and see which one spells out success for you.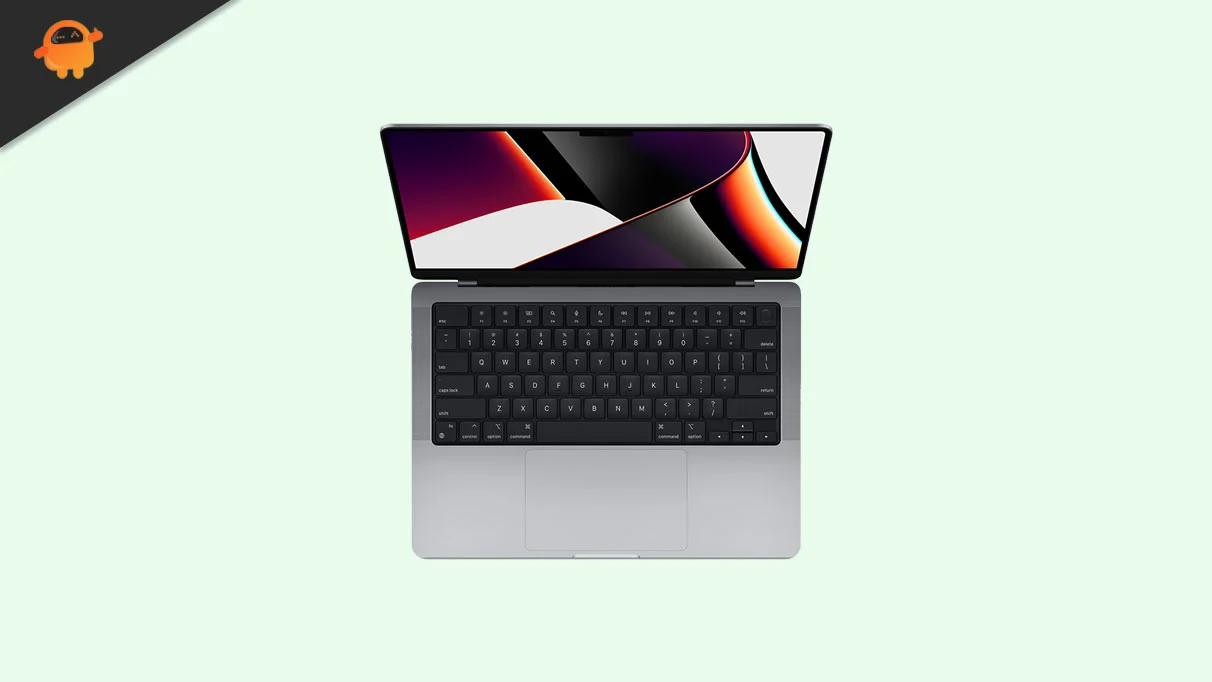 There are various reasons why your MacBook Pro might not be responding to clicks or the pressing of power or any other button on the keyboard. The most common reason is the dust particles that keep getting accumulated inside the keyboard over time. A software bug or a third-party app could also be the reason. In any case, it will be worth your time to check out the fixes I've mentioned below.
MacBook Pro Not Responding to Clicks, Power Button, or Keyboard, How to Fix?
Solution 1: Clean Your Keyboard
Cleaning the keyboard is the first and foremost solution you'll find on the internet when some keys on the keyboard don't work. This method has actually worked for many users, as we don't clean the keyboard so often.
Here are the steps recommended by Apple to safely clean your Mac keyboard:
1. Grab your MacBook and hold it at a 75-degree angle. It should not be vertical.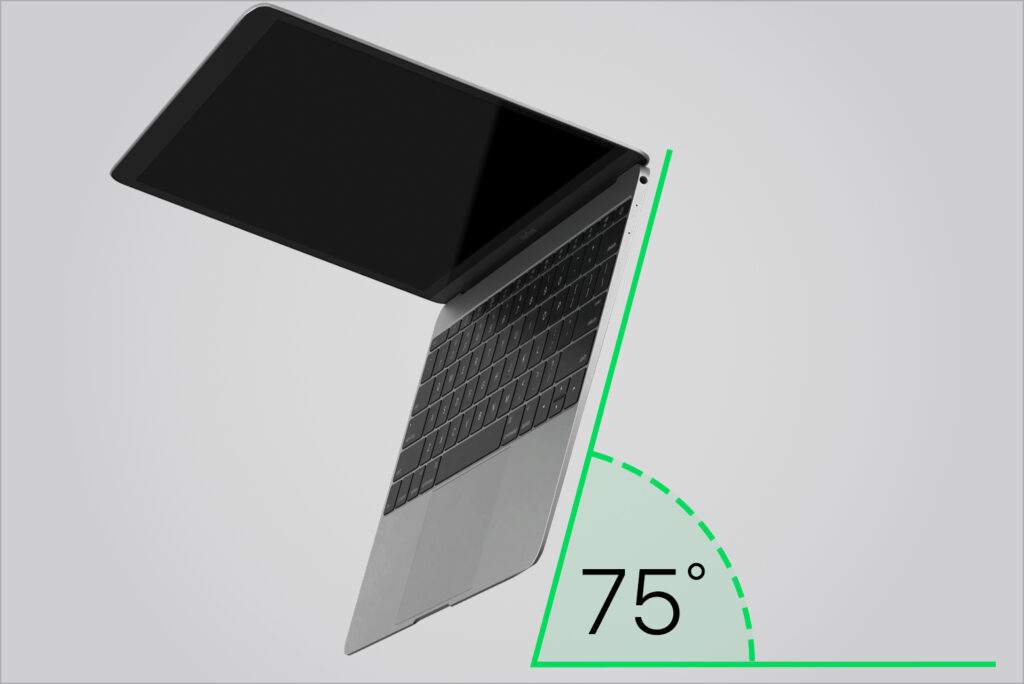 2. Use compressed air to spray the affected part of the keyboard in a left-to-right motion. It's better to spay the whole keyboard.
3. Rotate your Mac to its right side and spray the keyboard again in the same left-to-right motion.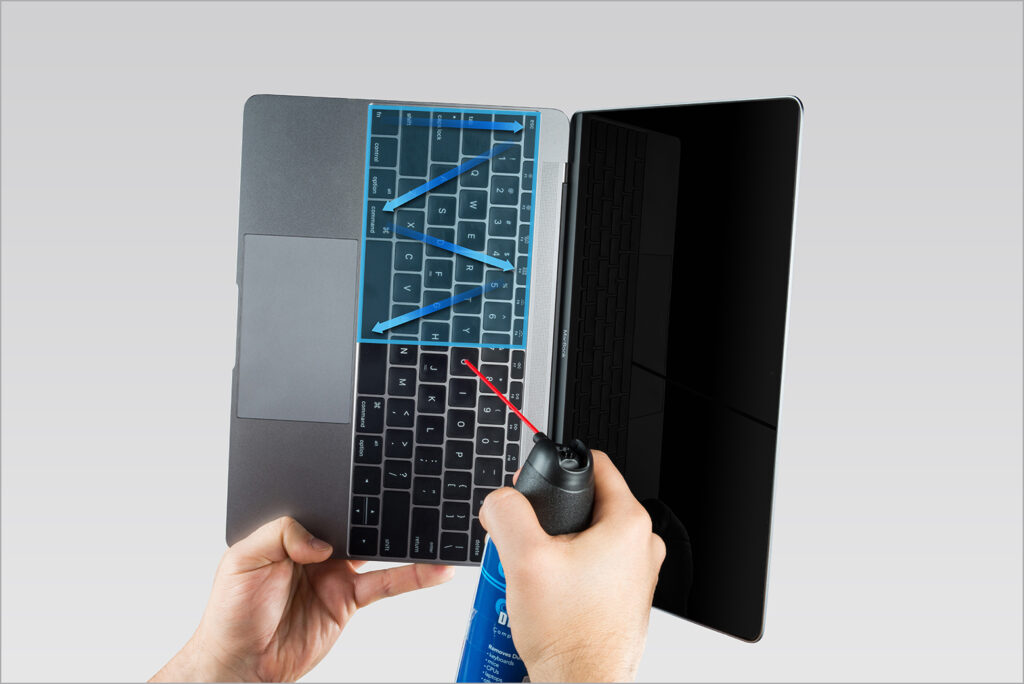 4. Now, rotate the Mac to its left side and repeat the steps again.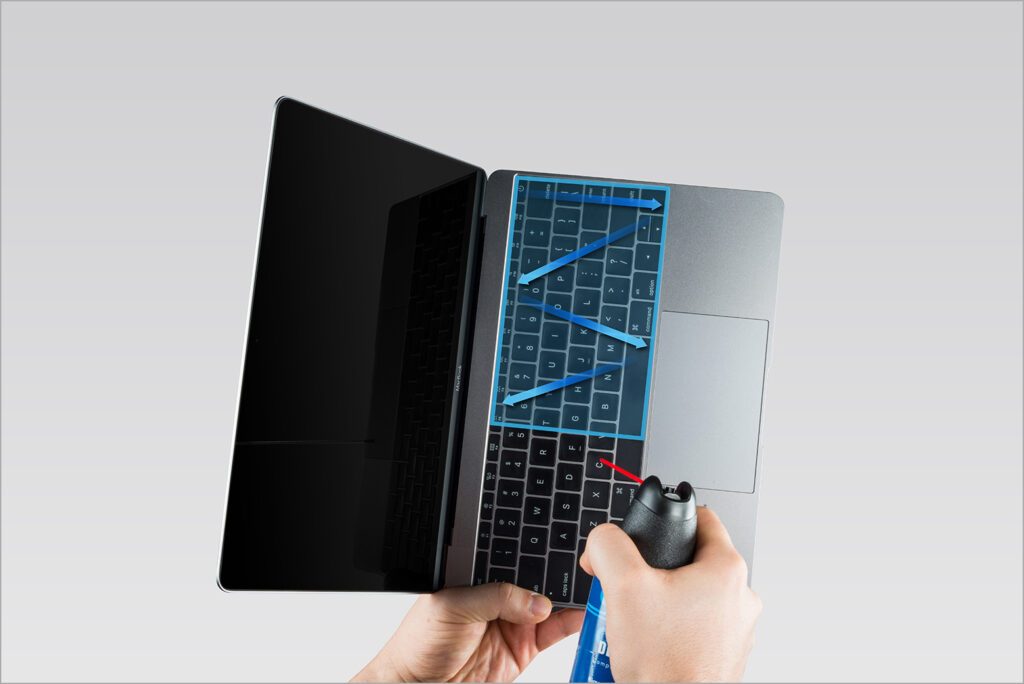 Solution 2: Restart Your Mac
Restarting the device can fix the issue if there is a temporary bug or a minor system glitch. To restart your MacBook Pro, tap on the Apple menu and select Restart. For some reason, if this method does not work, press and hold the power button until your Mac shuts down. After a few seconds, press the power button to turn on your Mac.
Some users got success after applying this method. They also closed the lid while the laptop shut down. You should do it too.
Solution 3: Update macOS
A software update not only includes new features but also fixes bugs and previously known issues. Hence, updating the macOS version on your MacBook Pro can fix all keyboard-related issues you are currently facing.
Steps to install a macOS update on your MacBook Pro:
Click on the

Apple menu

.

Select

About This Mac

.

In the

Overview

section, tap on

Software Update

.

Click

Update Now

if a software update is available.
After installing a new macOS version, check if the problem persists.
Solution 4: Remove Recently Installed Applications
Third-party apps installed on your MacBook Pro can affect various areas, including the keyboard. If an app conflicts with the MacBook keyboard, you need to remove it to fix the problem.
It's difficult to detect which app is interfering with the MacBook keyboard. One thing that you can do here is to remove all recently installed applications. Or remove applications one by one and check if the issue is fixed. This way you can find the real culprit. Later, you can reinstall all apps and find an alternative for the app causing problems with the keyboard.
Solution 5: Turn off Slow Keys
The buttons might not respond to a small press if the Slow Keys setting is enabled on your MacBook Pro. You will need to press and hold the keys longer than usual for them to respond.
Here's how you can disable Slow Keys:
Open the

Apple Menu

and select

System Preferences

.

Tap on

Accessibility

and go to

Keyboard

.

Go to the

Hardware section

and

uncheck the box for Slow Keys

.
Solution 6: Reset Default Settings
Some changes in the software settings may have led to issues with the keyboard. You can reset the settings to their factory defaults and check if the problem is gone. All your changes are stored in the .plist file, which we will delete now. Don't worry; doing this will not remove any data on your Mac.
Open a

Finder

window.

Press

CMD + Shift + G

to open the Go To panel.

Type the path

~/Library/Preferences/

and click on Go. Don't remove ~ at the beginning.

Delete these files.
com.apple.driver.AppleBluetoothMultitouch.trackpad.plist


com.apple.driver.AppleBluetoothMultitouch.mouse.plist




com.apple.driver.AppleHIDMouse.plist




com.apple.AppleMultitouchTrackpad.plist




com.apple.preference.trackpad.plist
After you've deleted these files, restart your Mac and check if the problem is solved.
Solution 7: Charge the Mac
Your Macbook Pro might be running low on battery. This could be the reason why you are not able to effectively use the keyboard. Apple also recommends this method. Check the battery level on your Mac; if it's below 10%, plug it into an electrical outlet and leave it there until the battery level reaches at least 25%.
Solution 8: Connect Your Mac to an External Keyboard or Mouse
We can't deny the possibility of hardware failure. If you have an external keyboard supported with MacBook Pro, connect it with your PC and check if the problem is fixed. If you are having issues with left or right clicks, use an external mouse.
If the external keyboard or mouse works fine without any issues, take your Mac to the Apple service center. They'll replace the defective parts.
I hope this guide was helpful to you. Do you use your Mac for work purposes or just for some personal use? Were you able to fix the problems with keyboards or clicks? Let me know your thoughts in the comments below.