A textured background or a texture overly is often the most needed thing for a designer. We always prefer a seamless tile that can repeat indefinitely. These types of seamless textures can be used in various projects like pattern swatches in Illustrator or Photoshop, to create dynamic textures, in-game graphics, or in different website backgrounds, etc. Photoshop is a great tool to create stuff, but unfortunately, there is no option to create or make texture tiles seamlessly.
In this case, GIMP, also is known as the GNU Image Manipulation Program, is your savior. It is very easy to make a seamless tile texture using GIMP. We are providing a method to do it. We are going to create a randomly generated texture, but you can also use the same way to a photo as well. To get started, download and install the GIMP software.
How to Make Texture Tiles Seamlessly in GIMP
Firstly open the GIMP software after that click on the file option and choose the new option. Doing this will open a window. In the window, enter the size of the tile which you want according to your need. For example, you can enter 400×200 or 300×300 according to your need. After that, click on OK to continue.
Once you finish the process, you will have a black canvas. Make sure your foreground and background swatches are set to default white and black color. To check this, go to your toolbox. If they are not, then you can click on a little icon under swatches to set the color to the default white and black.
Now, go to the menu bar and click on Filters>Render>Nature>Flame. After that, a dialogue box will pop up in which you can change the settings if you want. Once you click okay flames filter will be applied. You can modify it any time by clicking on the edit button at the top.
The result you will get will not look much great but we will make it good with the next process. Save the file you created by clicking on file>save.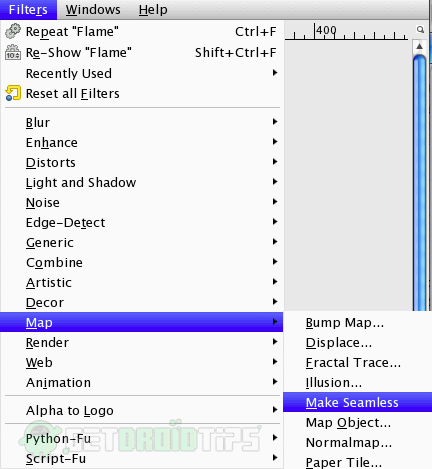 After saving the file go to the filters>map and choose nake seamless option from the menu. That's all your tile is seamless. This is not a hard process.
Conclusion
This is an easy process, and you can do it any time using the GIMP. You can use the file on a web browser by the HTML file method. This way, you can see the image as a background in a browser and test it.