In this tutorial, we will show you the steps to fix the Netflix Error Code F7053 1803, both on Chrome and Firefox browsers. While the app was itself among the most favorite OTT service providers, but during the recent lockdown, its usage has seen tremendous growth. Netflix itself has left no stoned unturned in baking in the success with the release of new episodes and series. However, you would only be able to enjoy these offerings from Netflix, if it's running well and good. Unfortunately, that's doesn't seem to be the case now.
Few are seeing quite a few users getting greeted with the Netflix Error Code F7053 1803. This usually happens when they are about to access their favorite programs. Furthermore, it isn't just limited to a single browser. Users across Chrome and Firefox browsers are witnessing this error. Therefore to rectify this issue, refer to the given instructions set in this guide. We will also have a look at the reason why this error is happening in the first place as well as its potential fixes. So without further ado, let's begin.
Fix Netflix Error Code F7053 1803 On Chrome or Mozilla Firefox
The aforementioned error could be a result of quite a few reasons. To begin with, it could be because cookies might be corrupt or it could be disabled altogether. Using an old version of the browser might also throw in the said error. Furthermore, browsing in Incognito or Private Mode also seems to be the cause of this issue for some. Likewise, if the cache data is corrupted, you could see this error. On that note, here are fixes for all the aforementioned issues. Follow along.
Disable Private/Incognito Browing
Both Chrome and Firefox provide this option of browsing in a private mode, which makes sure that cookies, cache, and history aren't stored on your PC. But browsing in this hidden mode also seems to cause an issue or two. So if you prefer to browse Netflix in this mode, we would suggest you stop this practice right away. It will be much better if you stream Netflix in the normal mode.
Also Read: How to Fix Netflix Error NSEZ-403 on Windows PC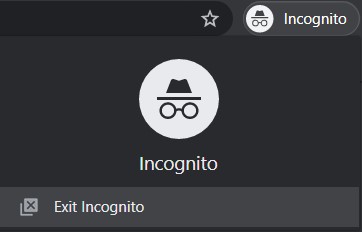 To close the Private Browsing in Firefox or Incognito Mode in Chrome, just close the said window. Now relaunch the browser in its normal form and head over to the Netflix site. Check if the Netflix Error Code F7053 1803 is rectified or not. If not, follow the next fix given below.
Update your Browser
An old or outdated browser is usually the cause of plenty of issues. Therefore it is always recommended to keep your browser up to date. Although you might not witness the addition of new features, they bring stability and bugs fixes with each of these updates. On that note, to update the Firefox browser, click on the three overflow icons situated at the top right. Then select Help followed by About Firefox. It will show you if an update is pending. If that is the case, then download and apply the update right away.
Likewise, for Chrome, click on the overflow icon and select Help > About Google Chrome. Or you could also enter chrome://settings/help in the address bar. The browser will then check for updates, and if available will inform you to download it. Install and apply it right away and restart your browser. See if the Netflix Error Code F7053 1803 is still there or not.
Enable Cookies
If the cookies on your browser are disabled, then it might throw in an error or two. As far as Netflix goes, it might even fail to launch in the first place. Although cookies by default aren't disabled, there always a chance for an exception or two. So check out the below sections to check if the cookies are enabled or not, if not, then enable them right away.
On Chrome

As far as Chrome is concerned, click on the three vertical dots and select Settings from the menu.
Go to the Privacy and Security tab and click on Site Settings.
Then click on Cookies and Site data. There is another way of teaching the said screen. Simply copy-paste chrome://settings/content/cookies in the Omnibox and hit Enter.
Make sure that the Allow sites to save and read cookie data (recommended) toggle is enabled.
If not, do so right away and relaunch the browser. Access Netflix and see if the error is there or not.
On Firefox
Click on the overflow icon (the three vertical dots) situated at the top right.
Select Options from the menu that appears.
Now head over to the Privacy and Security section and scroll to History.
Select Firefox will remember your history and restart the browser. Check whether the Netflix Error Code F7053 1803 has been fixed or not.
Clear Netflix Cookies
You should also consider clearing the Netflix cookies to address this issue. Fortunately, the steps to do doesn't require any efforts as such. Just head over to netflix.com/clearcookies from your browser and it will automatically clear all the cookies and would sign you out of your account. Just login back in and you check for the Netflix Error Code F7053 1803. It should work on both Chrome and Firefox, across Windows and Mac.
Refresh Browser
Firefox also gives you the option to refresh the browser. Rather than a refresh, consider it more along the lines of a reset to the default state. Although it wouldn't delete any saved passwords but will clear all the temporary files, cookies, and cache. Here is how it could be done:
Firefox
Launch the browser and click on the hamburger menu. Select Help from the drop-down followed by Troubleshooting information
Now, under the Troubleshooting Information section, click on the Refresh Firefox button.

A confirmation popup will then appear, click Refresh Firefox.

The process might take some time to complete. Once that is done, you will have to choose either Restore all windows & tabs or Restore only the ones you want, based on your preferences.
Chrome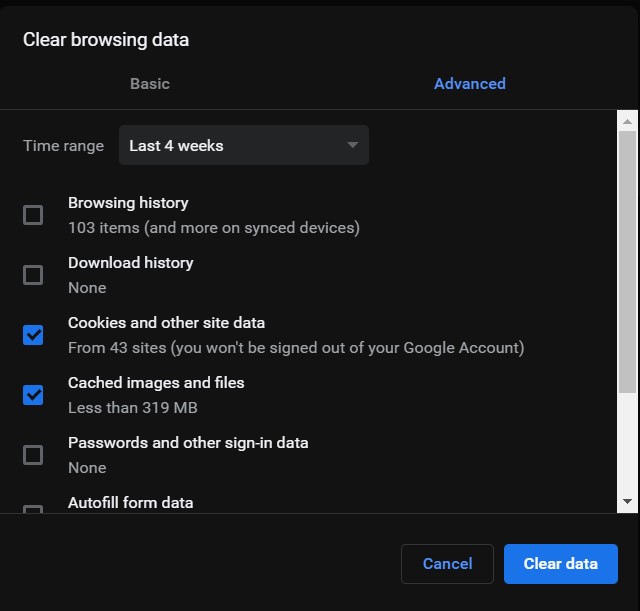 As far as the Chrome browser goes, there isn't any option to refresh it. But you could still clear cookies and cache and try fixing the said issue. To do so, click on the overflow icon situated at the top right and select Settings.
Then go to Privacy and Security and click on Clear Browsing Data. Select Cookies and other Site data, Cached Images and Files, and Browsing History (optional).
Once that is done, restart the browser, head over to the Netflix site, and try accessing the contents. See if the Netflix Error Code F7053 1803 is fixed or not. if not, there is one more thing that you could try out.
Try out the Netflix App


If none of the above tips managed to rectify the issue, then you should ditch the Netflix website and rather try out its UWP app. You could download the same from the Microsoft Store. To access the store use the Windows+R shortcut keys to open the Run dialog box and then type in ms-windows-store://home. Click OK and the app store will be opened. Search for Netflix and download the same. try accessing the desired contents from this app and you should no longer see the aforementioned errors.
So with this, we conclude the guide on how to fix the Netflix Error Code F7053 1803. We have shared various methods to rectify this error, any one of which should work out in your case. Do let us know in the comments which managed to fix it. On that note, you should also check out our iPhone Tips and Tricks, PC tips and tricks, and Android Tips and Trick section.