Streaming service and film production company Netflix, Inc. is based in the United States. In its 24 years since its founding, Netflix has acquired a library of films and television series through distribution agreements and produced its own shows, known as Netflix Originals.
But, currently, there are many other competitors in the market, and one of them is Amazon Prime Videos, due to which there is huge pressure on the Netflix officials. However, it looks like they are failing to handle that pressure as users are often facing various issues with their Netflix app. Recently, some users started reporting about the Netflix Blue Screen of Death problem.
Well, there's no proper reason why this blue screen of death error appears. But, there are workarounds available that have already helped many users to resolve this error. So, make sure to follow this guide as here we have mentioned all the necessary fixes.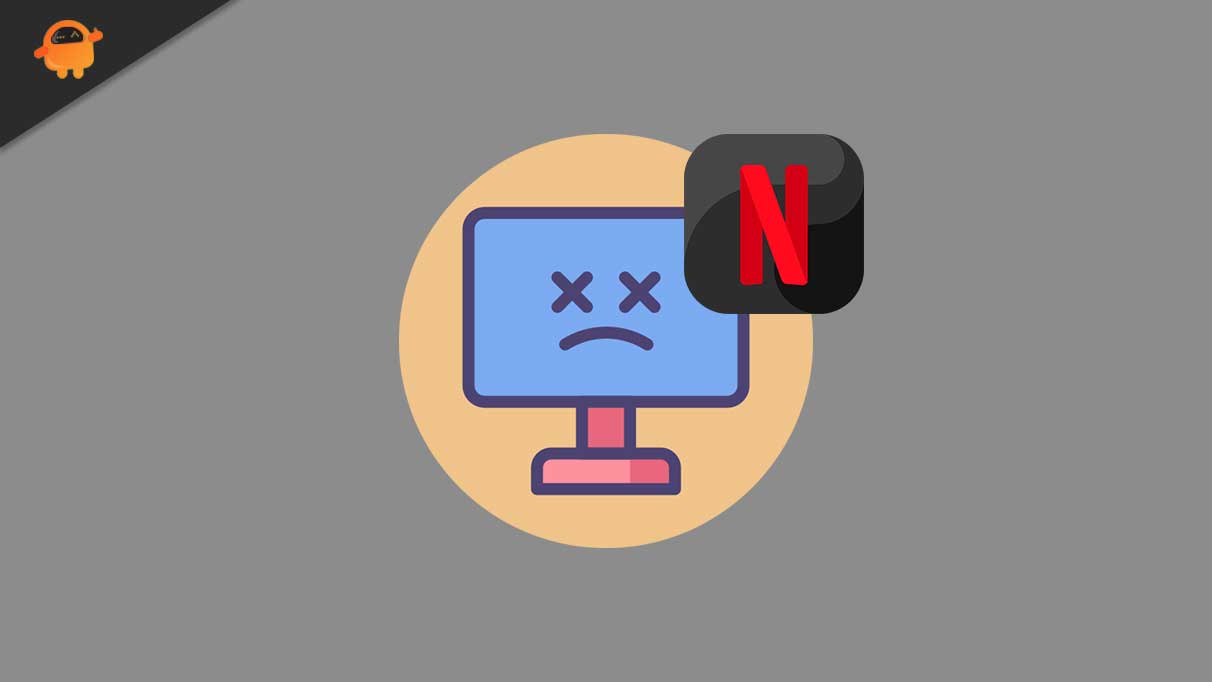 How To Fix Netflix Blue Screen of Death Problem
Although it is very rare to see this kind of error with Netflix, but sometimes due to some technical bugs or glitches, this type of issue occurs. So, if you face the blue screen of death problem while watching your favorite program on Netflix, make sure to stick with this guide all the way until the end.
Fix 1: Restart The Device
It is possible that your device may start functioning more smoothly if you reboot it. This is because a simple reboot can clear the memory, putting an end to any tasks that are consuming RAM. Also, if any app is not working properly due to a temporary cache file; therefore, when we reboot our device, these temporary cache files get deleted.
However, it is very natural to get this kind of issue as these bugs sometimes not just slow down your device but also plague inside the app. Therefore, we advise you to reboot your device and again open the Netflix app to check if the blue screen of death issue gets resolved or not.
Fix 2: Make Sure The Netflix Servers Are Working
Did you verify if the Netflix servers are working or not? There are chances that the Netflix servers may be down, due to which you are getting the error. Therefore, make sure to check it by hovering over to the DownDetector and checking if there are other peoples who have reported the same issue within 24 hours or not. Also, don't forget to hit the I Have Problem Problem With Netflix. This will help other users to know that they are not the only ones who face this issue.
After that, we also advise you to follow the Netflix officials on Twitter. This is because officials will always inform their users of the latest information regarding upcoming events shows and the one going issue with their services. So, if this is an issue occurring from the developer's end, they will surely inform you about that using their official Twitter handle.
Fix 3: Check Your Internet Connection
You require a good WiFi network with a minimum internet speed of 25 Mbps. However, a speed of 100Mbps is really good and much better if you have a larger area to cover. Well, generally, users have 100Mbps speed in their households, but sometimes it may start fluctuating due to weather conditions.
Therefore, it is very crucial to check your internet connection is working properly or not. However, if you find that your WiFi is not providing you with proper internet speed, then there is a possibility that you may face a black or blue screen of death issue. So, to fix the network issue, you can simply power cycle your router and check the speed again from the Ookla speed tester website.
Fix 4: Clear The Cache Data
If you're encountering the problem even after performing the above methods, then there are chances that some cache data is stored on your Netflix app or browser app, due to which it is not able to function properly. Therefore, make sure to clear your browser's cache data and then again check if the issue gets fixed or not. So, here are the instructions that will help you:
Firstly, click on the

three-dot

button located at the window's top-right corner.

After that, switch to

Security and Privacy

and hit

Clear Browsing Data

.

Then, select what type of data you need to clear and hit the

Clear Data

option.
Fix 5: Reload The Website
There are chances that you may get this error randomly due to some glitches. So, it is basically not an error; you may fix it just by reloading the page. Therefore, we suggest you to simply reload the Netflix website and again check if the blue screen of death error gets fixed or not.
Fix 6: Re-login To Your Account
It is possible chances that there are some issues with your account. So, in that case, re-login to your account will be the right choice for you. However, you can simply log out from your existing account then use your credentials to log in again. Once done, play the content that you are playing previously and check if the issue gets resolved or not.
Fix 7: Update Your GPU Driver
We generally ignore the driver updates in our PC, due to which we have to face many performance-related issues. So, it is very important to keep our drivers up-to-date. However, it is highly advised to check if your PC is running on the latest version of the GPU driver that is available for your PC or not. So, here are the instructions for that:
Launch the Device Manager using the Run box. So, firstly open the Run box and search for

devmgmt. msc

.

Then, locate the

Display Adapter

tab and expand it.

Now, right-click on the GPU manufacturer name and select the

Update Driver

button. Then, reboot your device in order to apply the changes. This will install the latest version of the GPU driver that is available for your device.
Fix 8: Update Your OS
You have to make sure to keep your OS updated on your device as an older operating system also be the reason behind this type of issue. Therefore, you can follow these steps in order to check for OS updates:
Firstly, press the

Win+I

button to open the Windows settings and click on

Update & Security

.

Then, simply hit the

Check For Updates

button. Thereafter, wait until it searches for the update, and if there is any update available, you must install it on your PC.
Fix 9: Check Your Antivirus
Sometimes, your antivirus may block you from accessing particular apps and websites on your PC, further resulting in this kind of error. So, we advise you to temporarily disable your system's antivirus and check if you are allowed to watch your favorite content or not. However, this time you will see that the Netflix blue screen of the death problem gets vanished.
Fix 10: Report The Problem
Unfortunately, if the issue is still not fixed, there are chances that the blue screen of death problem will occur with some glitches. So, in that case, you must contact the Netflix support team and explain this issue too; they will further help you resolve the error.
So, that's all on how to fix the Netflix blue screen of death issue. We hope that this guide has helped you. Moreover, if you have any issues or doubts in your mind regarding the topic, comment below.