With Smart TVs, you can watch content beyond regular TV channels. Stream music and games from Spotify and Netflix, as well as VOD services like Netflix, Amazon, and YouTube, and watch your favourite sports and games on a Smart TV. You can watch cable and satellite broadcasts on Smart TVs even if you don't have an internet connection – install the apps from the cable or satellite provider, and you're good to go.
It is common for people to look around the web for definitions of Smart TVs. While various sites may have different definitions, the consensus is that they are smart televisions with internet connectivity, are powered by an operating system, and come with apps. However, in the Smart TV category, one name with no competition is Samsung.
They are the true winner of this electronic market. But, unfortunately, from the last OS update, Samsung TV users are complaining that their smart TV is not loading Netflix. That's the reason why we are here. This article will teach you how to resolve the Samsung Smart TV not loading Netflix issue.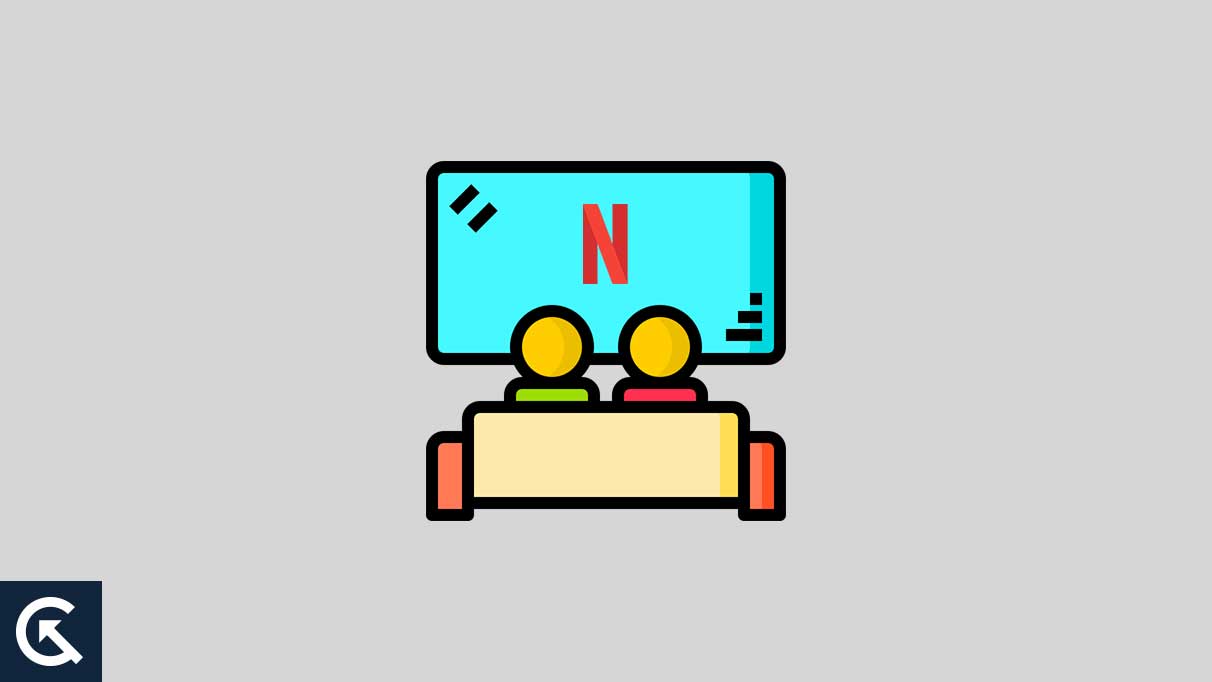 Why did Netflix stop working on my Samsung Smart TV?
You might need to check your internet connection if Netflix isn't loading on your Samsung Smart TV. It is important to have a stable data connection to begin with. It is recommended that Netflix use at least 1Mbps to stream in SD resolution, but that is only for SD streaming. If you're streaming 1080p, you'll need 5Mbps; if you're streaming 4K, you'll need 15Mbps.
How To Fix Samsung Smart TV Not Loading Netflix
You can use some fixes to resolve the Samsung Smart TV not loading Netflix issue. So, in case you are facing the same, make sure to perform the fixes we have mentioned below:
Fix 1: Check if Your Samsung TV is Compatible
Samsung smart TVs with Netflix apps may not be compatible with all smart TVs. You must make sure your smart TV can connect to Netflix before doing anything else.
Currently, Netflix is available on most Samsung Smart TVs running Tizen OS, launched in 2018 through the latest models. Check out Samsung's website for a complete list of compatible models.
The next step below will depend on whether your Samsung smart TV runs TizenOS.
The guide will also discuss two alternative ways to watch Netflix on your Samsung TV if your TV is incompatible but you still want to stream Netflix on your TV.
Fix 2: Power Cycle Your Samsung TV
It is important to power cycle your smart TV if you are experiencing streaming issues. In addition to resolving unresponsiveness, black screens, crashes, or lags, it may also fix the cause of the problem. You can also use it to clean up corrupt cache files that can result in your smart TV being unable to stream apps like Netflix.
Power cycling is also referred to as a 'Soft Reset' (in contrast to a factory or hard reset, as all settings and configurations remain intact), and many users reported that this method solved the issue.
You can solve this Netflix app not loading issue by power cycling your Samsung TV:
Take your TV out of the power outlet and unplug it.

For 60 seconds, leave it unplugged.

You can skip this step if your TV does not have a power button. You must stand in front of your TV for 30 seconds and then push the power button.

Now that you have plugged in the TV, it should start working normally again.
Fix 3: Check Your Internet Connection
The Netflix app on your Samsung TV may not work because your internet connection is slow or unstable. It is recommended that you restart your wireless router to fix the problem.
This process begins with removing your router from the wall and plugging it in again after 30 seconds. If you are still unable to access Netflix after this, you can reconnect your Samsung smart TV to your router. Netflix app should start working on your Samsung TV after doing that, and you should no longer have an issue with connection lag.
If you are experiencing a network issue, you can do a couple of other things, including:
Use hardwired connections (i.e., Ethernet cables)

If your connection is wired, check your Ethernet cables.

Obtain the speed of your network or connection from another source (i.e., from another device or channel).

The 5.0GHz frequency is the best way to switch to a dual-band router.

Make sure your DNS is set to Google DNS.
If the issue is with the network, you can launch Netflix on your Samsung TizenOS TV, and everything should work fine.
There is a problem with your Samsung smart TV not working with other channels, including Hulu, YouTube, HBO Max, Discovery Plus, and others, because it's more likely to be a network issue. In contrast, if those other channels are working, your problem probably has nothing to do with the network.
Fix 4: Clear Netflix App Cache
When you use Samsung smart TV apps, cache files accumulate and are stored. Using them for a long time increases the size of the cache files. When this cache files corrupt, your smart TV's apps can suffer performance problems.
You need to delete the cache file to get Netflix to load afresh. For optimum performance, it is recommended that you clear app caches regularly. Once you have cleared the Netflix app from the Samsung TV, it should be possible to use the Netflix app again.
Fix 5: Update Samsung Smart TV Software
When you open Netflix or other apps on your Samsung Tizen OS device, you may experience issues like black/blue screens or crashing.
Updating the software version is all you have to do.
You can update your Samsung TV's software by selecting Settings, selecting Support, and clicking on Software Update.

Click 'Update Now' to complete the process.
Fix 6: Check If Netflix Server Is Down
Before looking for other possible causes of the issue on your Samsung smart TV, it's time to look at how Netflix could be contributing to the problem.
Netflix's streaming server may go down from time to time, even in 2022, although it is not common. It is likely that you or your Samsung smart TV are not the cause of the issue, as it is a general one from their servers.
You may experience several things when this happens, including the Netflix app crashing suddenly, being logged out of your account out of nowhere, or your Samsung TV just displaying a black screen.
Support teams may post updates on social media in some cases like this.
Hence, you might want to check their social media handles (Twitter and Facebook) to see if there has been any update.
Fix 7: Update Netflix App
It is common for the Netflix app to stop working on Samsung smart TVs when it has been updated. Your Samsung smart TV may suddenly crash or show a black screen when it encounters this problem.
It is then necessary to check if you have the most recent Netflix version installed on your Samsung TV, and if not, update and install it. Here is how:
You can return your Samsung TV to its Home screen by clicking on the Home button.

Choose 'Apps' from the button menu on the home screen.

Choose Netflix from the apps screen by navigating to it and clicking it.

If the Netflix app isn't the latest version, you'll find an 'Update App' button on its description page. It should be updated in that case. In any case, you will find a button that says 'Open.'
Fix 8: Re-install Netflix App
A smart TV may also become inoperable when app files corrupt, causing Netflix and other apps not to work. It is usually possible to fix the problem by reinstalling the apps.
Most apps installed manually on your Samsung smart TV can be removed and reinstalled. You can, however, access Netflix via the pre-installed app on your smart TV. Therefore, removing it from your Samsung smart TV running Tizen OS is impossible.
The Home button on your Samsung TV will take you back to the Home screen if you aren't already there.

You can access apps from the home screen by selecting the button menu.

Click the Settings icon in the top right corner to access the Settings page.

You can reinstall Netflix by scrolling until you find the icon, then clicking on 'Reinstall.'

You can now open the Netflix app on your Samsung TV once it has been reinstalled. Restart your Samsung TV after you have done so.

Once you've entered your Netflix account information, you can log in.
Fix 9: Reset Samsung Smart Hub
You could also have an issue with Samsung smart hub if you didn't open Netflix on Samsung TV due to a blue or black screen. Generally, Samsung smart hubs can be reset in such cases. You can reset Samsung smart hub by following these steps:
Use the settings button on your remote controller or home screen to access the settings.

To access Support, click the 'Support' tab.

Go to the 'Self Diagnosis' tab.

You can reset your smart hub by clicking on the 'Reset Smart Hub' button.
You will need to restart your Samsung smart TV and open the Netflix app again once the Samsung TV smart hub reset has been completed. There should be no crash, blue or black screen now, and everything should work as expected.
Fix 10: Check Your Netflix Subscription
You can subscribe to Netflix and watch movies and TV shows online. As a result, you must have an active Netflix subscription to access the content.
On the Netflix website, you must sign up and pay for a subscription if your subscription hasn't been renewed or if you don't have an active subscription.
Fix 11: Contact Netflix or Samsung for Support
If you follow all the tips mentioned, Netflix should now be available to you. Nevertheless, if the Netflix app does not launch after following the tips above, it will crash or show a black screen on your Samsung TV, so you need to contact Netflix or Samsung for assistance.
So, that's how to fix the Samsung Smart TV not loading Netflix issue. We hope that this guide has helped you. Meanwhile, if you need more info, comment below and let us know.