Globally, Netflix ranks among the most popular streaming services, and the number of TCL smart TV users has increased, making seamless Netflix viewing more important than ever. However, users sometimes encounter problems like Netflix not loading or crashing on TCL smart TVs. In case you're also experiencing the same problem, don't worry. This article will discuss the most common reasons TCL smart TVs' Netflix is not loading or crashing and how to resolve the issue.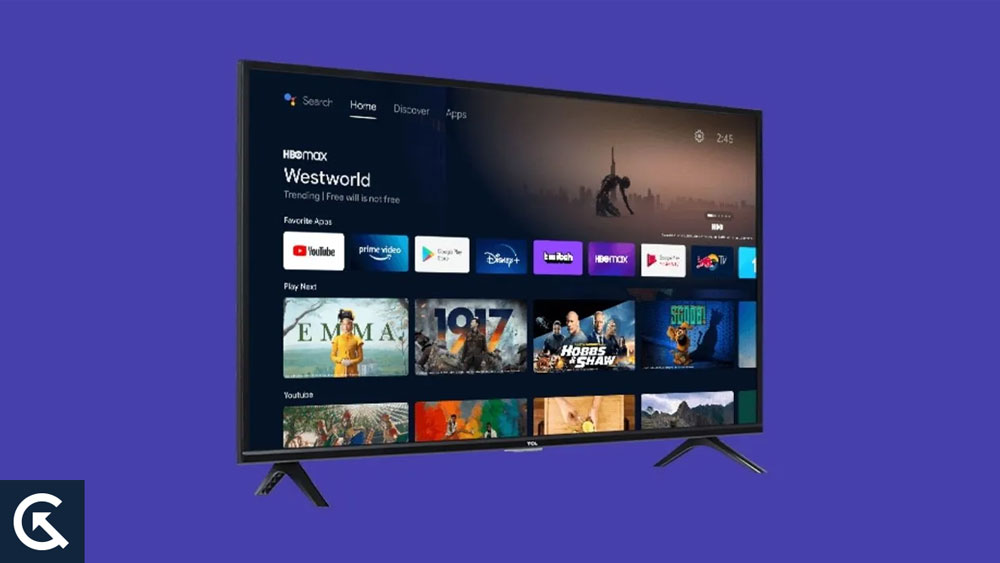 How to Fix TCL Smart TV Netflix Crashing or Not Loading
If you have a TCL Smart TV and find that the Netflix app is started crashing or not loading, then you must check out these fixes:
Fix 1: Check For Internet Connection Issues
It is possible for TCL smart TV Netflix to crash or not load due to a weak or unstable internet connection. For seamless Netflix viewing, here are some steps you can follow to fix internet connection problems:
Check the internet connection speed:

Check your TCL smart TV's Internet connection speed to ensure that it is connected to the Internet and at least 25 Mbps. Speed test websites can provide you with information about your internet speed. You may be unable to watch Netflix if your connection speed is less than 25 Mbps.

Reset the modem or router:

It might help to reset your modem or router if your internet connection speed is slow. You can do this by unplugging the modem or router from the power source and plugging it back in again after a few minutes. If a temporary network issue causes the issue, this may help.

Use an Ethernet cable:

Resetting the modem or router might not resolve the issue, so try connecting your TCL smart TV via an Ethernet cable. If interference or interference issues affect the wireless signal, this may help eliminate them.

Disable VPN:

You may want to try disabling your VPN to see if it helps. VPNS can cause network issues that interfere with Netflix streaming.
Fix 2: Check For Software Updates
You should regularly update your TCL smart TV software to maintain its performance and functionality. There are several reasons why Netflix might stop loading or crash if it's software or firmware is outdated. If you would like to check for software updates and resolve the issue, follow these steps:
On your TCL smart TV, go to the settings menu and select 'System Updates'. If a software update is available, download and install it to see if the problem is fixed.

Your TCL smart TV will always operate optimally if you regularly check for software updates. You should check for software updates the first time you experience problems with your TV.

It is important to keep the Netflix app up-to-date on your TCL smart TV and update the software. To update the Netflix app, go to the settings menu, select '

Apps

', find the app and select '

Update

'.
Fix 3: Try Clearing the Cache
TCL smart TVs can resolve various problems, such as Netflix not loading or crashing, by clearing their cache. Caches are temporary storage areas where apps and services from recently used apps are stored and can become corrupted. To clear the cache on your TCL smart TV, follow these steps:
Select the

Apps

tab in your TCL smart TV's settings menu.

Locate and select the Netflix app from the list of installed apps.

Click '

Clear cache

' on the app's details page to clear the cache. This process will delete any temporary Netflix app data stored on the TV.

Restart your TCL smart TV and launch the Netflix app to verify that your Netflix issue has been resolved.
Fix 4: Restarting the TCL Smart TV
It is sometimes important to simplify things, and it is often best to restart your TCL smart TV to resolve various issues, including Netflix crashing or not loading. To restart your TCL smart TV, follow these steps:
On the TV remote, press the power button to turn it off.

Power off the TV and disconnect the power cord. Once the cord is plugged in again, please wait a few seconds before plugging it back in.

To turn the TV back on, press the power button on the remote.

Launch the Netflix app after the TV has restarted to verify that the issue has been resolved.
Fix 5: Uninstalling And Reinstalling The Netflix App
Netflix crashing and not loading issues on TCL smart TVs can be resolved by uninstalling and reinstalling the Netflix app. Upon uninstalling the app will remove any temporary files or corrupted data that may have been causing the problem, and upon reinstalling, you will get a fresh copy of the app. To uninstall and reinstall Netflix, follow these steps:
Go to the settings menu on your TCL smart TV and select '

Apps

'.

Locate the Netflix app and select it from the list of installed apps.

On the app details page, select the '

Uninstall

' button. You can remove the Netflix app from your TCL smart TV by doing this.

On your TCL smart TV, please search for the Netflix app in the app store and download it.

If the issue persists, reinstall the app and log into your Netflix account once it has been reinstalled.
Fix 6: Contacting Netflix Support
Despite trying the other troubleshooting steps, Netflix may still crash or not load on your TCL smart TV even after you have tried more troubleshooting steps. To contact Netflix support, follow these steps:
You can access Netflix's website by opening your web browser and visiting

www.netflix.com

.

Visit the Netflix homepage and click the '

Sign In

' button.

Go to Netflix's homepage and click '

Help Centre

.

Use the search bar in the help centre to find the issue you're experiencing (e.g. "Netflix not loading on TCL smart TV").

To contact Netflix support, click the '

Contact Us

' button if you can't find an answer in the help centre. If you need assistance, you can contact support via chat or email.
So, that's how to fix Netflix's not loading or crashing issue. We hope that this guide has helped you. Furthermore, in case you need more help, comment below and let us know.