Netflix, Inc. is a subscription-based streaming service and a United States-based production firm. It was founded on August 29, 1997, and it usually provides a collection of films and web series through its OTT platform. However, the platform is used by millions of users from all around the world.
Meanwhile, a big user base comes with a big responsibility, but unfortunately, slowly and steadily, its popularity is continuously in a downtrend due to various issues. Well, due to these things, its competitor like Amazon Prime Video, noticed by many users. However there are various reasons behind these things, but users often complain that the Netflix app is not working on their devices.
Meanwhile, recently, for some users, Netflix is not working or opening on their Samsung Smart TV. Nevertheless, there aren't any particular reasons why you are getting this error. But, still, we have tried our best to resolve this issue for you.
How To Fix Netflix Not Working on Samsung Smart TV
There are various methods available that will help you fix the Netflix not working on Samsung Smart TV. But, here, we have explained only those that our team personally tries and finds helpful. So, now let's take a look at them:
Fix 1: Reboot Your TV
Rebooting your TV will be the right choice to resolve any temporary bugs and glitches stored on your TV's storage. In this era, Smart TVs do a lot more than they used to, so they, too, require a restart once to make sure that the TV works properly without any errors.
Therefore, we suggest you to reset your Samsung smart TV at least once before performing any of the given methods. However, rebooting your device will clear the chaos and prevent freezing in the middle of a video, sign-in issues, and unresponsive services, just like Netflix not working.
There are reports where users reported that they successfully fixed the issue by rebooting their device. So, make sure to perform this fix and let us know if it really helps.
Fix 2: Check The Netflix Servers
It is possible that because the server is down, your Samsung smart TV may be unable to connect them for a period of time, possibly preventing them from working, which may result in this kind of issue. But, how will you check if the servers are working? Well, simply you can simply move towards the DownDetector and check if there are other peoples who have reported the same error.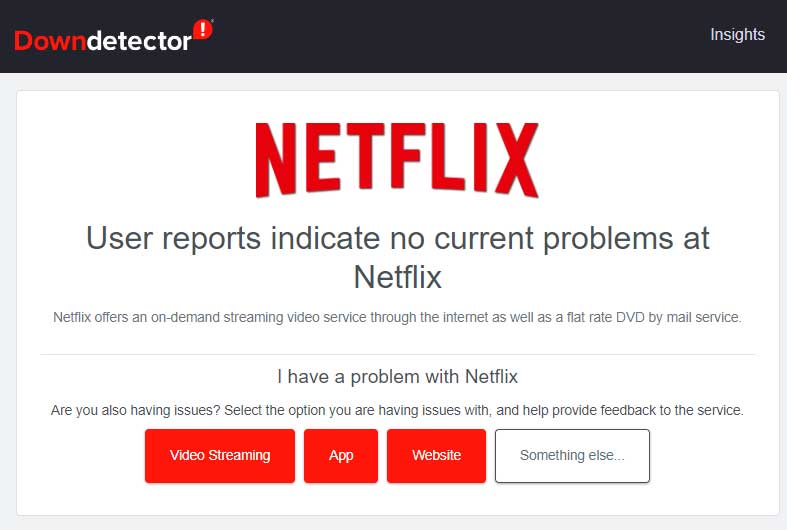 Also, make sure to click on the I Have A Problem With Netflix. Meanwhile, you must also follow the Netflix officials on Twitter because they will always update their users with their Twitter handle about any ongoing issue.
Fix 3: Check The Internet
It is very crucial to use a good internet connection in order to make sure that Netflix works properly. You can simply hover towards the Ookla speed Tester and test your router's internet speed. After that, if you find that your router is giving you a poor internet speed, then power cycle the router and test the speed again. If it is still poor, then make sure to contact your ISP and ask them about the network issue.
Fix 4: Clear Cache
There are possible chances that there are some temporary cache data stored on your TV that is saved over time. So, when these files get damaged or corrupted, you start getting this kind of issue. So, you need to remove them after fixing the interval of time; therefore, let's have a look at the steps:
Firstly, use your remote control press the

Home

button on your Samsung smart TV.

Then, hover to the

Settings

and click on the

Apps

.

After that, head towards the

System Apps

.

Thereafter, select the Netflix app and hit the

Clear Cache

button followed by the Ok.
Fix 5: Update The Netflix App
Developers regularly release updates to keep the app updated with the new world for users, as it appears in the notification menu and on the Samsung App Store.
Similarly, because updates include bug patches, UI improvement, and new features that users previously requested, so, there are chances that developers may have rolled out a minor update in order to make some changes, and you haven't updated it yet, which is why you're getting the Netflix not working issue. Therefore, it is recommended to keep checking for updates and, if available, then make sure to install them. Then, you will find that the Netflix issue will automatically get resolved.
Fix 6: Check For TV OS Update
Did you check if your Samsung Smart TV OS is updated or not? If not, then make sure to check it using the steps that we have mentioned below. But, before we start with them, make sure that you have connected to the internet. Now, let's start with the steps:
Firstly, use the TV remote and hover to the

Settings

.

Then, click on the

Support

followed by the

Software Update

.

After that, hit

Update Now

. Then, the new Update will automatically be downloaded and installed on your Samsung Smart TV. However, these updates usually take a few minutes; therefore, make sure to please do not turn off the TV until the OS update is complete.
Fix 7: Reinstall The App
Another fix that has the potential to resolve the Netflix not working issue on your Samsung Smart TV. Yes, you have to reinstall the Netflix app on your device by using the steps mentioned below:
Initially, use the remote and press the Smart Hub button.

Then, select the Apps and search for Netflix. Then, open it and first uninstall it.

After that, reboot your TV and follow the above two methods again. Then, hit the Download button.

That's it. Now, you must have to wait until Netflix install on your TV. Then, check if the issue gets resolved or not.
Fix 8: Reset The Samsung Smart TV
If you are still not able to resolve the Netflix not working issue, then the only possible fix that will help you is to reset the Samsung Smart TV. So, here are the steps for that:
Firstly, turn on your Samsung TV, use your TV remote, and press the

Menu

button.

Then, click on the

Support

followed by

Self Diagnosis

.

After that, tap on the

Reset

and enter your

Security Pin

.

Then, you'll get a reset screen with a warning message. So, follow the on-screen instruction and make sure to do not turn off the TV unless the process gets completed.
Also Read: Fix: Netflix Not Getting Verification Code Issue
Fix 9: Report Netflix Team

If nothing helps, we suggest you register the issue to the Netflix support team. Then, you can simply click on the given link and check out if there are methods available to resolve the given issue. Otherwise, you can also use the Call Us or Start Live Chat.
So, that's all on how to fix the Netflix not working issue on your Samsung Smart TV. We hope that this article has helped you. But, suppose in case you need more info regarding the topic, comment below.