Samsung is a world leader when it comes to displays. From smartphones to Smart TVs, it serves its displays to every manufacturer in the industry, and the quality you get from Samsung is unmatched by anyone else. So when it comes to Smart TVs, it is prevalent among the masses for the quality and features they provide to the end user, generating a high user base.
But not everyone has an excellent experience with Samsung Smart TVs. Recently, some Samsung Smart TV owners have reported that the apps installed on their TV have disappeared. They don't see the app icons at all. If you are one of these troubled users, this article will help you out. Here, we have listed out all the solutions you can try from your end to fix this. So without any further ado, let's get into it.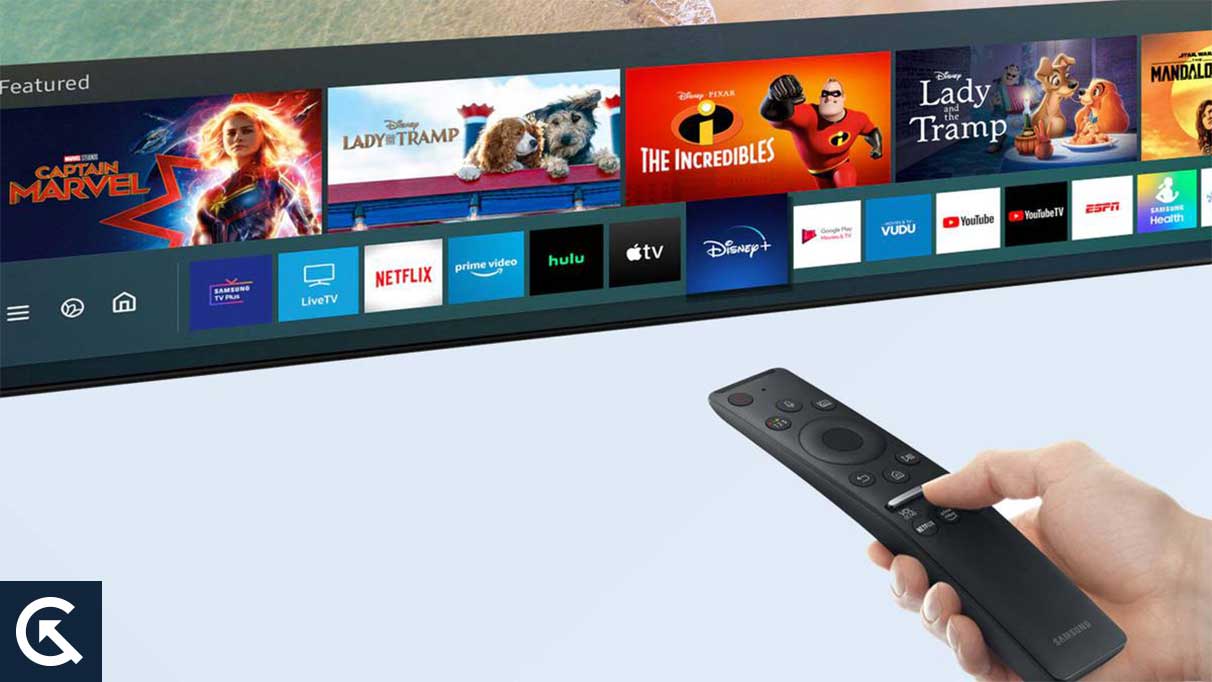 How do you fix Samsung Smart TV Apps that Disappear or are Missing?
This is a software bug that is troubling a few users, but a simple tweak to the UI on the TV should be enough to fix this. We have included all possible solutions that you could try to solve your problem.
Soft reset your TV:
As simple as it may sound, most devices' problems can be fixed with a single restart. Even with your Samsung Smart TV, you should try restarting your TV to resolve the issue.
A soft reset will require more than just pressing the power button. You must remove the power cord from the plug point and keep your TV disconnected from the socket for at least two minutes. After those two minutes, connect the power plug of your TV to the socket again and then turn it on. This will perform a soft reset on your TV.
If a soft reset does not fix your issue, try the next given solution.
Clear Cache:
Cache memory is usually stored to allow an application to work faster and smoother. But with your Samsung Smart TV, that could be the cause of your problems. The cache memory stored on the TV for the apps could be inconsistent, and this would cause issues for all your apps. So you might be able to fix your problem simply by clearing the cache memory. So let's see how you can do it.
Turn on your Samsung TV.
Press the Home button on your remote.
Go to Settings.
Then go to Apps.
Open System Apps.
Select the apps from the list missing from your TV's home screen.
Select Clear cache.
Confirm by clicking OK.
Try the next solution if clearing the cache memory does not fix your problem.
Disable Samsung Instant On:
Samsung has an Instant On feature similar to Windows' fast startup feature. With this feature turned on, the Samsung smart TV will do its best to boot up as quickly as possible. Sometimes this feature can be problematic, though. There have been reports of other apps on Samsung TVs not working correctly when the Instant On feature is turned on. So even with your apps missing or disappearing, you should try turning off the Instant On feature and see if that solves your problem.
Open up your TV settings.
Navigate to the General section.
Find Instant On here and turn off the toggle for it.
If this does not fix the missing apps issue, try the following solution.
Reinstall the apps:
Developers push out updates to their applications to address the problems or bugs the users face with the current version. So there is a chance that the app or apps missing from your TV are buggy, and the developers have pushed out an update to address that. It would be best to update the app or apps to the latest version and check whether that solves your problem. But rather than simply performing an update, you should uninstall it and install the newest version again for a clean installation. Let's see how we can do that here.
To uninstall the missing application on your TV, follow the below steps.
Press the Home button on your remote.
Open up the Apps tab.
Go to Settings and then Find the app in it.
Then select Delete, which will uninstall the missing app from your TV.
Follow these steps to install the application back on your TV.
Press the Home button on your remote.
Open up the Apps tab.
Select the search icon and enter the application name you want to install.
Once it shows up in the results, select install.
If reinstalling the missing applications does not work for you, try the following method below.
Update your TV:
After updating the application, you should also run an update on your TV. TVs get firmware updates over time to fix bugs and improve the user experience. So if the app is missing or the disappearing issue is related to your TV's compatibility, updating the latest firmware should fix that for you.
Press the Home button on your remote.
Open up Settings.
Using your remote, navigate to support.
Then select Software update.
Now select Update Now.
Wait for the update to be complete, and then select Okay.
Try the final solution if this does not fix your missing application issue.
Reset Smart Hub:
As mentioned above, resetting the Smart Hub has done the trick for most users. So if none of the solutions discussed above worked for you, this would do the trick. We have kept it as the last fix here, as resetting the smart hub will mean losing everything on your TV. Everything will be cleared up, from installed apps to logins, and you will have to set up everything on your TV again. So proceed only if you are okay with losing all your data stored on your TV. Now let's take a look at the steps.
Press the Home button on your remote.
Go to the Settings section.
Using your remote, navigate to support.
Select Device Care to open up the menu for it.
Here, choose the option Self Diagnosis.
Now go to the bottom and select "Reset Smart Hub."
Your TV will ask for a PIN to confirm your action. By default, the PIN is set as 0000.
Once you put the PIN in, wait till the reset process is complete.
So these are all the solutions to fix Samsung Smart TV Apps Disappear or Missing. If you have any questions or queries about this article, comment below, and we will get back to you. Also, check out our other articles on iPhone tips and tricks, Android tips and tricks, PC tips and tricks, and much more for more helpful information.