The thrilling open-world action acting game from Tripwire Interactive, Maneater, was free for Microsoft Windows, PlayStation four, and Xbox One this month. The sport lets players don the fins of the legendary terror of the oceans and seek out not solely the aquatic life but also the individuals at Port Clovis. Likewise, whereas participating in the battle against large groups of armed shark hunters. Despite its clearly immoderate construction, the game has become a fan-favorite title. Critics and fans have praised its enjoyable gameplay and the wicked soundtrack. Our today's guide will help the players obtain the Bone Shark Skin-set in Maneater.
The most interesting thing we loved is the mechanics that are integrated into its gameplay. Among these is the Bone Shark Skin set, which is designed for significant effectiveness against shark hunters and their boats. It has the potential for extremely high damage resistance, as well as boosted ramming speed and damage against ships, allowing you to make those pesky hunters regret their choice of coming after you. Well, so what are we waiting for? Let's head on to read our guide to unlock the Bone Shark Skin-set in Maneater!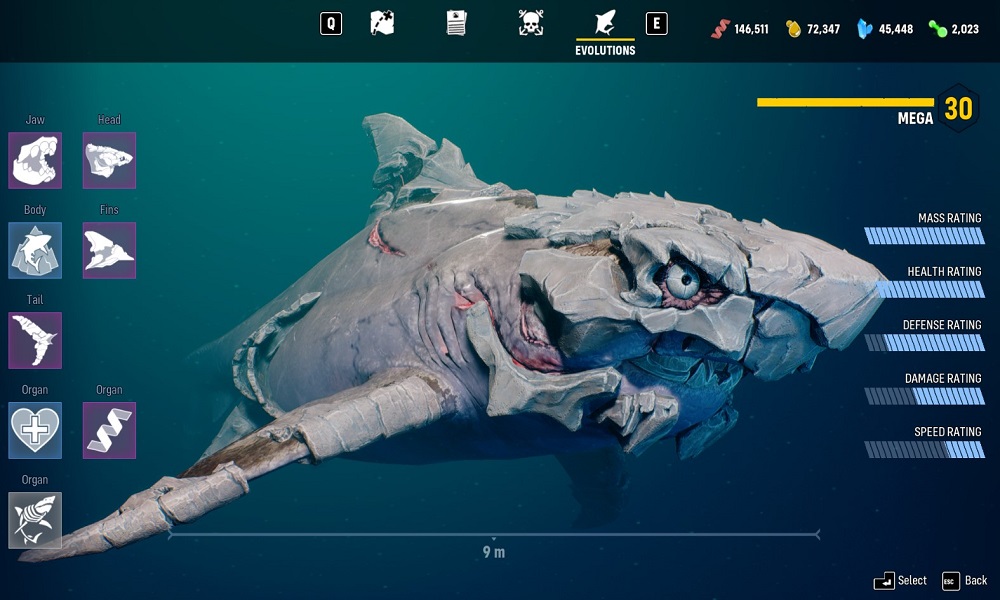 How to Unlock Full Bone Shark Skin Set in Maneater?
In order to unlock the bone evolution upgrades, you will first have to defeat the game's apex predators by following a zone's "story" missions until you are entrusted with another specific mission requiring you to challenge the apex predator in that zone. When you are halfway through, you might also have to complete half of the side missions before the apex predator mission becomes available.
Given below is a list of Bone evolution upgrades and the apex predators you can obtain them from.
Bone Teeth
You can obtain this evolution by defeating the Dead Horse Lake Apex Barracuda. It allows you to rend steel with your fangs and latch tenaciously onto even the slipperiest of prey animals.
Bone Fins
You can obtain this evolution by defeating the Golden Shores Apex Mako. It literally turns you into an unstoppable whirlwind of a bone-bladed massacre.
Bone Body
You can obtain this evolution by defeating the Sapphire Bay Apex Hammerhead Shark. On activating it, you will receive the "Bone Crusher" ability, which literally turns you into a battering ram of sorts. Using it, you can smash human boats as though they are made of glass. You can recharge it by biting or consuming other creatures.
Bone Tail
You can obtain this evolution by defeating the Prosperity Sands Apex Great White Shark. It turns your tail into a skull-cracking sledgehammer of bone.
Bone Head
You can obtain this evolution by defeating the Caviar Key Apex Orca Whale. It protectively encases your head in an exceptionally sturdy bone helmet.
This guide was to help the players of Maneater get their hands on the Bone Shark Skin-Set. After reading our guide, they will surely be able to accomplish this. We hope our guide proves useful in helping you obtain the Bone Shark Skin evolution in Maneater. We know you liked this guide, so do go and check out our latest iPhone Tips and Tricks, PC tips and tricks, Games and Android Tips, and Tricks. Moreover, you may also subscribe to our very own YouTube Channel and participate in the $150 giveaway contest. However, if you have any queries or feedback, do comment down below with your name and e-mail ID. Happy gaming!