Xiaomi has brought another revolution in the history of smartphones. We are all aware of the consistency of Xiaomi based on the up-to-date trend and market change over time. And after successfully releasing a bunch of super cool and affordable devices, the Mi Mix Fold is finally out. With Mi Mix Fold, Xiaomi has made the debut of liquid camera foldable phones in world history. Now, that's even a perfect rival to the Samsung Galaxy Foldable smartphones as well.
Considering the mind-bending facts and features of this stunning device, Xiaomi fans seem already excited and hyped up to see through the smartphone's details. However, there's one more thing about which the Mi users are likely to be in doubt and which could indeed increase both usability and durability of the device to the next level. Well, rumours have been growing lately if the Mi Mix Fold can be submerged underwater? Does it also come with a waterproof rating?
Perhaps it's a debatable topic until we try it out practically. So, in this article, we will try to answer all your doubts by performing a hands-on waterproof test on the Mi Mix Fold.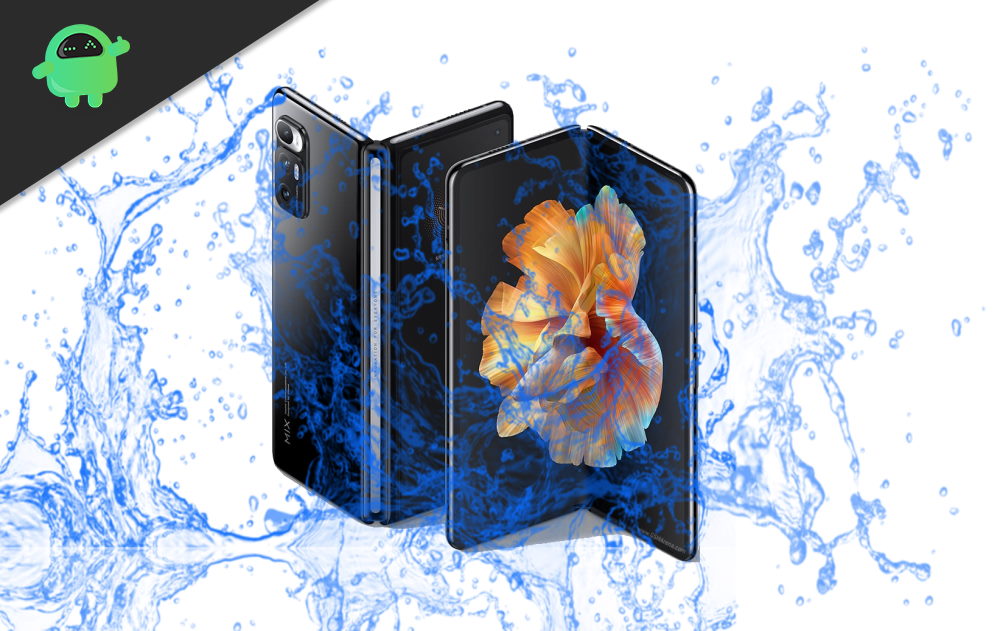 Is Xiaomi Mi Mix Fold Waterproof
The demand for waterproof devices is at the peak in the market at current times. Different companies worldwide are deliberately competing to develop waterproof smartphones and devices with better upgrades and facilities. At such crucial times, if a device like the Mi Mix Fold comes with waterproofing technology, it would be an added advantage.
Moreover, as it features the world's first liquid lens technology, being waterproof might enhance its camera performance as one could capture those stunning underwater shots. Besides, a waterproof rating also doubles the usability and durability of the devices, which is surely essential for such elegant work.
Mi Mix Fold Specification
Before we start with the waterproof test, let us look at some of the highlighted features of the all-new Mi Mix Fold smartphone.
Starting with the Xiaomi Mi Mix Fold's most highlighted feature is the 'Liquid Lens Camera' and the Surge C1 image sensing processor. Xiaomi seems to be the first brand to introduce liquid lens technology. And along with this powerful professional processor, the Mi Mix Fold offers exceptionally high performance. On top of that, it occupies a very low CPU and storage system, which makes it one of the efficient devices to date.
Moreover, you will experience a highly enhanced camera performance with more accurate low-light focus, auto-focus, auto-exposure, colour-balancing capabilities, and more. Besides, the device comes out with an 8.1-inches WQHD + OLED display. Xiaomi takes a step further, even with its sound system, making it the first-ever phone with a quad-speaker setup. This extraordinary combination of a giant screen and powerful speakers makes Mi Mix Fold the most powerful foldable phone ever.
It operates on Android 10 MIUI 12 and is powered by Qualcomm Snapdragon 888 (5G). More interestingly, it features a 108MP main camera packed up with a 7P lens and a 13MP ultrawide angle camera. The 20MP selfie camera at the front also does an exceptional job clicking the perfect selfies.
Coming to its powerhouse cell, Mi Mix is powered by a 5020mAh non-removable battery along with a 67Watt fast charging support. In a nutshell, Mi Mix Fold is your ultimate weapon for gaming, video streaming, music-streaming, multitasking, and all sorts of jobs.
Mi Mix Fold Waterproof Test
After deep research, we didn't find a waterproof IP rating for Mi Mix Fold in the official sources. Well, this leaves us with one last option, i.e., to test it out ourselves. Here we will hold a complete waterproof test and let you know the outcome and our opinion.
Splash proof Test
Finally, after successfully conducting the Mi Mix Fold waterproof test, we are out with the results. First, we went for the splash test, where we randomly threw droplets of water on the device. There was some sort of touch a few times, but otherwise, the device worked the same as before.
Wash Test
Moving on to the next test, i.e. the wash test, we poured some water on the device, but no abnormal behaviour was observed. And after giving it a good jerk and wiping out the surface with a dry cloth, it seems to work completely fine.
Short Immersion Test
Our third test comprises a short immersion test, where we put the device underwater a couple of times for a very short interval of time. And once again, the result is positive. There was no abnormal behaviour with its functionality.
Waterproof Test
Last and our main test, i.e., the waterproof/ long immersion test, we submerged the phone for a particular time interval. And once we picked it up for checking, we found the touch sensor was not responding. And neither the volume buttons nor the ports were working too. The device soaked some amount of moisture from the water and was all wet inside.
So, from the above analysis, we can conclude that the Xiaomi Mi Mix Fold possesses thrash/ water resistance characteristics at some level. However, it is not completely waterproof. Hence, it can withstand accidental water splashes quite comfortably. But it cannot be submerged underwater and used as a waterproof smartphone.
Conclusion
The Mi Mix Fold surely introduced a great number of technological breakthroughs. But again, it still lacks the quality of a true waterproof smartphone. In any case, if you are planning to buy this smartphone, you must definitely make your move. However, our side's only recommendation is to keep it away from dust and water bodies as it cannot withstand extreme conditions. Otherwise, it is a perfect device to make a buy at such a pricing level.