Xiaomi Mi 11 is a master of technology, launched on 28 December 2020, it's one of the best smartphones to buy in 2021. Xiaomi has received many requests to provide a waterproof and splash-resistant coating on their premium flagship smartphones. Since Xiaomi Mi 11 is supposed to be a flagship device, many customers are suspecting a completely waterproof and dustproof profile in the new smartphone. With amazing features such as the latest snapdragon 888Soc and 108MP camera sensor, it's one of the most advanced smartphones Xiaomi ever launched.
The modern world is all about fuss and being the first and the fastest. In this busy schedule and life, there are many instances where your device might face water damage. It may be during a code spill while you're at work, or a juice spill when you're at lunch. However, water damage is a real problem, and many companies provide waterproof or splashproof technology to prevent this. Xiaomi has not been very popular when it comes to giving splashproof and waterproof features in the devices. But the new Xiaomi Mi 11 bring hope to may customers that it will be a waterproof and dustproof smartphone.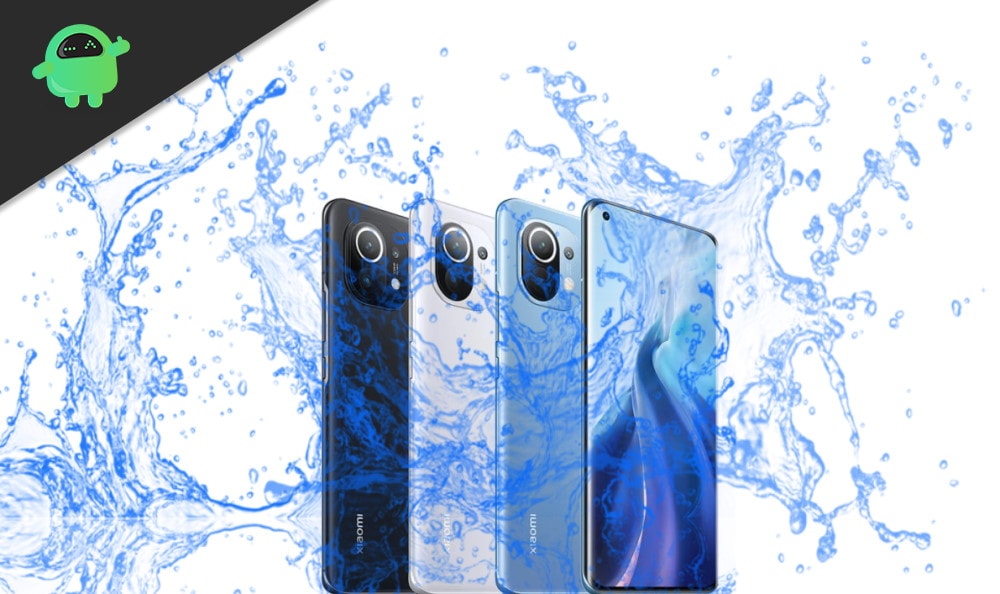 Is Xiaomi Mi 11 Waterproof and Dustproof?
Xiaomi Mi 11 is a great and fantastic smartphone in terms of hardware and specifications. However, with many competitors, providing a waterproof and dustproof smartphone in the same price range, makes the competition a little bit harder. I expect Xiaomi to provide some sort of protection against water and moisture, but there are no official details for that. So we will conduct our very own Xiaomi Mi 11 waterproof and dustproof test, and will find out ow dies this device perform under extreme conditions.
Xiaomi Mi 11 Quick Specifications
Before we go with the waterproof and dustproof test, here are some quick specifications about the smartphone.
Xiaomi Mi 11 is one of a kind flagship device from the company which comes with Snapdragon S888Soc and a powerful 108MP camera. Apart from these amazing highlights, the device comes with a massive 6.81-inch display with a resolution of 3200×1440 pixels. The display is quite amusing, with good picture quality and colour display. With four different colour options, you also get to choose between two storage variants, including 128GB and 256GB storage.
Xiaomi Mi 11 comes with Android 11 out of the box along with MIUI 12 based skin. Packed with 8GB of LPPDDR5 3200MHz RAM & Adreno 660 GPU, the device is a performance beast. The device has 5G capabilities with dual 4G sim VoLTE support. Other features include in-screen fingerprint sensor, infrared sensor, USB Type-C and a massive 4600 mAh battery size.
Coming to the camera department, the device boasts an impressive 108MP rear camera with a 1/1.33″ sensor size for amazing day light and nigh time photographs. The rear camera is accompanied by 13 MP 123degree wide-angle and a 5MP telephoto lens and is capable of shooting at 4K 60FPS recording. For selfie enthusiasts, it has a 20MP front-facing camera with a wide f/2.4 aperture.
Xiaomi Mi 11 Waterproof and Dustproof Test
Xiaomi Mi 11 is not waterproof because it didn't have any IP rating. So, we decided to do a waterproof test for this device and did it three times before giving any statement. For that, we dipped the smartphone into the water. After that what results, you can easily distinguish from the three records given below:
The waterproof test results are purely based on individual/team observation. These tests will only give an idea of whether a device is waterproof or not. We recommend users not to try this test at home, as it might damage your device.
Case 1: Mi 11 splashproof Test: This case shows us whether the device is suitable for holding any accidental water damages. These include any accidental water spill, damage due to moisture or excessive rains etc. Since the device is not officially waterproof or splashproof, we subject the device to water spills. And as a result, the device seems to cope with us well without any damages. However, users should be concerned as Mi 11 is not a splashproof device.
Case 2: Mi 11 Dustproof Test: This case shows us weather the device gets any sand or dust particles inside. Although the device is not officially IP68 rated, the device seems to be sealed from all corners. The only points where any dust particles can go inside is the charging port and speaker holes. After subjecting Xiaomi Mi 11 to the rigorous dusty environment, the device seems to be dustproof.
Case 3: Mi 11 Waterproof Test: In the waterproof test, we will find whether the device can hold while in the water. A fully waterproof smartphone gives the advantage of underwater photography, taking calls while you're bathing and much more. However, Xiaomi Mi 11 is not a fully waterproof device. So such activities are out of the question as they will eventually damage your device.
Conclusion
According to the official data, Xiaomi Mi 11 is no means a waterproof or dustproof device. On top of that, there is no information regarding waterproofing of the device and no splashproof details as well. This shows us that the device is not fully waterproof, so the company was not able to advertise it as one of its features. However, we have seen the splashproof seal and coating over its I/0 ports, which assumes that the device is at least splash resistant to some extent. Our Xiaomi Mi 11 waterproof and dustproof tests show us that the device survives any accidental water splashes. So users should take proper care of their devices, as Xiaomi Mi 11 is not a waterproof and dustproof device.