So you have been using Windows 10 for a while now and got tired of the slow opening of apps and games. Above all, the OS itself takes much time to boot up. So you are now planning to add in an SSD and want it to migrate windows 10 to it. But at the same time, you don't want to reinstall everything again and setup all your Softwares such as Office suite or other productive suites. So there are many ways of doing this without data loss. So let's see those methods one by one.
SSDs offer great performance improvements when compared to mechanical hard drives. SSDs are one of the upgrades that a system can get next to RAM. Since SSDs prove to significantly lower loading times, it is widely used in applications such as servers. But they are much costlier than the HDDs. So many people use SSD with lower capacity primarily for Windows OS and some heavy software, and HDDs with higher capacity to store files such as movies and games. SSDs do not have any moving parts like the mechanical hard drives, so they are much durable.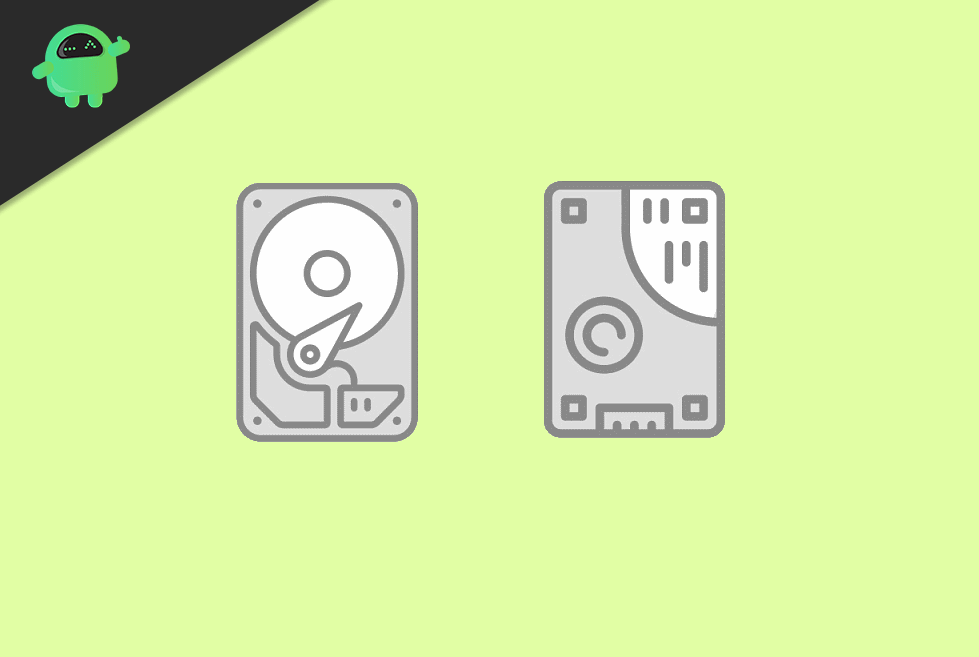 How to migrate Windows 10 to SSD without reinstalling?
There are two methods, primarily to mention. They are Disk cloning and disk imaging. There are also software tools that allow us to directly migrate to SSD like the EaseUS partition manager or any other partition managers. So let's list out all the possible methods. But the method you have to choose depends on your situation. Follow this list to get an idea.
If you are willing to pay, you can get those partition managers, then you should use their Softwares to get things done. Using partition tools are easy and hassle-free.
If your SSD storage is less than the hard disk storage, but the windows partition size is lower then the SSD capacity, you can use the Disk imaging method, which doesn't cost you anything.
If your hard drive storage and SSD storage are of the same capacity you can use the Disk cloning method.
Alternatively, there are SSD manufacture specific tools available for the same purpose. But those require full migration. It doesn't only migrate our windows partition. If you want, you can use them and delete the extra cloned partitions later. But those aren't going to work if you are cloning to less capacity SSD from larger Hard drive.
Method 1: Disk imaging
The disk imaging method creates a compressed image file of the windows partition. Later that file can be restored onto our SSD, migrating the windows partition. To do so,
Open Control panel and click on System Security.
Now, click on Backup and Restore (Windows 7).

Finally, click on Create a system image to initiate the process.
Now from the pop-up window, select the location on which you are bout to save the image. You can save the image file onto your current hard drive, but it will show you a warning. Just ignore and select where you want to save the system image and click on Next.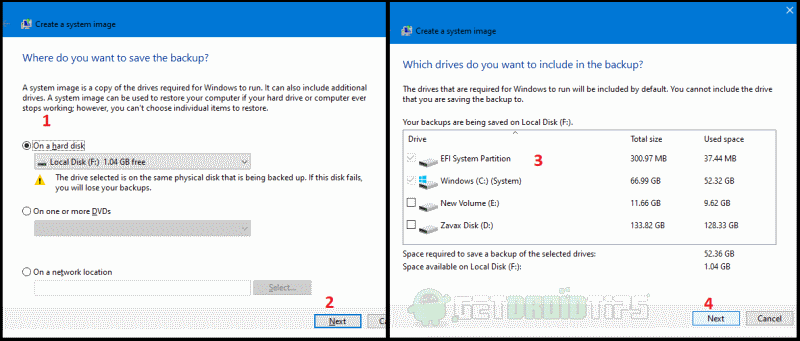 The next pop up is where you select the source partition. The required partitions are selected automatically. Leave those settings as it is since we are just backing up our windows partition.
Now read the confirmation about the space required and the destination of saving. If all looks good, click on Start backup, and the process will begin.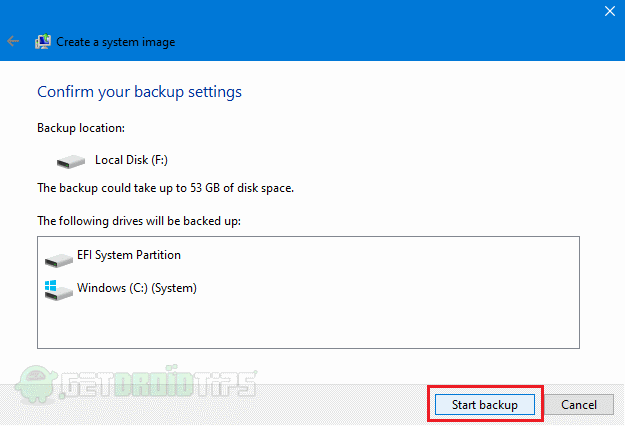 Once the backup completes, you can store that image to your SSD and complete migration. For the restoration of image, follow these steps.
You will need a bootable Windows installation media to restore your image to your SSD. Grab Windows 10 iso from here. Once you download the iso, burn that to a DVD or USB stick using Rufus or any other preferred tools.
Note
You have to use a non-windows device, like your android phone or other OS like Linux/Mac, to download from Microsoft website. Else you can change the user agent in your browser to trick you are using a different device other than windows. For chrome tap there dots on the right corner, select More options >
Boot onto the windows installation media from USB drive that you just made. Refer your manufacturers manual for your motherboard or Laptop in order to enter bios and change boot options to enable the PC to boot from USB.
At this time, connect your existing HDD as an external drive(USB enclosure/Caddy) and SSD as an internal drive. If you have a PC, then you should already have a different port to connect both the devices.
Once the media boots up, select your language from the drop-down menu and hit Next.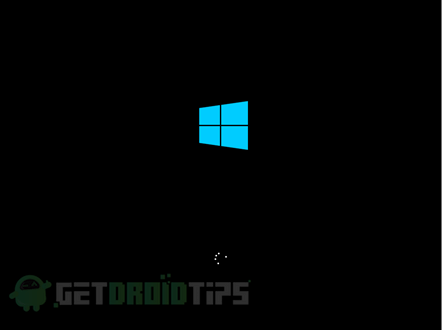 From the next pop up select "Repair my computer", to the left corner.
From there, select Troubleshoot and click on System image restore.

Once the repair tool (named as re-image your PC) will scan system images on all your drives, it will give you the option to select the latest image or another image as per your preference. But as we have created the latest image to restore, just click on next.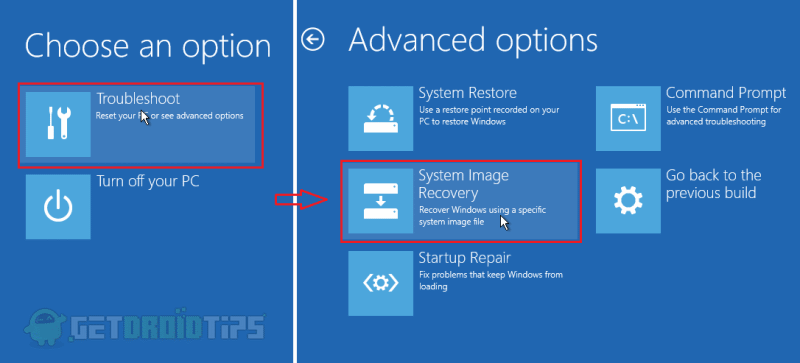 Now from the next tab, click on Exclude disks and select the disks that you want to exclude from the restore, only if you have multiple disks. Leave the target SSD unchecked. And click on Next.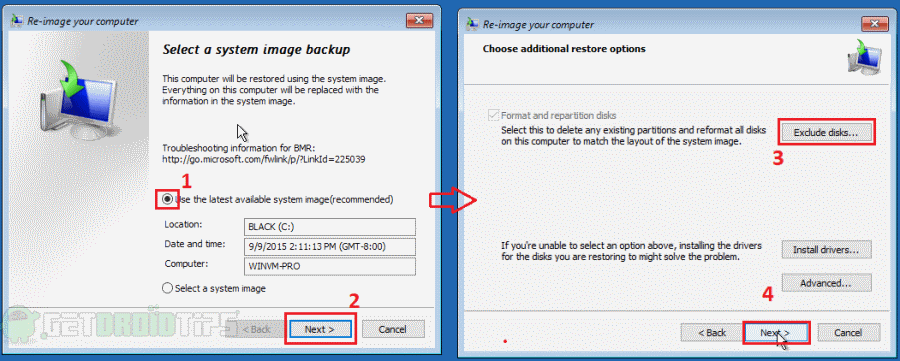 Now a tab informs you of the changes that it's going to make, review and confirm by clicking on Finish, followed by a Yes.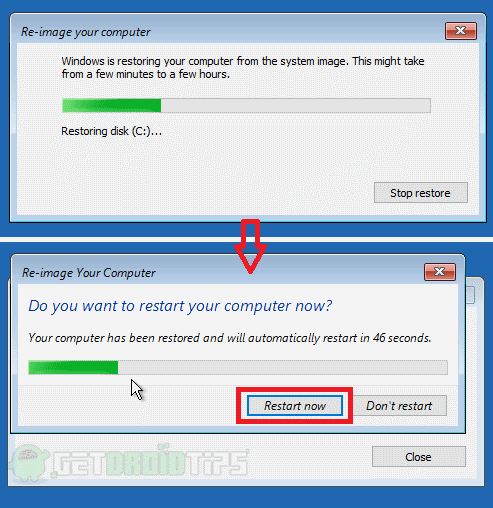 Once the restoration completes, click on restart after removing all your external HDD and USBs. Set Boot priority in BIOS /UEFI to boot from our SSD.
Method 2: Using Disk Cloning
For this illustration, we are going to Macrium Reflect(3rd party software), which is simple and clean. Also, the free version is enough for cloning.
Download Macrium Reflect (Free)
First, download the software from above and install it into your PC and follow these steps.
Open the software, and from the main window, select the disk we are about to clone(the source HDD) and click on Clone this disk.
On the next window, click on select a disk to clone to, and Select our destination drive, that is the SSD.
Once the partition window opens, drag our Windows and EFI partition from the HDD(top) to SSD(bottom).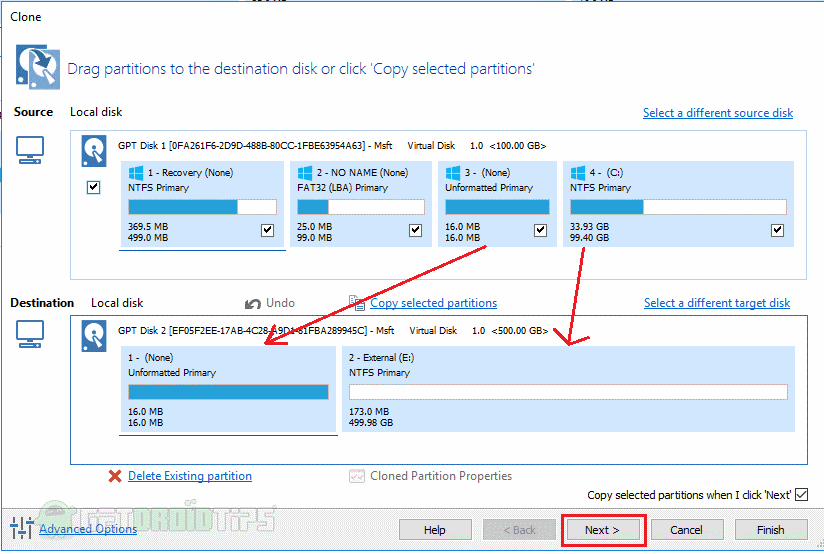 And if partition size differs, you can adjust to fulfill your requirements, by clicking on Cloned partition properties.
Follow the on-screen instructions, by clicking Next and Next until you see Confirm.
Let the cloning finish as it may take much time, based on the partition size.
Once the work has been finished, you can safely restart. Before starting up the PC, enter your BIOS/UEFI menu and go to Boot priority or boot order and set the SSD on top.
Now, if the device boots without any error, we have successfully cloned the partitions. Now, if everything works fine, we can delete the windows partition on old HDD in order to gain some storage space. Visit Disk-management and perform those tasks.
Method 3: Using Partition managers
Partition managers like EaseUS or MiniTool help a lot in these situations. The process is simple. But it does require a license purchased in order to use pro features like SSD migration. If you are willing to pay, then you can use them.
First, visit the above link to download/purchase EaseUS partition master. Then after installation completes, follow these steps:
Run the EaseUS partition master, and click on Migrate OS on the top-right menu.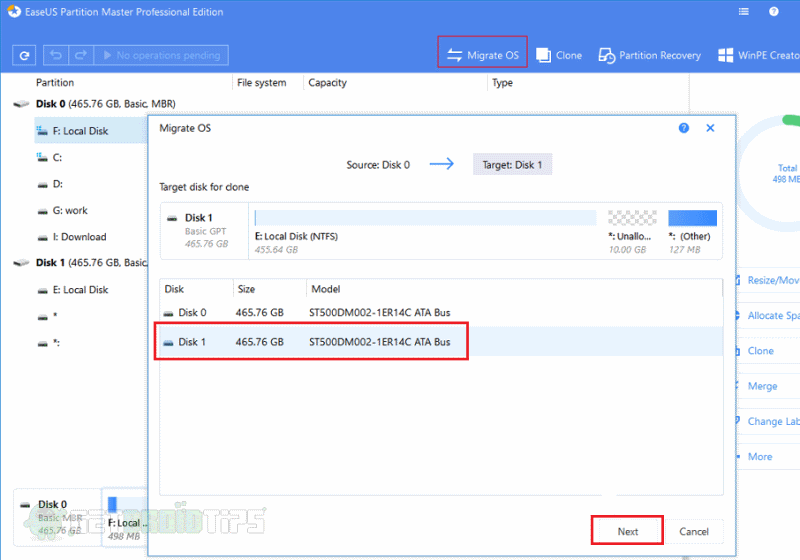 As the popup window opens, click on the target disk, in our case, it should be the SSD and click on Next. Now you will be given with the changes the tool is about to market o your Drives. Review and click on Proceed.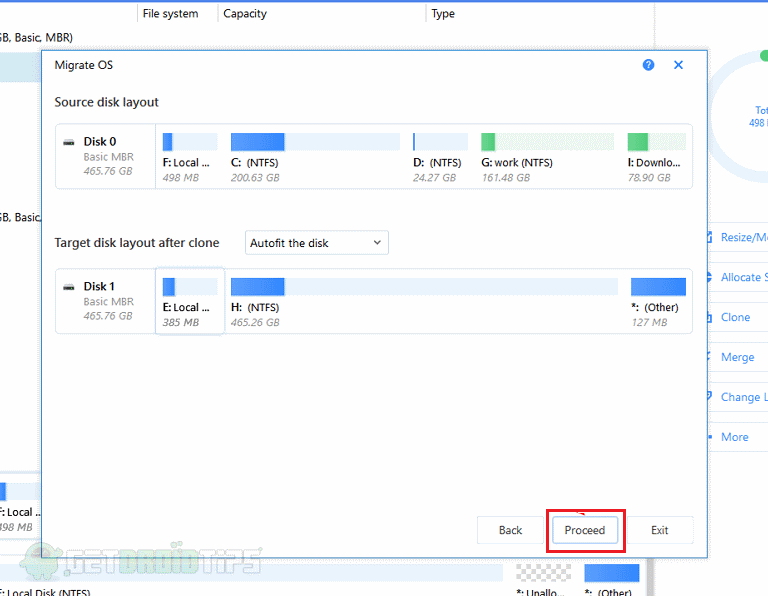 Complete on-screen steps and let the migration finish. This might take a while, depending upon the partition size.
Now, as the function completes, restart your PC and change boot priority to SSD, as said in method 2. Now you can see the system boots up fast, and windows partition is now under SSD disk. You can delete older HDD partition and claim free space from EaseUS Partition Master or Disk management utility.
Conclusion
So to sum it up, these were the popular solutions to migrate Windows 10 to an SSD without the need to reinstall. But although the steps may help you to start running quickly, it is always recommended to perform a clean installation of OS into the SSD for best results and performance. But it does save time and work when migrating and prevents data loss.