Ever since the launch of the first Moto Z Play in 2016, the device became my favorite. Now the Motorola has finally launched the 3rd Generation called Moto Z3 Play with Dual Rear camera and faster and better snapdragon processor compared to last year. If you have bought this device and facing issue related to Moto Z3 Play WiFi fix. Then you probably wondering how to fix WiFi issue on Moto Z3 Play.
Talking about the specifications, Moto Z3 Play features a 6.01-inches Super AMOLED display with a screen resolution of 1080 x 2160 pixels. The smartphone is powered by Octa-core 1.8 GHz Kryo 260 Qualcomm SDM636 Snapdragon 636 coupled with 4/6GB of RAM. The phone packs 64/128GB internal memory which can also be expanded up to 400GB via microSD card. The camera on the Moto Z3 Play comes with Dual 12 MP (f/1.7) + 5 MP (f/2.2), phase detection autofocus, dual-LED dual-tone flash camera and 8MP front shooting camera with LED flash. The device is backec by 3000 mAh battery.
As the phone comes with decent specs and comes with a number of features, many buyers are reporting the problems with WiFi issue on Moto Z3 Play. The common one is no proper functioning of Wi-Fi. In this post, we will guide you on how to fix Motorola Moto Z3 Play WiFi Issues.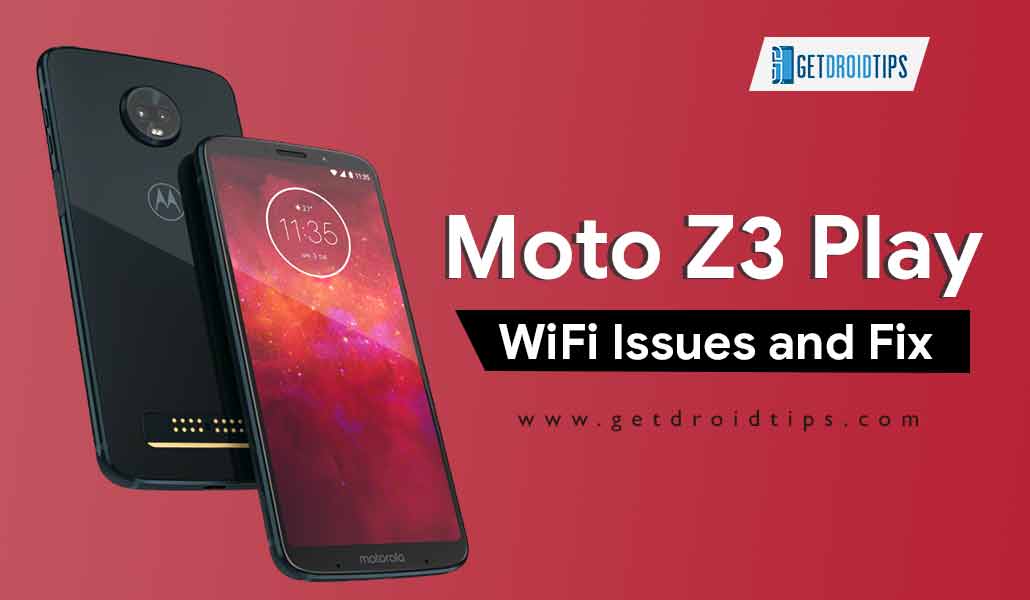 Steps to fix Moto Z3 Play WiFi Issues
Here is the solution to fix wifi problems on Moto Z3 Play.
Solving basic Wi-Fi issues
Before you proceed with anything, simply restart the phone and see if it works. If not, Reboot your router and check if the problem is gone. In case both methods fail, proceed further.
Make sure your Wi-Fi connection is working. Take another device and connect it to your Wi-Fi network. See if it works properly on it. In case you find everything alright, obviously the problem is with your router or connection.
Ensure the signal strength is enough at the place you are trying to connect your Xiaomi Redmi 6 Pro with your Wi-Fi connection.
Always remember if you have recently changed the Wi-Fi password.
[su_note note_color="#fef0ef" text_color="#000000″]Guide to Boost WiFi signal on your Android phone[/su_note]
Toggle Wi-Fi
Moto Z3 Play users can toggle their Wi-Fi option.
Wi-Fi Direct allows to transfer the data between capable devices without the need for a Wireless Access Point (Hotspot) and is automatically enabled when Wi-Fi is turned on. To activate, follow this method on your Moto Z3 Play:
Go to Settings icon > Wi-Fi
Ensure the Wi-Fi switch (located in the upper-right) is Switched on
Tap the Menu icon Menu (located on the upper-right)
Tap Advanced
Tap Wi-Fi Direct to scan or view peer devices.
Troubleshooting
When you are not able to connect Wi-Fi on Moto Z3 Play, it may mean that the strength of signals is not enough and you might have to check your signal indication on the device.
The user can try the following in this case:-
Connecting to a different Wi-Fi network within range.
Some networks are configured only to static IP addresses, the user should check with system admin for IP address assignments.
If the error still persists apply Trouble-shooter or visit your nearby authorized dealer.
No Internet Connection
When there is absolutely no internet connectivity users should try the following:-
Switch to a different URL or web address
Reconnecting to the Wi-Fi Network
Check if other Wi-Fi devices are working on the network and try reconnecting the Wi-Fi router and your Moto Z3 Play device to the router.
Reset Network setting
This involves selection of your Wi-Fi network from the list and then clicking on forget to reset the network setting. However, if the user is connecting for the first time then skip this step.
After this restart your Moto Z3 Play device to wait for few seconds and then reconnect to the Wi-Fi network.
Ensure internet access
The User in all cases should first ensure the internet access to the router that is being used as if there can also be internet connectivity issues with your Wi-Fi routers. Users can easily check this by testing other Wi-Fi devices to the network.
Recommended Updation
In most cases, it has been found that Wi-Fi issues have been resolved with the software update on the device, so make sure to check if there is any new software update on Moto Z3 Play. There is a chance that they may have improved the WiFi issue on Moto Z3 Play with their recent update. Here is a simple guide to check for the software update on Moto Z3 Play.
Make sure your device is fully charged and connected to Wi-Fi.
Swipe down from the Notification bar, then tap the Settings icon.
Scroll to and tap About phone > System updates.
Follow the on-screen prompts to download and install the update.
Tap Restart Now after the software installs to automatically restart your device.
If your device is still not updated and you are facing Wi-Fi connectivity issues on your device, try updating your software to the latest version and recheck the Wi-Fi connectivity.
To update to latest version, Find Moto Z3 Play Stock Firmware collection
Reset modem
Even after trying the above-mentioned steps you are still facing the problem reset your modem to factory settings by pressing the reset button on the back of the modem.
If the issue still persists to ensure the problem is with your device by checking it into other Wi-Fi networks.
Factory Reset:
If none of the above methods has been able to solve the Xiaomi Redmi 6 Pro Wi-Fi issue, then the last option is to perform the factory reset. By doing this method, you will ring the phone to factory state and would delete every data, media, music, videos and other important files. So keep a backup before you go ahead with resetting your Redmi 6 Pro.
Go to the phone's Setting menu – System – Reset Options – Erase all data (factory reset), then confirm to reset. Do remember to back up the important data to an external location like a PC or hard disk, because this reset will also remove all the data stored in SD card.
It is expected the bits of advice mentioned here in this article will be able to solve off all your Wi-Fi connectivity issues of your Moto Z3 Play device. Now you can be fearless with your Moto Z3 Play connectivity issues.
I hope this guide will be helpful to resolve wifi issue on Moto Z3 Play. Any further queries or questions or suggestions would be welcomed in the comment section below.